Synology DS224+ NAS delivers enhanced data organization, accessibility, and protection
August, 2023
Synology DS224+ NAS delivers enhanced data organization, accessibility, and protection
If you are looking for a reliable and powerful network-attached storage (NAS) device for your home or small business, you might want to consider the Synology DS224+ NAS. This is a two-bay NAS that can support up to 32 TB of storage capacity, and offers a range of features and applications to enhance your data management and productivity. In this review, I will go over the main specifications, performance, and functionality of the Synology DS224+ NAS, and share my personal experience with using it.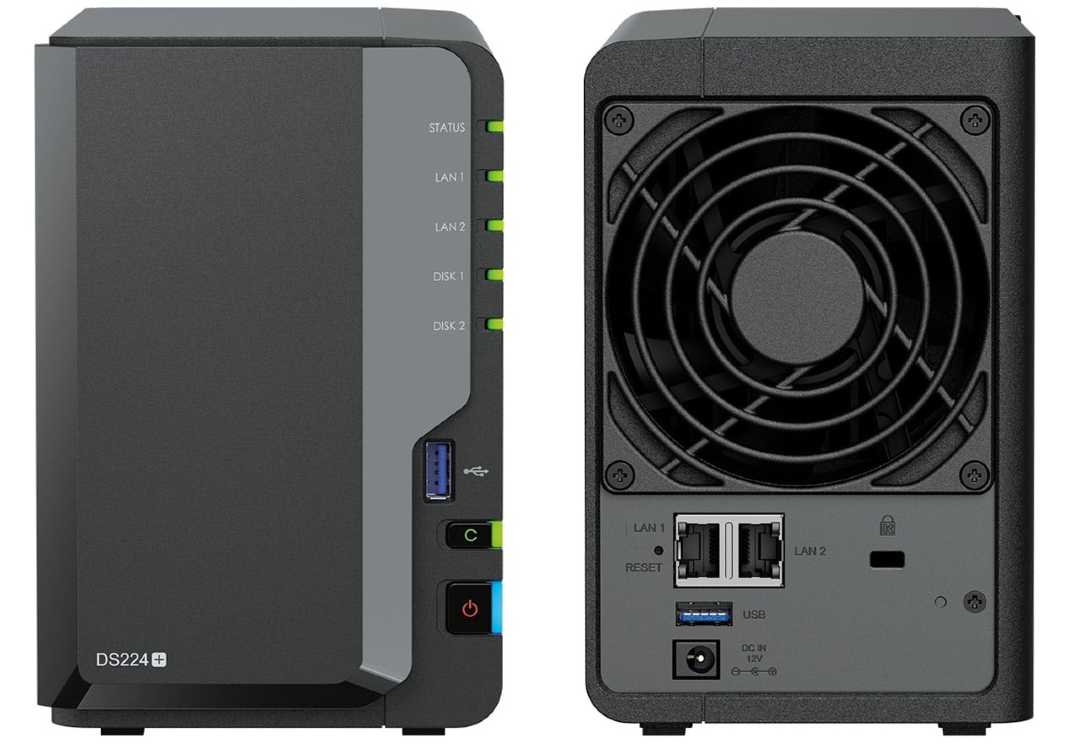 Synology DS224+ Specifications
The Synology DS224+ NAS is powered by a quad-core Intel Celeron J4125 processor, which runs at 2.0 GHz and can boost up to 2.7 GHz. It has 2 GB of DDR4 memory, which can be expanded up to 6 GB. It has two 3.5-inch or 2.5-inch drive bays, which can accommodate SATA HDDs or SSDs. It also has two M.2 NVMe slots for SSD cache, which can improve the performance of frequently accessed data. The Synology DS224+ NAS supports RAID 0, RAID 1, JBOD, and Synology Hybrid RAID (SHR) recovery configurations, which offer different levels of data protection and storage efficiency.
The Synology DS224+ NAS has two Gigabit Ethernet ports, which support Link Aggregation and Failover. It also has three USB 3.0 ports, one eSATA port, and one HDMI port. The HDMI port can be used to connect the NAS to a monitor or TV, and use it as a media center with the Synology Video Station app. The Synology DS224+ NAS also supports 4K video transcoding, which means it can convert high-resolution videos to lower resolutions for smoother playback on different devices.
The Synology DS224+ NAS has a compact and sleek design, with a black metal chassis and a plastic front panel. It measures 165 x 108 x 232 mm and weighs 1.3 kg. It has a fanless design, which makes it very quiet and energy-efficient. It also has an LED indicator, a power button, and a USB copy button on the front panel.
DS224+ NAS Performance
The Synology DS224+ NAS delivers excellent performance for its price range. According to the official specifications, it can achieve over 225 MB/s sequential read and write speeds, and over 113 MB/s encrypted read and write speeds. In my own tests, using CrystalDiskMark benchmark software, we've got similar results with a single WD Red 4 TB HDD installed in the NAS. The performance was even better when added an SSD cache using a Samsung 970 EVO Plus 250 GB M.2 NVMe SSD.
The Synology DS224+ NAS also handles multiple tasks smoothly, thanks to its powerful processor and memory. I was able to run several applications simultaneously on the NAS, such as file sharing, backup, media streaming, photo management, video surveillance, and more. The NAS also supports Docker and virtual machines, which allow you to run various operating systems and applications on the NAS.
Synology DiskStation Functionality
The Synology DS224+ NAS runs on the Synology DiskStation Manager (DSM) operating system, which is one of the best NAS software in the market. DSM is very user-friendly and intuitive, with a desktop-like interface that lets you access all the features and settings of the NAS easily. DSM also offers a rich selection of applications that you can install on the NAS to enhance its recovery and usability.
Some of the most popular applications include:
Synology Drive: A cloud service that lets you sync and access your files across different devices.
Synology Moments: A photo management app that lets you organize and share your photos with AI-powered features.
Synology Video Station: A media server app that lets you stream your videos to different devices with subtitles and metadata.
Synology Audio Station: A music player app that lets you play your music collection on the NAS or stream it to other devices.
Synology Download Station: A download manager app that lets you download files from various sources such as HTTP, FTP, BitTorrent, NZB, etc.
Synology Active Backup: A backup app that lets you backup your data from various sources such as PCs, servers, virtual machines, cloud services, etc.
Synology Surveillance Station: A video surveillance app that lets you manage your IP cameras and record live footage on the NAS.
Synology Office: A productivity app that lets you create and edit documents, spreadsheets, and presentations on the NAS.
Synology MailPlus: An email server app that lets you host your own email service on the NAS.
These are just some of the applications that you can use on the Synology DS224+ NAS. There are many more apps available on the Synology Package Center or third-party sources, which can cater to different needs and preferences.
The Synology DS224+ NAS is a great choice for anyone who needs a reliable and powerful NAS device for their home or small business. It offers a lot of storage capacity, performance, and functionality, with a user-friendly and versatile software. It is also very quiet and energy-efficient, with a compact and sleek design. The Synology DS224+ NAS is priced at $299.99, which is reasonable for its features and quality. If you are looking for a NAS device that can handle your data management and productivity needs, you should definitely check out the Synology DS224+ NAS.
ACE Data Recovery: Your Solution for Synology NAS Data Recovery
ACE Data Recovery is a leading provider of data recovery services for Synology NAS appliances. Synology NAS devices are popular among home and business users who need a reliable and scalable storage solution. However, even the most advanced NAS systems can fail due to various reasons, such as hardware malfunction, logical corruption, human error, natural disaster, or cyberattack. When that happens, you may lose access to your valuable data stored on the NAS drives.
That's where ACE Data Recovery comes in. We have over 35 years of experience in recovering data from all types of storage media, including Synology NAS appliances. We have a team of highly skilled engineers who can handle any NAS recovery scenario, from simple RAID rebuilds to complex data extraction from encrypted volumes. We use state-of-the-art tools and techniques to ensure the highest success rate and the fastest turnaround time.
ACE Data Recovery for NAS
The duration of the data recovery process depends on several factors, such as the size and configuration of your NAS device, the extent and type of damage, and the availability of spare parts. We will give you an accurate estimate of the time and cost after we perform a free
diagnostic evaluation of your NAS device
. We also offer expedited services for urgent cases.
Whether you have a single-bay or a multi-bay NAS device, we can recover your data with minimal downtime and maximum security. We offer a free diagnostic evaluation and a no-data-no-fee guarantee for all our NAS recovery cases.
If you need professional and affordable data recovery services for your Synology NAS appliance, contact ACE Data Recovery today. We will help you get your data back in no time.