Synology DiskStation DS1823xs+ - A Powerful Eight-Bay NAS at a Reasonable Price
July, 2023
Synology DiskStation DS1823xs+ - A Powerful Eight-Bay NAS at a Reasonable Price
Synology has consistently been a top choice for small and medium-sized businesses (SMBs) seeking high-capacity network-attached storage (NAS) solutions with robust features. The latest addition to their eight-bay desktop NAS lineup, the DS1823xs+, not only meets these expectations but also elevates desktop performance to a new level. In this article, we will explore the key features of the Synology DiskStation DS1823xs+ and why it stands out in the market.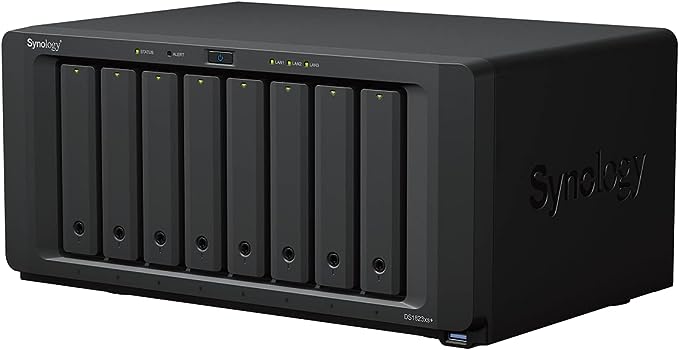 Key features and benefits of the Synology DiskStation DS1823xs+ NAS
At the heart of the DS1823xs+ is a potent quad-core 3.35GHz AMD Ryzen V1780B CPU, which ensures seamless performance for data-intensive tasks. Paired with the base 8GB of DDR4 ECC memory, the NAS is more than capable of handling multiple concurrent operations and resource-intensive applications. For those with even greater demands, the memory can be expanded up to an impressive 32GB.
High-Speed Connectivity and NAS Performance
The DiskStation DS1823xs+ NAS offers flexible and efficient data transfer options. In addition to the two gigabit data ports, there is an embedded 10GBase-T port, enabling lightning-fast data transfers for bandwidth-hungry applications. Additionally, the availability of a separate gigabit port for management purposes ensures smooth and reliable system administration.
NVMe SSD Upgrade Opportunities
To cater to evolving business needs, the Synology DS1823xs+ features a spare PCI-E expansion slot that opens the door to various upgrade possibilities. This enables users to expand their NAS capabilities, such as adding additional networking cards or NVMe storage options.
M.2 NVMe SSD Slots
To further boost performance, the DS1823xs+ is equipped with two M.2 NVMe SSD slots hidden behind the left-hand drive bays. Users have the flexibility to utilize these slots as a performance-enhancing cache or as part of a standard storage pool, providing faster access to frequently accessed data.
Storage Device Compatibility
While the DS1823xs+ NAS is compatible with other manufacturers' storage devices, it is worth noting that Synology officially supports only its HAT5300 HDDs, SAT5200 SSDs, and SNV3400 M.2 NVMe SSDs. Using Synology's supported drives ensures product support and maximizes system stability.
Impressive Performance
Performance benchmarks for the DS1823xs+ are outstanding, with sequential read and write speeds reaching 9.3Gbits/sec and 9.2Gbits/sec, respectively. These numbers highlight its capabilities for handling data-intensive tasks with ease, making it an ideal choice for businesses with heavy workloads.
Synology Key Features and Benefits
Flexible Storage Solutions: With eight drive bays, the DS1823xs+ offers vast storage capacity, making it an excellent choice for businesses dealing with large amounts of data. The flexibility of supporting both HDDs and SSDs allows users to create diverse storage configurations, catering to different performance and capacity requirements. This flexibility ensures that businesses can tailor their storage setup to match their specific needs and budget.
Robust Data Protection: Data integrity and protection are paramount for any business, and the DS1823xs+ addresses this with its comprehensive range of data protection features. Alongside the DSM 7.1's full volume encryption and WORM policies, users can benefit from Synology's Snapshot Replication technology. This technology enables users to take point-in-time snapshots of shared folders or even the entire system, facilitating easy data recovery in case of accidental deletion or corruption. With the release of DSM 7.2, Synology continues to prioritize security. The software includes a wealth of features that provide administrators with powerful tools to protect data against potential threats. These security enhancements reinforce the DS1823xs+ as a reliable and secure storage solution for businesses.
Virtualization and Docker Support: For businesses that employ virtualization technology or containerized applications, the DS1823xs+ is an ideal fit. With its powerful hardware and ample memory, the NAS can host multiple virtual machines or containers, efficiently consolidating workloads and optimizing resource utilization. This capability allows businesses to run diverse applications on a single NAS, reducing the need for separate hardware infrastructure.
Collaboration and File Sharing: Synology's DSM software offers an array of collaboration tools, empowering teams to work together seamlessly. Features such as File Station, Drive, and Office allow easy file sharing, real-time collaboration on documents, and secure access to files from anywhere with an internet connection. This enhances productivity and facilitates smooth collaboration, which is essential for modern business workflows. Synology's DSM 7.1 operating system, which powers the DS1823xs+, comes with an extensive set of data management and protection features. Notably, it emphasizes ransomware protection, offering full volume encryption and Write Once, Read Many (WORM) policies for NAS folders on BTRFS volumes. The latter ensures data immutability and prevents unauthorized modifications or deletions, adding an extra layer of security to critical business data.
Centralized Backup Solutions: Backing up critical data is a fundamental aspect of data management. The DS1823xs+ offers various built-in backup solutions, including Hyper Backup, which allows users to create flexible and customizable backup plans. Whether it's backing up to an external drive, a remote Synology NAS, or a cloud storage service, the DS1823xs+ simplifies the backup process and ensures data protection against potential disasters.
High Availability and Failover Support: Business continuity is a critical concern for SMBs, and the DS1823xs+ addresses this by supporting high availability (HA) and failover mechanisms. By setting up two DS1823xs+ units in a high-availability cluster, businesses can achieve seamless transitions in case of hardware failures. This ensures minimal downtime and maximum uptime for mission-critical applications and services.
Efficient Energy Management: Synology is committed to sustainability and energy efficiency. The DS1823xs+ is designed with energy-saving features, including scheduled power on/off and disk hibernation, which help reduce power consumption when the NAS is not in use. This eco-friendly approach not only benefits the environment but also results in cost savings for businesses in the long run.
Active Community and Support: Synology boasts a vibrant user community, where users can exchange knowledge, tips, and solutions. Additionally, Synology provides regular software updates to improve functionality, security, and compatibility with the latest technologies. The combination of an active community and dedicated support ensures that users can find help and resolve any issues promptly.
Synology stands behind the quality and reliability of the DS1823xs+ by offering a generous five-year warranty. This long-term warranty coverage provides peace of mind to businesses investing in this powerful NAS solution.
The Synology DiskStation DS1823xs+ is a compelling choice for SMBs seeking a high-capacity NAS with exceptional performance and robust data security features. Its fast processor, ample memory, and 10GbE connectivity ensure smooth operation even under heavy workloads. The ability to utilize M.2 NVMe SSDs for caching or storage expansion adds to its versatility. Moreover, Synology's ongoing commitment to security, exemplified by the DSM 7.2 software enhancements, makes the DS1823xs+ an even more attractive option for safeguarding critical business data. Overall, the DS1823xs+ strikes an impressive balance between performance, features, and price, making it a top contender in the eight-bay NAS market. Its powerful hardware, high-capacity storage, and advanced software capabilities make it a versatile and reliable storage solution. With Synology's continuous commitment to security and user-centric updates, the DS1823xs+ remains a future-proof investment for businesses looking to streamline data management, enhance collaboration, and protect their valuable data assets.
ACE Data Recovery for Synology NAS
Synology NAS devices are a popular choice for home and business users who need a reliable and secure way to store their data. However, even the best NAS devices can fail, and when we do, it can be devastating to lose all of your important files.
If you've lost data from your Synology NAS, don't despair. ACE Data Recovery is a leading data recovery company that has a proven track record of recovering data from even the most damaged NAS devices.
ACE Data Recovery offers a variety of data recovery services for Synology NAS devices, including:
Logical corruption recovery
ACE Data Recovery's team of experienced engineers has the expertise and the tools to recover your data from even the most difficult cases. We will work with you to assess the damage to your NAS device and develop a customized recovery plan.
ACE Data Recovery is committed to providing you with the highest level of customer service. We offer a free diagnostic evaluation of your NAS device, and we will provide you with a free quote for your recovery before we begin work.
If you've lost data from your Synology NAS, don't wait. Contact ACE Data Recovery today to learn more about how we can help you recover your data.
Here are some additional benefits of using ACE Data Recovery for Synology NAS:
We have over 35 years of experience in the data recovery industry.
We have a team of certified technicians who are experts in recovering data from NAS devices.
We use the latest data recovery technology to ensure that your data is recovered successfully.
We offer a free diagnostic evaluation and a free quote for your recovery.
We are committed to providing you with the highest level of customer service.
If you're looking for a reliable and experienced data recovery company to help you recover data from your Synology NAS, then ACE Data Recovery is the right choice for you. Contact us today to learn more about how we can help you.