The New Synology DiskStation DS1522+ NAS
July, 2022
The New Synology DiskStation DS1522+ NAS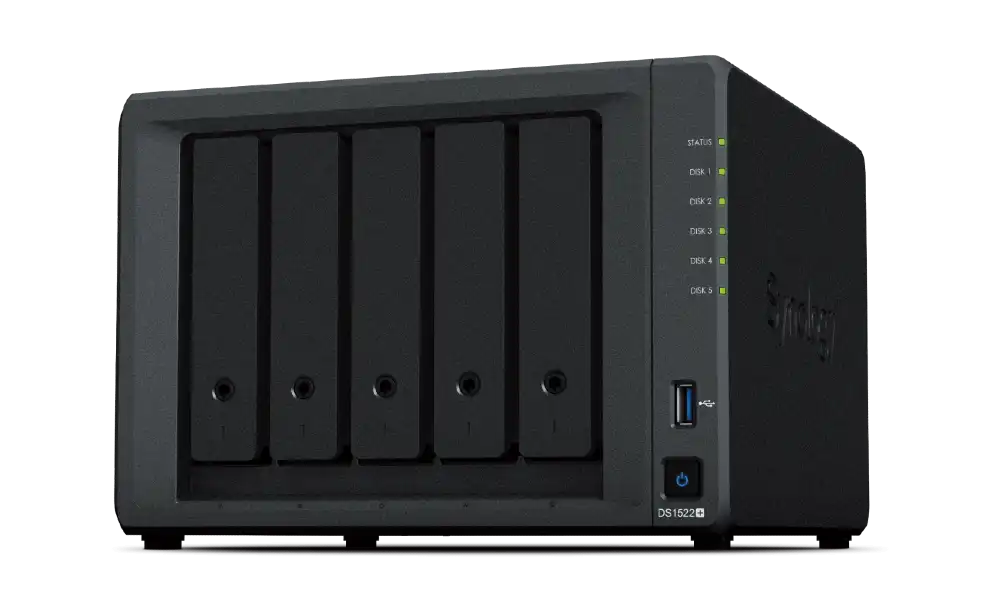 The Synology's newest addition to their performance-driven NAS portfolio designed for both home and business users, replacing the Synology DiskStation DS1520+ as its successor. Featuring a compact 5-bay build, the Synology DS1522+ NAS is highlighted by its AMD Ryzen R1600 processor. The biggest change of all though is the addition of an expansion port on the back of the NAS that allows users to add a single-port 10GbE interface for greater network performance.
A big change in this family is the CPU. The DS1522+ NAS is powered by an AMD Ryzen R1600 (2-core 2.6 GHz with burst up to 3.1 GHz, an upgrade from the Intel Celeron J4125 used in the previous model), 8GB of non-ECC DDR4 RAM standard (upgradable to 32GB), and support for 3.5/2.5-inch SATA hard drives and M.2 2280 NVMe SSDs for its dual cache slots.
For networking, the Synology DS1522+ NAS comes with four 1GbE LAN ports (sadly no multi-gig) with network failover support and is quoted to deliver up to 736MB/s sequential read and 796MB/s sequential write with the mini 10GbE network module installed.
The biggest upgrade over previous generations is the addition of 10GbE connectivity, although the path Synology took on the 15-series model over the years has somewhat limited certain features. If you want the single port 10GbE port, it doesn't come with the option right out of the box. To drive down potential unnecessary costs, Synology decided to instead give users an easy and more affordable way to add it if/when they need it. 10GbE support is added via installing the E10G22-T1-Mini card in the newly available network upgrade slot.
The DS1522+ fully supports Synology DSM like all releases, which includes multimedia management, hyper/desktop backup options, snapshot replication, and virtual machine manager. The DS1522+ can also be transformed into a surveillance hub for both home and work using the newly released Surveillance Station 9.0. Overall, the Synology DS1522+ is a highly versatile NAS solution with a powerful range of applications at its disposal.
But unfortunately, the DS1522+ NAS is also vulnerable to NAS drive failure resulting in critical data inaccessibility. If that happens, the owners of the Synology DS1522+ NAS will ned to contact a professional data recovery services provider to get their irreplaceable files back. ACE Data Recovery has been providing high-quality NAS RAID recovery services for more than 35 years and can boast of one of the highest success rate in the industry. ACE Data Recovery engineers have extensive experience in recovering data from NAS of all makes and models and are ready to help the Synology DS1522+ NAS owners with their data recovery needs.