Synology Announces the Launch of DS1821+ 8-Bay NAS
January, 2021
Synology Announces the Launch of DS1821+ 8-Bay NAS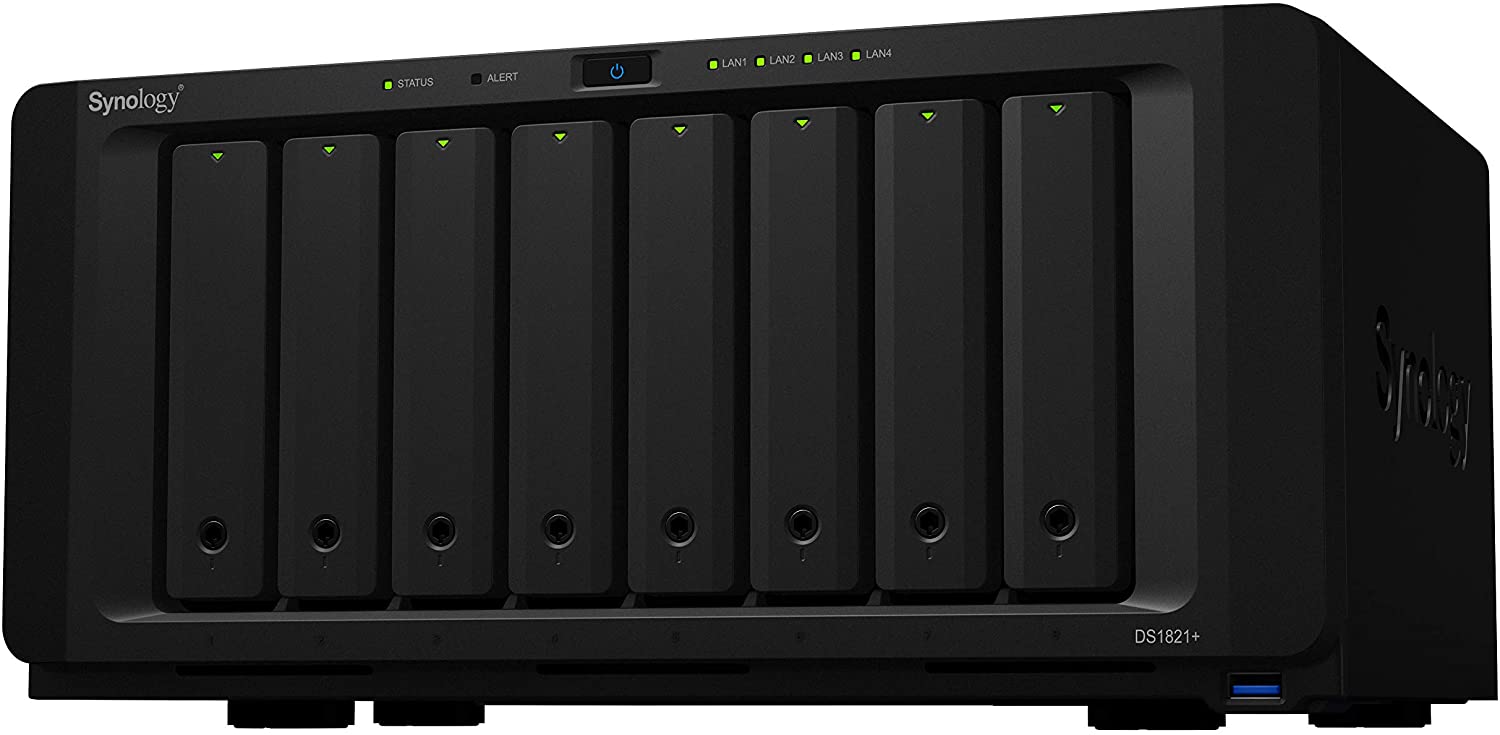 Synology introduced its next-generation 8-bay NAS, the DS1821+, that is a solution designed for high-capacity and high-performance data management and storage.
The DS1821+ NAS is equipped with the powerful quad-core AMD Ryzen processor that delivers over double the computing power over its predecessor. It offers significantly faster performance and snappier response time across Synology Drive, Moments, and more. Built-in support for two Synology SNV3400 NVMe SSD cache drives allows the manufacturer to boost random throughput performance by 20x or more for commonly accessed data.
Optional PCIe 10GbE NIC can be installed to increased networking performance that can reach over 2312.97 MB/s sequential reads and 1149.89 MB/s sequential writes. The DS1821+ NAS provides 8 drive bays with the option to expand to 18 using two DX517 expansion units. Powered by Synology DiskStation Manager (DSM), in addition to JBOD/RAID0/1/5/6/10, Synology Hybrid Raid (SHR) allows users to create arrays using odd-sized drives and maximize the storage potential of the array. This enables older drives to be serviceable, without requiring an upfront commitment to only installing drives of the same capacity.
DSM also provides easy means of upgrading storage capacity after the device has been set up. You can add in a new drive and expand your array. RAID recovery options can be upgraded as well, from a lower protection level to a higher one, such as from SHR-1, one drive redundancy to SHR-2, two drive redundancy.
There is active Backup Suite that allows efficient and centralized backup from Windows and Linux-based PCs and servers, virtual machines on VMware and Hyper-V hypervisors, and Google Workspace and Microsoft 365 SaaS platforms.
Snapshot Replication creates schedulable point-in-time recovery points. It provides fast and easy ways to roll back unintended file edits or even ransomware encryption for both Shared Folders and for iSCSI LUNs.
Synology Hyper Backup enables schedulable set-and-forget protection to keep the data backed up to another Synology NAS, a USB drive, Synology C2 cloud storage, and other public cloud providers.
The new Synology DS1821+ 8-Bay NAS is a good option for content creators and businesses and will help them easily store and secure their files, but it can also fall victim to failures that make user files inaccessible. ACE Data Recovery team can successfully recover data from all types of storage media, including NAS. ACEs are always ready to help the proud owners of the DS1821+ NAS with their data recovery needs.