Supermicro SuperStorage 6019P-ACR12L+ Server
February, 2020
Supermicro SuperStorage 6019P-ACR12L+ Server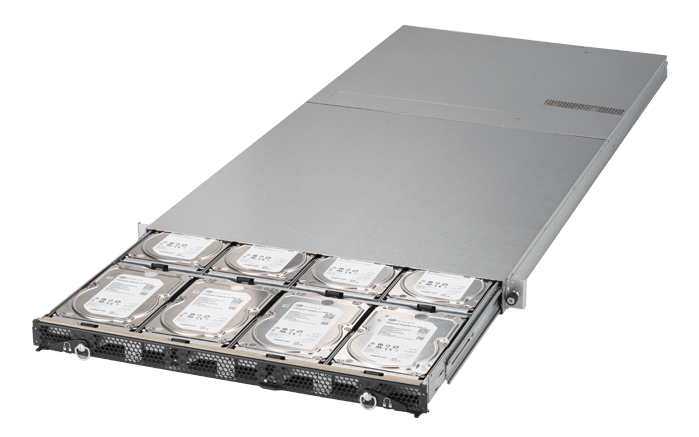 Supermicro introduced the SuperStorage 6019P-ACR12L+ , a 1U server optimized for scale-out-storage applications, including traditional enterprise file storage applications, private and public cloud object storage, Ceph/Hadoop, Big Data Analytics as well as versatile scale-out NAS applications. This server is highlighted by Supermicro's X11-DDW-NT motherboard family, which features support for dual socket 2nd generation Intel Xeon Scalable processors (Cascade Lake), up to 3TB of ECC DDR4-2933MHz RAM, and Intel Optane DCPMM. This means higher frequency, more cores at a given price, and more in-processor cache, all of which promote higher performance. As such, businesses will reap higher performance for the same price, better price for the same performance, or better performance at lower costs compared to previous CLX servers.
For storage, the 6019P-ACR12L+ can be outfitted with 12x 3.5" HDD bays, four 7mm NVMe SSD bays and an M.2 NVMe SSD as a boot drive. Supermicro leverages the 10GbE on board and three expansion card slots for faster NICs (1x HHHL, 2x FHHL) so users can get the best possible performance out of their drives. Connectivity includes three RJ45 LAN ports (two of which are 10GBaase-T and one a dedicated IPMI), four USB 3.0 and two USB 2.0 ports, one VGA port and a TPM header.
There are a few minor differences between the plus and non-plus model. For example, the 6019P-ACR12L+ is equipped with 3x PCI-E 3.0 x16 slots, while the non-plus version has two PCI-E 3.0 x16 slots and one PCI-E 3.0 x8 LP slot. Moreover, the plus model features 800W redundant PSU versus a 600W featured inside the non-plus. The plus model also has front LEDs for drive activity.
The Supermicro SuperStorage 6019P-ACR12L+ can pack in quite a bit of storage and connectivity while helping users as they tangle with Big Data issues. The design of the server is quite novel, entirely different from what most other vendors are doing with 1U. It may not be for everyone, but for those who have the capability to take advantage of the storage performance and flexibility this server offers, Supermicro has created a really compelling offering.
But no matter how good the SuperStorage 6019P-ACR12L+ is, such complex systems can also suffer from crash which can cause data loss and result in down time for businesses. Then the owners of Supermicro SuperStorage 6019P-ACR12L+ Server will need to contact a professional data recovery services provider to get their critical data back. ACE Data Recovery engineers have extensive experience in recovering data from all types of RAID storage media, including those manufactured by Supermicro. ACEs will gladly help businesses who use Supermicro SuperStorage 6019P-ACR12L+ Server with their data recovery needs.