Seagate Launches SkyHawk AI 18TB Hard Drive
October, 2020
Seagate Launches SkyHawk AI 18TB Hard Drive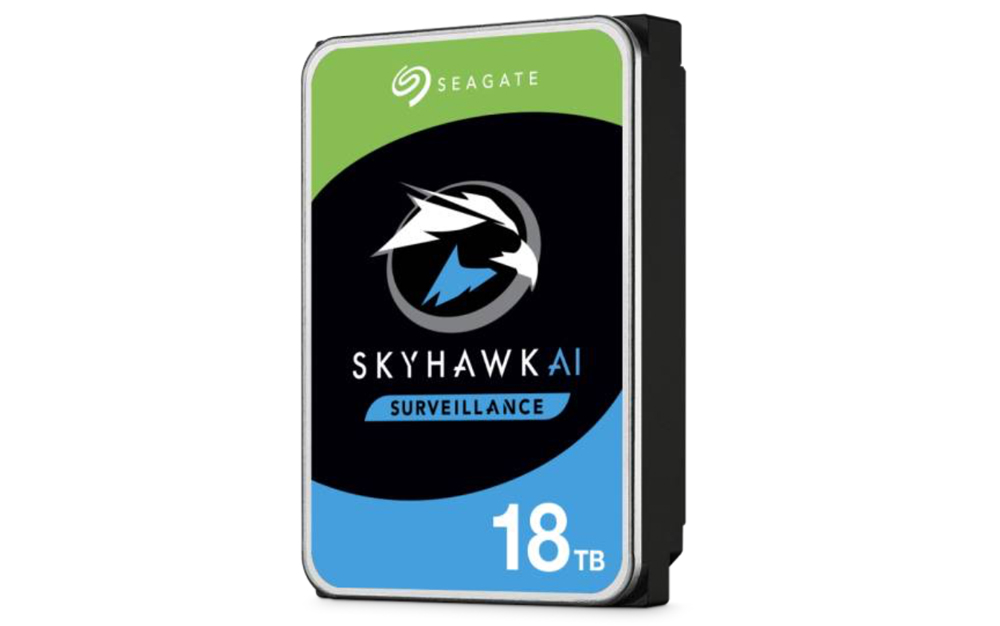 Seagate Technology has announced that now it is shipping 18TB SkyHawk Artificial Intelligence drives in volume. Like the earlier entries in this line, the latest SkyHawk AI HDD is also purpose-built hard drive for artificial intelligence (AI)-enabled Surveillance solutions, enabling quicker and smarter decisions. The new Seagate hard drive supports deep learning and machine learning workload streams for Edge applications with ImagePerfectAI firmware, which speeds up the performance, mostly random performance, to better aide AI with analytics.
The SkyHawk AI 18TB HDD uses traditional magnetic recording technology (CMR) and is manufactured in a 3.5-inch format. It has a 256 Mb cache and features a SATA 3.0 interface with a bandwidth of up to 6 Gbit/s. The average reported MTBF is 2 million hours.
According to Seagate, the SkyHawk AI HDD simultaneously sustains 32 AI streams alongside 64 video streams and supports multi-bay NVR and AI-enabled NVR. The SkyHawk AI hard drive offers a 550TB/year workload rate that is more than 3× the workload rate of standard surveillance hard drives. That helps manage data deluge in complex video security system environments without sacrificing performance. This hard drive intelligently adapts between traditional video workloads and video+AI workloads.
Built to meet the demands of an always-on large workload in an AI enabled NVR system, SkyHawk AI 18TB HDD can accommodate recording and analyzing footage simultaneously from multiple cameras. That equips users with faster and smarter footage analysis by eliminating data latency and processing. The hard drive comes with a 3-year warranty and Rescue Data Recovery Services (3 years).
The new Seagate SkyHawk AI 18TB video security system HDDs can better accommodate heavy workloads and have higher reliability and longer warranties, but nevertheless, they may fail, just like other storage media, and their owners will need to contact a professional data recovery services provider to get their videos back. ACE Data Recovery engineers can successfully recover data from hard drives of all makes and models, and will gladly help the proud owners of Seagate SkyHawk AI 18TB hard drives with their data recovery needs.