Seagate launches 2.4TB Enterprise Performance 10K 2.5-inch HDD
June, 2017
Seagate launches 2.4TB Enterprise Performance 10K 2.5-inch HDD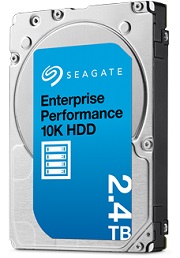 To meet the growing demand for data storage, Seagate has announced the launch of their 2.4TB Enterprise Performance 10K 2.5-inch HDD that features both market-best performance and capacity for 10K 2.5-inch drives. This hard drive is budget-friendly and is based on Seagate's 9th-generation enterprise firmware. Seagate's new HDD is specifically designed for Database (ERP) and transaction processing (OLTP), Virtual Desktop Infrastructure (VDI), file and print serving and similar workloads.
According to Seagate, the new hard drive is well-suited for mission-critical servers and external storage arrays, power- and space-constrained data centers, green IT and drive-retirement cost reduction initiatives, compliance and data security initiatives and for data center migrations from 3.5-inch drive systems to next-generation technology.
The Seagate Enterprise Performance 10K 2.4TB HDD uses the advantages of the company's Enhanced Caching technology: TurboBoost for reads and Advanced Write Caching for writes.
Seagate states that their new Enterprise Performance 10K HDD offers consistent, secure and reliable storage access without inherent higher costs of SSDs and other more expensive high-performance options. This allows IT professionals to scale up user capacity, accelerate business transactions, reduce service calls and support costs, increase storage capacity and comply with regulatory requirements.
Although Seagate Enterprise Performance 10K 2.4TB HDDs are good and reliable data storage solutions for growing mid-sized companies, someday they may fall victims of data inaccessibility because of logical or physical failures, just like any other hard disk drives. To get vital business data from faulty Seagate Enterprise Performance 10K 2.4TB HDDs, their owners will need to call on professional data recovery services.
ACE Data Recovery makes the best choice when it comes to retrieving data from failed HDDs. ACEs use state-of-the-art equipment and have several full-service labs to perform the most complex data recovery operations that require Class 100 cleanroom environment. Besides, the company's engineers are experienced enough to deal with severely damaged storage units and can develop case-specific solutions to piece sensitive information together and recover it from a data storage device in one piece.