Seagate Demonstrates HDD with PCIe NVMe Interface
November, 2021
Seagate Demonstrates HDD with PCIe NVMe Interface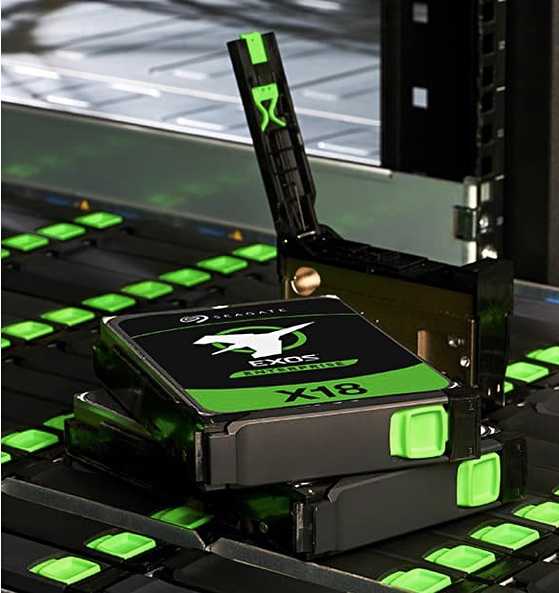 Seagate has demonstrated the industry's first hard drive connected to a host using a PCIe interface at the Open Compute Project Summit. Like solid-state drives, the experimental HDD uses the NVMe protocol to operate alongside SSDs seamlessly. Seagate says its concept device can reduce the costs of owning HDD drives and simplify the interfaces needed to transfer data to them. Using a single protocol for different types of storage devices is especially important for data centers, which rely on numerous storage drives.
The experimental HDD is based on Seagate's proprietary controller that supports all three major protocols, including SAS, SATA, and NVMe over a 'native NVMe port without requiring a bridge. The new HDD was demonstrated in a proof-of-concept 2U JBOD enclosure that used a relatively simple PCIe switch connecting to 12 3.5-inch drives using a PCIe interface.
Modern HDDs can barely saturate even a single PCIe 2.0 link, but future multi-actuator HDDs promise to be much faster, so 6 Gbps provided by SATA or 12 Gbps offered by SAS might not be enough at some point. Then the drives would need a faster interface like NVME. Furthermore, as SSDs are gaining traction in datacenters, the NVMe protocol becomes pervasive, so it makes sense to adopt it for HDDs.
According to Seagate, using the NVMe protocol in HDDs offers a number of benefits, including reduced total cost of ownership (TCO), performance improvements, and energy savings. And by creating consistency across different types of storage device, NVMe HDDs could drastically simplify datacenter configurations.
It will take a number of years for these hard drives to enter the mainstream. Seagate says that the first samples of PCIe/NVMe HDDs will be available to key customers in September 2022 as engineering demo units. Commercial PCIe/NVMe hard drives will be available only in mid-2024. The transition to a brand-new interface and protocol is also ideal for client PCs since it increases performance and simplifies architecture.
ACE Data Recovery team is looking forward to seeing new Seagate HDDs with PCIe NVMe Interface and is ready to help their owners with all their data recovery needs.