Seagate Reveals FireCuda Gaming SSD and BarraCuda Fast SSD
January, 2020
Seagate Reveals FireCuda Gaming SSD and BarraCuda Fast SSD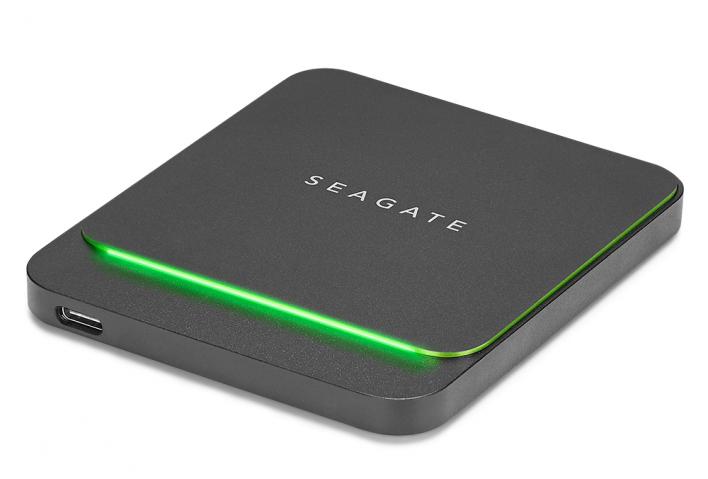 At CES 2020, Seagate is introducing two external SSD drives – the Seagate FireCuda Gaming SSD and BarraCuda Fast SSD that are targeted at gamers and power user on the go. They will appeal to those looking for a convenient way to give their laptop a boost, starting at less than $100.
The FireCuda Gaming SSD will go on sale in March starting at $189 for the 500GB model. Designed as a companion to Seagate's recently released FireCuda Gaming Dock, the portable FireCuda Gaming SSD delivers high-performance with several storage capacities. It's been built with the newer NVMe protocol to enable faster data transfer speeds over the drive's USB 3.2 Gen 2x2 Type-C port which can deliver read speeds of up to 2000MB/second. The drive offers capacities of 500GB, 1TB, and 2TB and features a signature chisel metal enclosure with customizable RGB LED lighting. Gamers can personalize the drive's full-range RGB LED with the free Seagate Toolkit software and synchronize the LEDs with a FireCuda Gaming Dock, creating an immersive setup.
For consumers on a budget, Seagate is also preparing to release a more affordable external drive with a separate product called the BarraCuda Fast SSD. It'll launch in February at $94 for the 500GB model. The new BarraCuda Fast SSD uses newer 96L 3D NAND while retaining the same SATA SSD controller and USB 3.2 Gen 2 bridge chip. Rated speeds remain the same at up to 540 MBps. Pocket-sized, the sleek drive features an attractive green LED and is PC and Mac (exFAT) compatible out of the box. The drive includes Seagate's Toolkit with simple backup and sync, and a complimentary two-month subscription to the Adobe Creative Cloud® Photography Plan2.The BarraCuda Fast SSD will be available in two other models: the 1TB version will go for $169, while the 2TB version will cost $299.
The new Seagate SSDs will appeal to anyone looking for a convenient way to expand their PC's memory. Both external drives are small enough to fit in one hand, making them easy to transport. Built with mobile gamers and active power users in mind, the new Seagate SSDs deliver high performance but just like any other flash storage, they have a limited number of write cycles and will eventually wear out or may fail victim to logical and physical failure, leaving all irreplaceable users files inaccessible. To get their critical data back the proud owners of FireCuda Gaming SSDs and BarraCuda Fast SSDs will need to contact a professional data recovery services provider like ACE Data Recovery team. ACE can successfully recover data from SSDs of all makes and models, including Seagate will gladly help Seagate SSD owners with their data recovery needs.