Samsung Portable SSD T9 with the USB 3.2 Gen 2x2 interface
October, 2023
Samsung Portable SSD T9 with the USB 3.2 Gen 2x2 interface
The Samsung T9 is small and light, measuring 0.3 by 3.5 by 2.4 inches and weighing 4.3 ounces. It's a bit larger and heavier than some competing drives such as the Crucial X10 Pro. The drive has a rubberized frame displaying a textured wave pattern, making it easy to grip. The top displays the Samsung name, while the bottom shows the model name.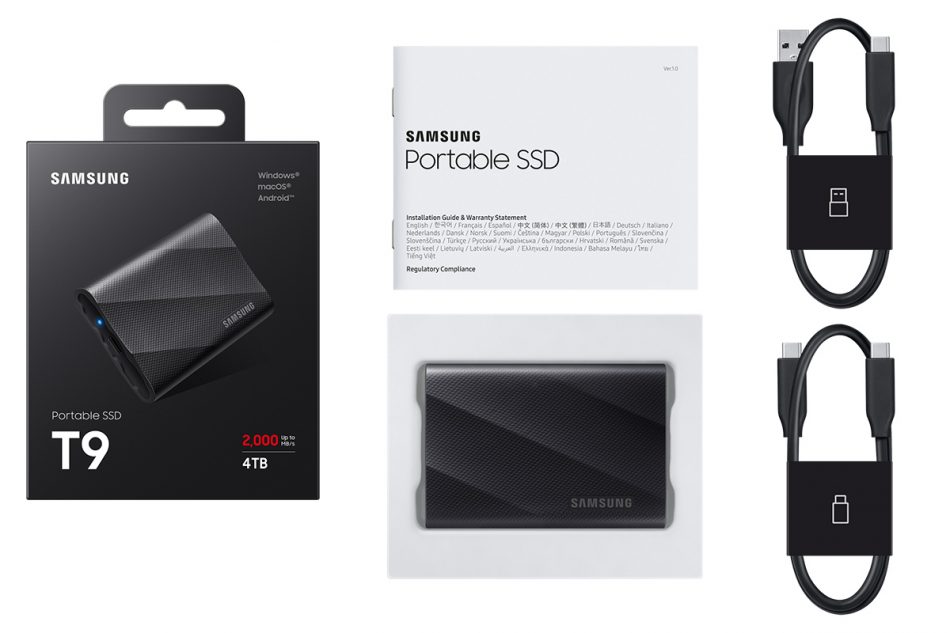 Samsung Portable SSD T9 Performance
The T9 supports the USB 3.2 Gen 2x2 interface, which allows it to achieve exceptional speed over USB 3.2 Gen 2x2 (20Gbps) connections. It comes in capacities up to 4TB and supports 256-bit AES hardware-based encryption. The drive achieves blazing throughput speeds when connected to a compatible PC, making it a go-to external SSD for content creators.
The Samsung T9 includes an upgrade to the already-terrific Samsung Magician software suite.
Samsung Portable SSD T9 Pros and cons
Exceptional speed over USB 3.2 Gen 2x2 (20Gbps) connections
Comes in capacities up to 4TB
Supports 256-bit AES hardware-based encryption
Certified drop-proof
Includes useful Samsung Magician software
A bit pricey
May require an expansion card to achieve Gen 2x2 speeds
The Samsung Portable SSD T9 is a powerful and rugged external SSD that offers high capacity and sizzling speed on Windows or Mac, making it an excellent choice for content creators.
Comparison with Other Drives
The Samsung Portable SSD T9 stands out in the market due to its high speed and large capacity. Here's how it compares to other external drives:
The T9 offers maximum sequential read/write speeds of 2,000 megabytes-per-second (MB/s) on the USB 3.2 Gen 2×2 interface. This is approximately two times faster than the previous model T7.
In speed tests conducted using the Blackmagic Disk Speed Test and a MacBook Air M2 laptop, the Samsung T9 consistently achieved read and write speeds of between 890-920MB/s.
The T9 comes in capacities up to 4TB, which is quite large compared to many other external drives.
Durability and Portability
The Samsung Portable SSD T9 is designed with durability and portability in mind:
Durability
The T9 has a rugged enclosure that can handle being dropped by its owner. It's certified drop-proof up to 3m (9.8ft).
The T9 also employs thermal materials for efficient heat dissipation, maintaining lower component temperatures compared to other drives.
It supports full S.M.A.R.T passthrough, along with TRIM to ensure consistent performance for the drive over its lifetime.
Portability
The T9 is small enough to fit in the palm of your hand, making it highly portable.
It comes with both a USB-C and USB-A cable and is ready for plug-and-play.
There are a few downsides to using an external drive like the Samsung Portable SSD T9:
Price: The T9 is more expensive compared to some other external drives in the market. This could be a significant factor for those on a tight budget.
Dust and Detritus: The textured surface of the T9, while providing a good grip, tends to collect dust and other small particles. This could require frequent cleaning.
Dependent on System: To get the best out of the T9, it needs a USB 3.2 Gen 2x2 interface. Not all systems come with this interface, and you may need an expansion card.
Data Recovery: In general, data loss on SSDs can be trickier to deal with compared to HDDs. It often requires extensive work to recover lost data.
Despite these downsides, many users find that the benefits of high speed, large capacity, and durability outweigh these potential drawbacks when using the Samsung Portable SSD T9. The Samsung Portable SSD T9 is not only fast and high-capacity but also durable and portable, making it an excellent choice for content creators and professionals who need reliable storage on the go. However, there are faster options out there for demanding professionals, and top speeds are very dependent on your system
ACE Data Recovery offers specialized services for Samsung SSDs
Consultation: ACE Data Recovery provides free phone consultations to help customers understand how they can assist them.
Supported Devices: They support more brands and models of SSD storage than any of their competitors. They can extract data from self-encrypted drives such as Samsung, Intel, or Phison-based SSDs.
Evaluation: Customers can bring their device to any of ACE Data Recovery's three full-service labs or one of their 32 center throughout the United States and Canada for a free evaluation.
Recovery Process: ACE Data Recovery has developed technologies to read, reconstruct, restore, and recover data from Samsung Solid State Drives (SSDs) that are based on the Samsung's MGX dual core and older controllers.
Pricing: Once customers decide to move forward with their Samsung SSD recovery, they will not be charged unless the recovery is successful.
Customer Service: ACE Data Recovery is dedicated to customer success and offers an unsurpassed 98% success rate, one of the highest in the industry.
In conclusion, if your Samsung EVO or QVO SSD has failed, regardless of whether it's SATA, M.2, USB or NVMe, ACE Data Recovery can help with any interface.
The time it takes to recover data from a Samsung SSD
The time it takes to recover data from a Samsung SSD can vary depending on several factors such as the size of the drive, the amount of data it contains, and the specific data recovery method used. A quick scan can be completed in a few minutes. However, if the quick scan doesn't yield the desired results, a more thorough or "deep" scan can be performed. This process is more time-consuming and could take longer.
If you're using a data recovery service like ACE Data Recovery, the time frame might be different based on their process and workload. It's important to note that for the best chance of recovery, you should stop using the affected drive immediately after data loss is detected. Any continued use of the drive could overwrite lost data, making it unrecoverable.
Remember, while data recovery tools and services like ACE Data Recovery can be very effective, they cannot guarantee 100% recovery of lost data, especially if the SSD's TRIM feature was enabled at the time of data loss. It's always a good practice to regularly back up your data to prevent permanent data loss.