Samsung unveils 4TB T7 Shield Portable SSD
February, 2023
Samsung unveils 4TB T7 Shield Portable SSD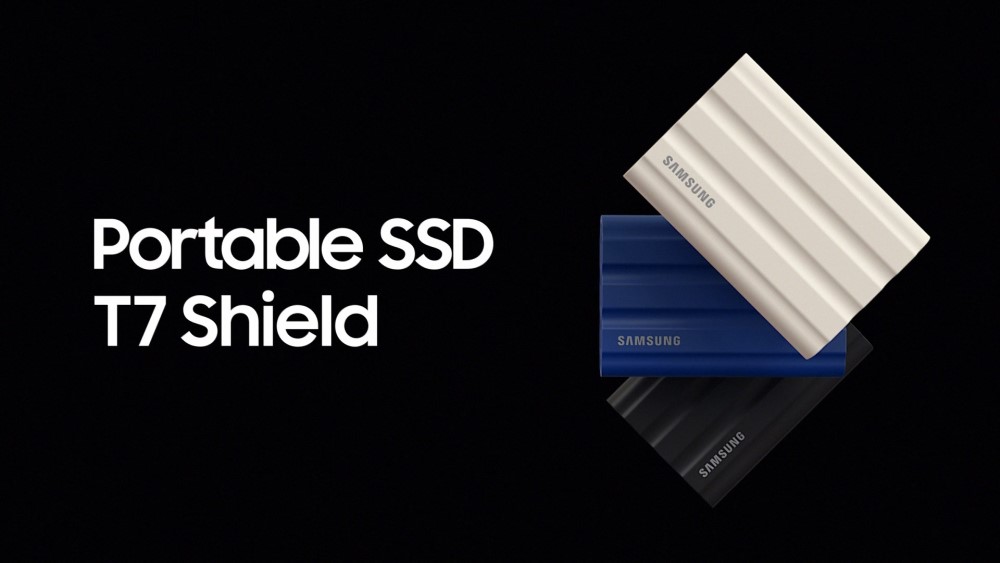 Samsung has recently updated its line-up of portable, external solid state storage solutions with the capacious 4TB T7 Shield external SSD. The Samsung T7 Shield 4TB is basically an NVMe SSD nestled inside a USB 3.2 10Gbps housing. The Samsung T7 Shield SSD measures 3.5-inches long by 2.3-inches wide by 0.5-inches thick, and weighs just under four ounces. The T7 Shield SSD 4TB has an industrial design that can protect the drive against dust ingress and splashes of water (IP65) SSD damage, as well as lend it an element of ruggedness. Overall, the T7 Shield SSD is compact, has a clean look and feels durable in the hand. The T7 Shield's USB connector is Type-C, and both USB Type-A to Type-C and Type-C to Type-C cables are included.
Capable of handling the largest end-user data sets, he Samsung T7 Shield 4TB SSD also features excellent performance, and a decent price per terabyte. Samsung rates the 4TB T7 Shield external SSD drives for transfer speeds up to 1,050MB/s (reads) and 1,000Mb/s (writes), which puts performance well ahead of any SATA-based solid-state drive, but not on the level of most Thunderbolt-based external storage solutions or many USB 3 / 4 NVMe enclosures, when paired with a good-performing NVMe SSD.
Considering the tiny form factor, rugged enclosure, IP65 rating, and good performance, the Samsung T7 Shield SSDs make sense for most applications, where the absolute fastest sequential speeds possible are not a strict requirement. If you're shopping for a quality, portable solid state storage device, the Samsung T7 Shield SSD should be on your short list because it's a god option for storing your data.
But no matter how good they are, the Samsung T7 Shield 4TB SSDs are vulnerable to some defects, including abrupt power loss, magnetic fields, and electric charges that may lead to failures, making critical user data inaccessible on the SSD. If that happens, the owners of the Samsung T7 Shield 4TB SSDs will need to contact a professional data recovery services provider to get their irreplaceable documents back.
ACE Data Recovery leads all competitors in their ability to recover SSD drives. It's the only company that develops their own in-house proprietary hardware and software tools specifically to recover SSDs. ACE Data Recovery engineers can boast of one of the highest success rates in the industry and are ready to help the external drive owners with their data recovery needs.