Samsung Releases 870 EVO SATA SSD
February, 2020
Samsung Releases 870 EVO SATA SSD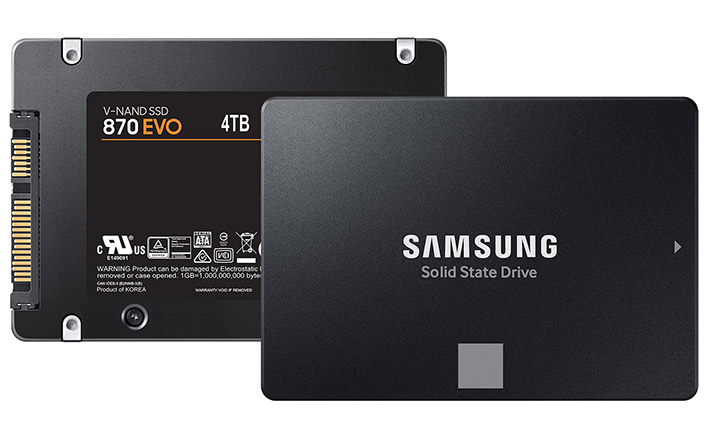 Samsung 870 EVO SATA SSD is one of the fastest SSDs available in in up to 4TB of capacity, and it's exceedingly affordable given its speed. The 870 EVO is a 2.5-inch, SATA 6Gbps SSD that features Samsung's own TLC (Triple-Level Cell/3-bit) V-NAND using Samsung's in-house controller. The controller also has eight NAND flash channels to maintain high levels of interleaving with Samsung's 6th-gen 512Gb 128-Layer V-NAND TLC. The SSD is offered in five different storage-volume sizes: 250GB, 500GB, 1TB, 2TB, and 4TB.
There's 512MB of primary DRAM cache for every 250GB of capacity, and the drives are rated for 150TBW or five years of service—whichever comes first. That is, the five-year warranty is not valid if you exceed the TBW rating. But most end users won't come close to writing that much data, so you can consider it five years.
Samsung rates the 870 EVO to deliver sequential speeds of up to 560/530 MBps and sustain up to 98,000/88,000 random read/write IOPS across the board. The Samsung 870 EVO SSD is also potentially very secure with the option to use TCG Opal 2.0-compliant AES 256-bit full Samsung disk encryption for those computer users whose data needs the added protection.
Like most previous-gen Samsung SSDs, the 870 EVOs use a portion of the NAND like a variable SLC write buffer. This allows the TLC NAND to perform more like an SLC drive for writes and give write performance an overall boost.
Samsung pairs every EVO drive with the Samsung Magician software package that allows users to monitor their SSD's health via reading its S.M.A.R.T. data report, upgrade the SSD's firmware if applicable, secure erase, and even benchmark their drives.
Samsung's 4TB 870 EVO SSDs offer plenty of speed and are very efficient under any workload. They are a good choice for those in need of a SATA upgrade, but, nevertheless, SSD may fail and leave critical user data inaccessible. Then the Samsung 4TB 870 EVO SSD owners will need to contact the professional data recovery services provider. ACE Data Recovery team can boast of one of the highest success rate in the industry and is ready to help the Samsung 870 EVO SSD owners with their data recovery needs.