Samsung Releases Portable SSD T7 Touch
January, 2020
Samsung Releases Portable SSD T7 Touch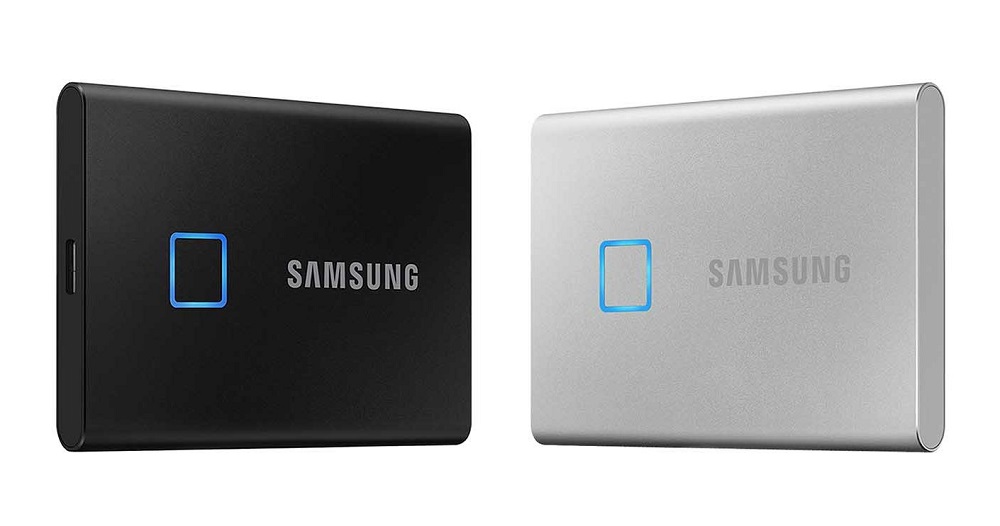 Samsung has announced the release of its latest external storage device the Portable SSD T7 Touch which combines sleek, compact design with the fast transfer speeds based on the USB 3.2 Gen 2 standard. The T7 Touch also comes with a built-in fingerprint sensor for added security.
According to Samsung, the T7 Touch offers a significant speed upgrade over previous storage solutions. With a read speed of 1,050MB/s and a write speed of 1,000MB/s, it is approximately twice as fast as its predecessor, the T5, and up to 9.5 times faster than external HDDs.
The key differentiating aspect of the Portable SSD T7 Touch is the addition of fingerprint-based security to go with the password protection / 256-bit AES-based hardware encryption offered for the data in the internal SSD. The new SSD also features a 'Motion LED', which allows the user to determine the status of the device simply with a single glance. The aluminum casing allows the products to weigh in at just 58 grams.
The Portable SSD T7 will be available in black and silver finish this month and comes in capacities ranging from 500GB to 2TB. The drive comes with a USB Type-C-to-C cable and a USB Type-C-to-A cable, and is compatible with Windows, Mac, and Android operating systems. A non-Touch (no fingerprint sensor) version of the drive is expected to be launched in the second quarter.
Designed for both professional and casual users, Samsung's T7 Touch SSDs provide enough capacity to securely store large numbers of pictures, games or 4K/8K videos whether on a PC, tablet, smartphone or game console. But like all SSDs, these drives have a limited number of write cycles and are vulnerable to physical and logical failures. If that happens, their owners will need to contact a professional data recovery services provider to their irreplaceable videos, pictures and other documents back.
ACE Data Recovery team can successfully restore data from failed SSDs of all makes and models, including Samsung. ACEs can boast of one of the highest success rates in the industry and recover data that other companies can't. ACE Data Recovery team is ready to help Samsung T7 Touch SSD owners with their data recovery needs.