Samsung Develops High-Performance PCIe 5.0 SSD for Enterprise Servers
January, 2022
Samsung Develops High-Performance PCIe 5.0 SSD for Enterprise Servers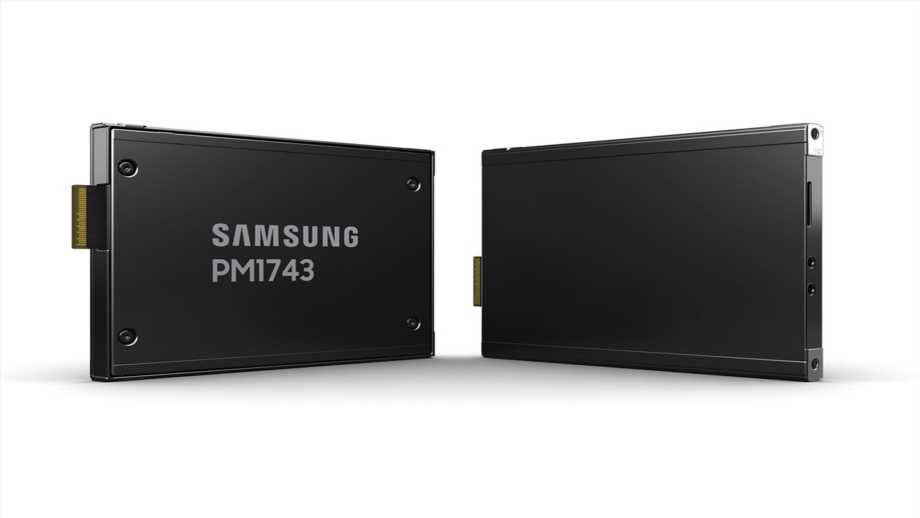 Samsung Electronics announced that it had developed the PM1743 SSD for enterprise servers, integrating the PCIe (Peripheral Component Interconnect Express) 5.0 interface with Samsung's advanced sixth-generation V-NAND.
According to Samsung, PCIe 5.0 offers a bandwidth of 32 gigatransfers per second (GT/s), doubling that of PCIe 4.0. Based on a proprietary controller designed to support the latest PCIe standard, the PM1743 SSD is expected to deliver high read and write speeds to accommodate the rapidly increasing performance requirements of data centers.
Samsung's PM1743 SSD will feature a sequential read speed of up to 13,000 megabytes per second (MB/s) and a random read speed of 2,500K input/output operations per second (IOPS), offering 1.9x and 1.7x faster speeds over the previous PCIe 4.0-based products. Write speeds have been increased significantly too, with a sequential write speed of 6,600 MB/s and a random write speed of 250K IOPS, also delivering 1.7x and 1.9x faster speeds, respectively. These data transfer rates will allow enterprise server manufacturers deploying the PM1743 SSD to achieve a much higher level of performance.
The new SSD can provide improved power efficiency of up to 608 MB/s per watt, which represents about a 30% boost over the previous generation. This is expected to lower server and data center operating costs significantly and will help reduce their carbon footprint.
Samsung's PM1743 SSD will be available in a wide variety of capacities from 1.92 terabytes (TB) to 15.36TB. It will be offered in the conventional 2.5-inch form factor and in a 3-inch EDSFF (E3.S), which is an increasingly popular SSD form factor designed specifically for next-generation enterprise servers and data centers. The EDSFF is perfect for most PCIe 5.0 enterprise solutions.
According to Samsung, the PM1743 SSD is expected to be the industry's first PCIe 5.0 SSD with dual-port support, guaranteeing server operational stability and high availability when a connection to one port fails. Samsung's PM1743 SSDs will implement advanced security features that were traditionally only available at the server level. By embedding a security processor and Root of Trust (RoT), the SSDs will protect against security threats and data forgery to provide data confidentiality and integrity, while also enabling Secure Boot in server systems through attestation.
But no matter how good they are, the new Samsung PM1743 SSDs may fall victim to logical and physical failures, resulting in data loss. Then their owners will need to contact a professional data recovery services provider to get their critical data back. ACE Data Recovery team can successfully recover data from all types of SSD media and will gladly help the owners of Samsung's PM1743 SSDs with all their data recovery needs.