OWC Envoy Pro FX SSD Arrived
March, 2021
OWC Envoy Pro FX SSD Arrived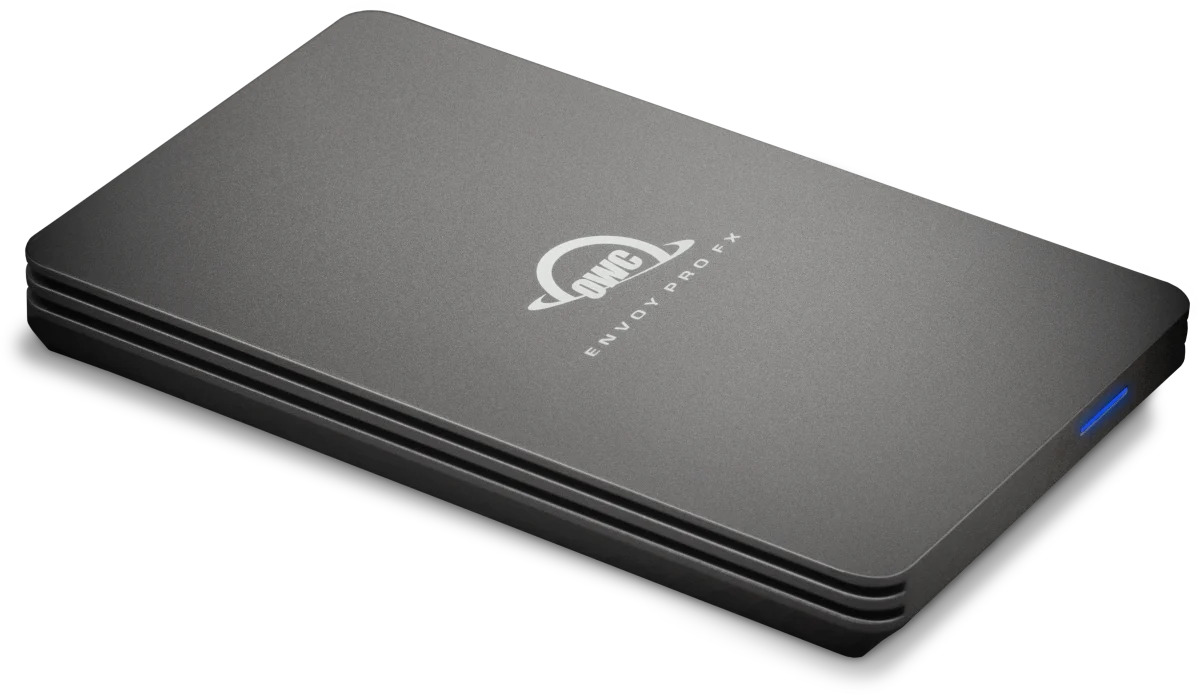 The OWC Envoy Pro FX SSD features an all-metal, slate gray enclosure that quite nicely matches late-gen Macs style-wise. With sizes at approximately 4.5-inches long, 2.75-inches wide, 0.6-inches thick, and 8.6 ounces, it looks a bit large and heavy, with more the appearance of an external 2.5-inch hard drive than SSD.
The OWC Envoy Pro FX SSD is a waterproof and "ultra-rugged" plug-and-play SSD that is capable of operating optimally with both Thunderbolt 3 / 4 and USB hosts. It is designed to offer high performance and broad compatibility and offers sequential read/write speeds of up to 2,800MB/s when you use it with a Thunderbolt 3-compatible device. And if the SSD is used with a USB 3.2 Gen 2 connection, it will max out at the 1,250MB/s limit of the host port.
The Envoy Pro FX uses an NVMe OWC Aura Pro internally and is available in 240GB, 480GB, 1TB, and 2TB capacities. The OWC includes both a Thunderbolt 3 cable and USB Type-C to Type-C cable with a captive Type-C to Type-A adapter. The Envoy Pro FX is fully compatible with macOS and Windows built-in encryption, so users can add password security to their data whenever they need it.
The Envoy Pro FX SSD is IP67-rated for usage in dirty and wet environments, even allowing for submersion in water at depths of 1m for up to 30 minutes, and it also carries MIL-STD810G certification for ruggedness.
The FX SSD drive ships with helper software installed on an 8GB partition. The software will help users format the main partition to the file system of their choice, or they can do that themselves using Apple's Disk Utility. It's possible to copy the software to your main drive so you can delete the helper partition and use the full capacity.
The OWC Envoy Pro FX SSDs are a good option for fast transfers and backups with both Macs and Windows machines, but they may fall victim to logical and physical SSD failures that may result in critical files inaccessibility. Then their owners will need to contact a professional data recovery services provider to restore their irreplaceable data. ACE Data Recovery engineers can successfully recover data from all types of storage media and are ready to help the OWC Envoy Pro FX SSD owners with their data recovery needs.