QNAP Releases TS-x31K NAS Series
June, 2020
QNAP Releases TS-x31K NAS Series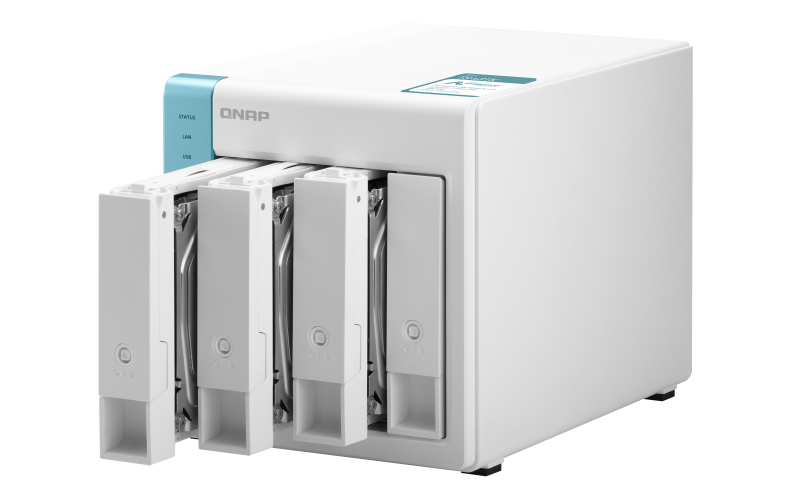 QNAP has announced the availability of their new quad-core TS-x31K NAS series that offer high performance in a compact design. It includes 1-bay (TS-131K), 2-bay (TS-231K), and 4-bay (TS-431K) models. These new NAS solutions provide a set of useful features like centralized data backup and management with file access and sharing, snapshot protection, and a range of multimedia applications. The combination of these features with a compact design makes the TS-x31K NAS series a good option for home users who need a personal cloud.
The new TS-x31K series comes with its quad-core 1.7 GHz processor, 1GB of RAM, Gigabit LAN (the TS-131K has one port while the 2- and 4-bay models have two), SATA 6 Gb/s, and features AES 256-bit encryption. Additionally, the drive bays feature a tool-less and lockable design, which allows users to easily install and remove drives.
With new QNAP TS-x31K NAS series, users can also schedule backups from their personal computers (Windows and Macs) and mobile devices. Using Hybrid Backup Sync (HBS), it is possible to back up data to another NAS or cloud storage as an off-site copy for further protection. Moreover, users can take advantage of snapshots that can help protect against ransomware by quickly restoring files to previous versions. This technology allows users quickly restore the system to its normal state if the system crashes or if they accidentally delete some files.
The new TS-x31K product line offers users access to a wide range of applications, just like all QNAP solutions, for example, Music Station, Photo Station, Video Station, and Surveillance Station. Besides, users have a possibility to turn the NAS into a Plex Media Server. The access to Qsync makes it possible to automatically sync files between NAS devices, mobile phones, and personal computers.
But no matter how good the new QNAP TS-x31K NAS models are, they may fail, just like all storage media and make valuable user files inaccessible. To get their irreplaceable data back, the proud owners of the new QNAP TS-x31K NAS devices will need help from a reliable data recovery services provider. ACE Data Recovery team can successfully recover data from NAS of different manufacturers, including QNAP and is ready to help QNAP TS-x31K NAS Series owners with their data recovery needs.