Qnap TS-h987XU-RP NAS - A Powerful and Versatile Hybrid Storage Solution for SMBs
April, 2023
Qnap TS-h987XU-RP NAS - A Powerful and Versatile Hybrid Storage Solution for SMBs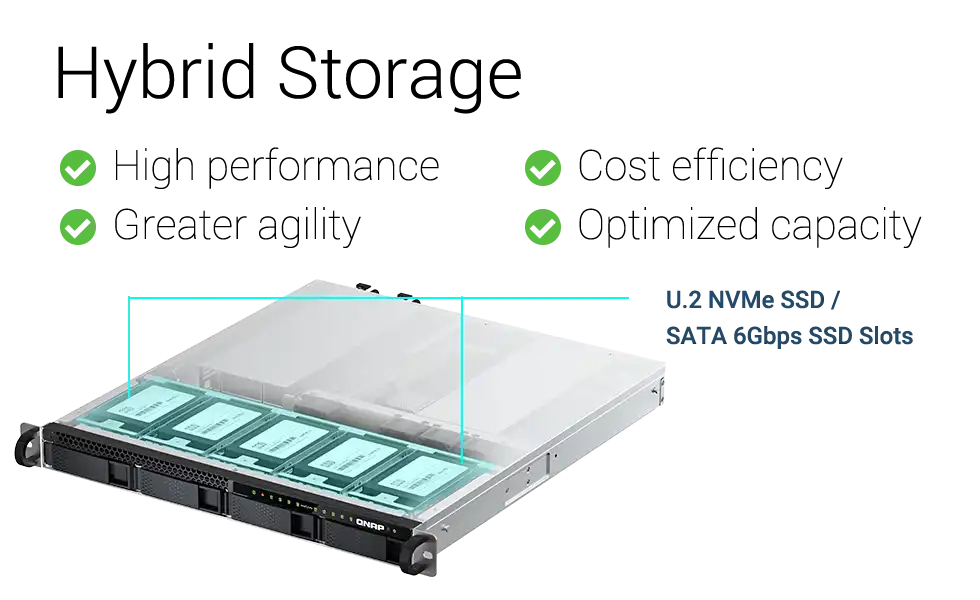 If you are looking for a high-performance and cost-efficient storage solution for your business, you might want to consider the Qnap TS-h987XU-RP. This rackmount NAS combines the advantages of HDD and SSD hybrid storage, 10GbE and 2.5GbE connectivity, PCIe Gen 4 expandability, and dual operating system support to deliver reliable server-grade performance for various applications.
TS-h987XU-RP NAS handle heavy NAS workloads and iSCSI LUN drive for virtual machines
The Qnap TS-h987XU-RP is powered by the Intel Xeon E-2334 quad-core processor, which can handle heavy workloads and drive virtual machine performance. It supports up to 128 GB DDR4 ECC memory, which ensures data integrity and enhances multitasking efficiency. It also features a dual boot OS protection mechanism that allows you to switch between the ZFS-based QuTS hero and the ext4-based QTS operating systems according to your needs.
The Qnap TS-h987XU-RP is more than just a NAS server. It is a versatile and powerful platform that can boost your business productivity and efficiency:
Fast and reliable data storage and backup with its Intel Xeon processor, DDR4 ECC memory, and 12 drive bays that support HDDs and SSDs of different sizes and speeds.
Network performance and connectivity with its PCIe expansion slots that allow you to add network adapters, QM2 cards, or graphics cards for various applications.
Multiple virtual machines and containers with its support for Virtualization Station, Container Station, and Linux Station.
Streamline video editing workflow with its support for QuMagie, which uses AI to organize your photos and videos, and QuAI, which enables GPU-accelerated AI inference on the NAS.
Secure data and network with its comprehensive security features, such as encryption, antivirus, firewall, VPN, and more.
The Qnap TS-h987XU-RP hardware configuration
The TS-h987XU-RP has nine drive bays that support both 3.5-inch SATA HDDs and 2.5-inch U.2 NVMe/SATA SSDs. You can leverage the SSD cache acceleration feature to boost IOPS performance and reduce latency for intensive file access and virtualization tasks. The TS-h987XU-RP NAS also has a PCIe Gen 4 x8 slot that allows you to install 10/25GbE adapters, QM2 cards, or Fibre Channel cards to increase network bandwidth and application performance.
Qnap TS-h987XU-RP software features
The TS-h987XU-RP is designed for various business scenarios, such as file server, virtualization server, VDI, backup/restore, cloud storage gateway, and more. It supports multiple protocols, such as SMB/CIFS, NFS, AFP, FTP/SFTP, WebDAV, and iSCSI/FCP. It also supports virtualization storage and hosting virtual machines and containerized apps using VMware, Hyper-V, Citrix, KVM, Docker, and Kubernetes. Moreover, it offers comprehensive backup solutions for Google Workspace and Microsoft 365 data, as well as VMware and Hyper-V virtual machines.
Qnap TS-h987XU-RP performance
The performance of the Qnap TS-h987XU-RP NAS is highly commendable. When a share is mapped to the server over a 25GbE connection, it achieves impressive Iometer sequential read and write rates of 23.1Gbits/sec and 23Gbits/sec respectively. The random rates are also quite efficient, reaching 23.1Gbits/sec for reads and 20.3Gbits/sec for writes. These results highlight the effectiveness of the QuTS hero ARC (adaptive read cache) and ZIL (ZFS intent log) features, rendering the need for SSD caches unnecessary.
TS-h987XU-RP performance iSCSI SAN performance
In terms of IP SAN performance, the results were somewhat mixed. Connecting a 1TB iSCSI target over a single 25GbE link yielded favorable Iometer sequential read and write speeds of 22.2Gbits/sec and 21Gbits/sec respectively, along with random rates of 21.9Gbits/sec for reads and 20Gbits/sec for writes. However, utilizing a 50GbE MPIO link did not deliver the expected speed boost. The sequential and random numbers increased modestly to 30.7Gbits/sec and 22.8Gbits/sec for reads, and 28.2Gbits/sec and 21.4Gbits/sec for writes. The lack of sufficient appliance memory was identified as the cause for this underwhelming performance. Upon doubling the memory to 32GB, substantial speed increases were observed.
Repeating the MPIO tests with the upgraded memory resulted in remarkable sequential read and write speeds of 45.7Gbits/sec and 40Gbits/sec, as well as random rates of 46.1Gbits/sec for reads and 37.7Gbits/sec for writes. QuTS hero offers an extensive range of data protection features, including nearly unlimited NAS and iSCSI LUN snapshots, end-to-end checksums, inline data deduplication, and compression. In addition to the standard RAID array types, it supports triple parity RAID and triple mirroring. NAS shares can also be safeguarded with WORM (write once, read many) policies to prevent data tampering.
The SnapSync application facilitates fast snapshot backups to remote QuTS appliances through block-level replication, which can be scheduled or performed in real-time. The Hybrid Backup Sync 3 (HBS 3) application simplifies the creation of a 3-2-1 backup strategy for local data in just a few clicks, while also offering file versioning for enhanced ransomware protection.
The TS-h987XU-RP is a powerful and versatile hybrid storage solution that can meet your business IT demands with high performance, reliability, scalability, and flexibility.
QNAP NAS professional data recovery services
If you have lost data from your QNAP NAS device, you may need professional data recovery services to restore your files. QNAP NAS devices are reliable and secure storage systems that can store large amounts of data and provide access to multiple users. However, they are not immune to data loss due to various reasons, such as hard drive failure, RAID configuration errors, power surges, natural disasters, human errors, malware attacks, etc.
To start your QNAP NAS recovery process, you can fill out our online form or call us at our toll-free number. We will provide you with a free shipping label to send your QNAP NAS device to our Dallas headquarters laboratory. We will then perform a free diagnostic and evaluation of your QNAP NAS device and provide you with a quote and an estimated time frame for the recovery process. If you agree to our terms and conditions, we will proceed with the NAS recovery process and deliver your recovered data to you on a new storage device.