New Qnap TS-H1886XU-RP NAS Storage Server
November, 2021
New Qnap TS-H1886XU-RP NAS Storage Server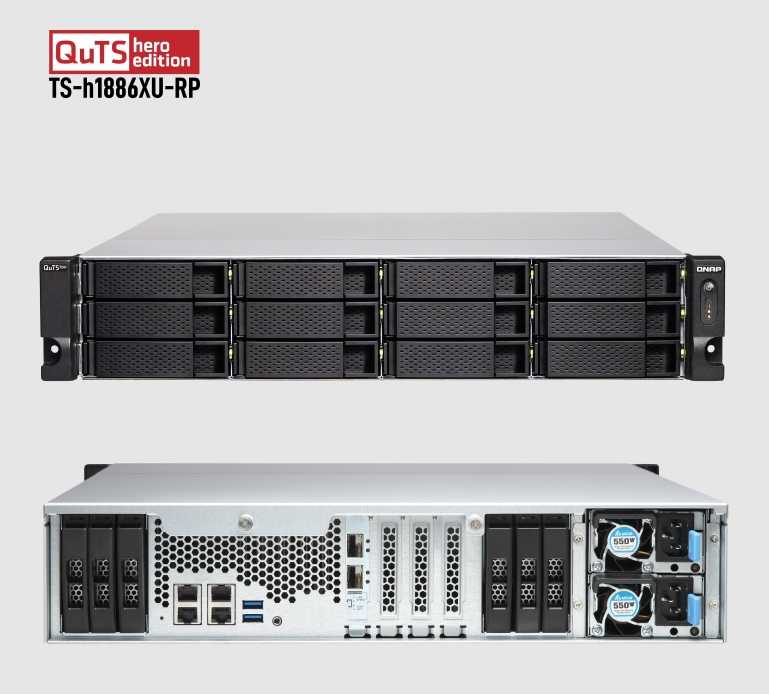 The QNAP TS-h1886XU-RP NAS is a good option if you are looking for versatility. It's a 2U rack system that can house up to 18 drives, via 12 front-facing hot-swap bays and six rear SFF bays. The TS-h1886XU-RP has plenty of connectivity options in the form of quad Gigabit Ethernet ports plus dual 10GbE connectors.
The NAS even offers two operating systems: on initial setup, the quick-start wizard prompts users to choose between Qnap's nimble QTS OS and the advanced QuTS hero OS. The latter system is more demanding, but the TS-h1886XU-RP has enough resources to match it. It features 32GB of DDR4 RAM that is enough to fully enable inline deduplication and get top performance from the 10GbE ports. Still, users are limited to a 1TB SSD cache and to increase this to 4TB, they'll need to upgrade to the maximum 128GB. As to QTS, it doesn't have all the high-end features of QuTS, but it can support a 4TB cache out of the box. And unlike QuTS, it supports Qnap's Qtier 2 data-migration feature.
Whichever system you choose, the user experience is very similar. The two systems present almost identical web consoles with 130 downloadable apps for QTS and 144 for QuTS. All the key backup apps are available for both operating systems, including Hybrid Backup Sync 3, Qsync Central, and HybridMount – plus Hyper Data Protector for VMware and Hyper-V systems.
The TS-h1886XU-RP NAS is equipped with a quad-core 2.6GHz Intel Xeon D-1622 CPU, and three vacant PCI-E slots offer plenty of expansion options. They'll take multi-Gigabit, 10GbE, 25GbE, and 40GbE network adapters, or 16/32Gbits/sec Fibre Channel cards.
With its clever 18-bay design, the Qnap TS-h1886XU-RP NAS will appeal to a wide range of businesses. But this NAS also vulnerable to physical failures that can result in critical data inaccessibility and lead to downtime for businesses. Then the owners of the Qnap TS-h1886XU-RP NAS will need to contact a professional data recovery services provider to get their data back.
ACE Data Recovery can successfully recover data from all types of storage devices, including NAS and can boast of one of the highest success rate in the industry. ACEs are ready to help the Qnap TS-h1886XU-RP NAS owners with their data recovery needs.