QNAP's first tower all-flash U.2 NVMe/SATA TS-h1290FX NAS
August, 2022
QNAP's first tower all-flash U.2 NVMe/SATA TS-h1290FX NAS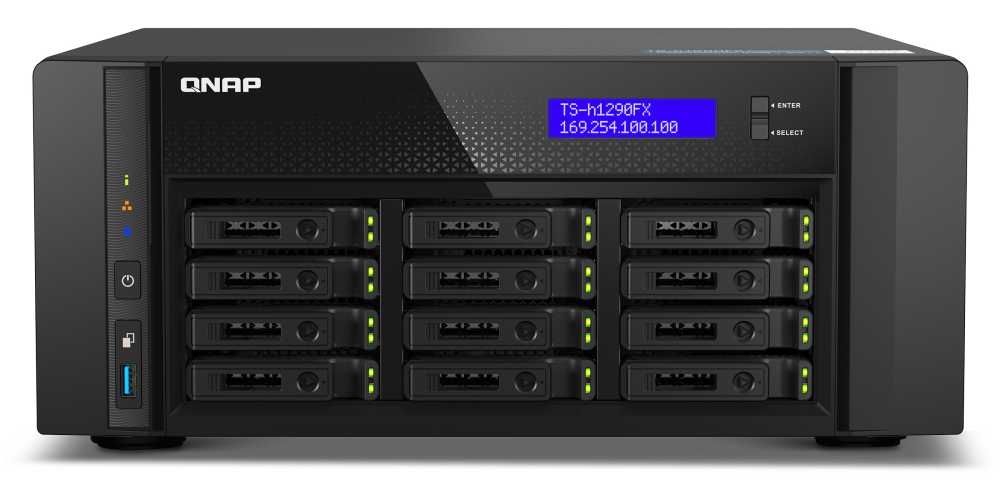 QNAP has launched the TS-h1290FX NAS, which is designed to excel in the most demanding work environments, such as collaborative high-resolution video workflows. The TS-h1290FX NAS features AMD EPYC 8/16-core processors, built-in 25GbE and 2.5GbE connectivity, PCIe Gen 4 expansion, and up to petabyte-scale storage capacity. The new QNAP TS-h1290FX NAS can tackle data-intensive and latency-sensitive applications, such as large media file transfer, real-time editing of 4K/8K high-resolution media, online collaborative workflows, and virtualization applications. The TS-h1290FX also features a ZFS-based operating system to ensure data integrity while supporting inline data deduplication and compression for optimal storage utilization.
The TS-h1290FX is the first NAS from QNAP to sport a tower-style design with support for U.2 NVMe or SATA flash storage drives, made to completely ditch spinning disks in your setup. The new NAS is fully compatible with mainstream software solutions. It can tackle bandwidth-demanding challenges such as real-time 4K/8K video editing and collaborative editing. The TS-h1290FX also features AES-NI encryption to maintain the confidentiality of user data without impacting system performance.
The QNAP TS-h1290FX NAS comes equipped with four PCIe Gen 4 slots, which add quite a bit of flexibility to the NAS. This includes adding a range of different expansion cards such as QNAP 2.5/5/25/40/100 GbE network cards for speedy throughput or an entry-level graphics card to improve video editing and transcoding performance. Users can also scale as their businesses grow via expansion enclosures, such as TL-D800C or TL-D800S, while the QNAP QDA-UMP4 adapter allows users to add an M.2 PCIe Gen4/Gen3 SSD.
With a sleek design, near-silent cooling, and easily scalable storage, the TS-h1290FX NAS is good for small to medium-sized businesses and video editing teams for high-speed backup, collaboration, and video editing workflows. Nevertheless, it can fail, like all storage devices, making important user data inaccessible. In such situations, the owners of the QNAP TS-h1290FX NAS will need professional data recovery services provider. ACE Data Recovery engineers can successfully recover data from HDD of all types, including NAS. They are ready to help the QNAP TS-h1290FX NAS owners with their data recovery needs.