QNAP TS-h1290FX with support Gen 4 U.2 NVMe SSDs NAS
September, 2022
QNAP TS-h1290FX with support Gen 4 U.2 NVMe SSDs NAS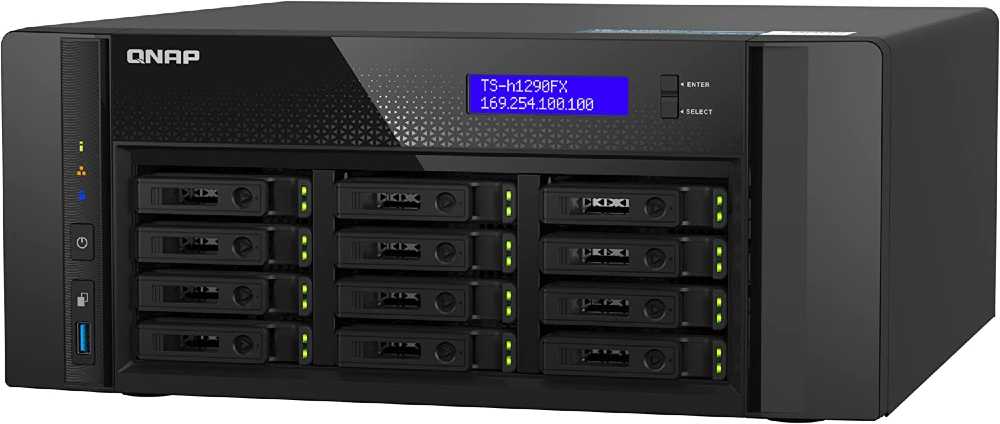 The TS-h1290FX is QNAP's first desktop U.2 NVMe SSD array. Sleek and affordable, the QNAP TS-h1290FX NAS delivers great 25GbE performance, making it a good option SMBs and large teams that want fast data access and run demanding workloads such as real-time 4K/8K video editing. The TS-h1290FX NAS is available with a choice of three AMD EPYC 7002 Gen 2 CPUs, has room for up to 1TB of DDR4 memory and offers all the expansion potential you could possibly want.
All three models of the QNAP TS-h1290FX NAS come with pairs of embedded 2.5GbE multi-Gigabit and 25GbE SFP28 ports, and the four free PCI-E 4 expansion slots so there's plenty of room to add a lot more. Users can balance storage costs with performance requirements, because this QNAP NAS supports both Gen 4 U.2 NVMe SSDs and lower-cost SATA devices (HDDs and SSDs).
Users can choose from Qnap's QTS or QuTS operating systems during installation and the latter is a better choice if you want the best data protection. This 128-bit ZFS-based OS offers valuable features such as near unlimited NAS share and iSCSI LUN recovery snapshots, end-to-end checksums, encryption, inline data deduplication and compression. QuTS also supports triple parity RAID recovery to protect against three drive failures, and triple mirroring which stores identical copies of your data on three drives.
Nearly 100 of apps are available in the QNAP TS-h1290FX download support page. There are all backup and file syncing apps, including Hybrid Backup Sync (HBS) 3, Qsync Central and HybridMount plus Hyper Data Protector for recovery VMware and Hyper-V virtualized environment.
The QNAP TS-h1290FX NAS impresses on many levels – it's a storage system that will undoubtedly satisfy content creators, video editors, and businesses that need super-fast access to their data. But unfortunately, any NAS systems can become corrupt due to power failure, voltage fluctuations, or overvoltage, which can lead to data loss, and if that happens to the QNAP TS-h1290FX NAS, the problems can be solved by ordinary users.
That means that the owners of the QNAP TS-h1290FX NAS will need to contact a professional data recovery services providers to get their critical files back. ACE Data Recovery engineers have proven experience in recovering data from both enterprise class storage systems and popular smaller appliances, including those from QNAP. ACE Data Recovery team will gladly help the the QNAP TS-h1290FX NAS owners with their data recovery needs.