Qnap TS-873A NAS Available
August, 2021
Qnap TS-873A NAS Available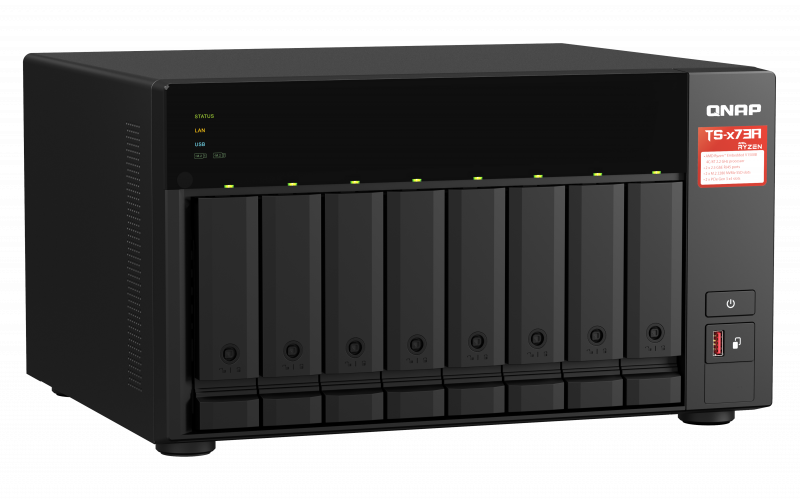 QNAP TS-873A is an extremely versatile business NAS that can fit a range of business needs. It offers high performance and has a strong expansion potential. It features quad-core 2.2GHz AMD Ryzen V1500B CPU and 8GB DDR4 RAM, and its storage options are versatile too. The eight front-facing SATA drive bays support both mechanical disks and SSDs, and there are also two internal M.2 NVMe SSD slots. At the rear of the Qnap TS-873A NAS, dual 2.5GbE ports provide a nice performance boost over a regular Gigabit Ethernet connection, and if you need more speed than that, a pair of PCIe slots sit ready for 10GbE cards or other upgrades.
Users can benefit from the choice of operating systems – you can install Qnap's standard QTS operating system or the more advanced QuTS hero platform. There are significant differences between the two.
QTS is the obvious choice for SMBs, seeking a simple storage solution. It provides all of the key services you would expect from a NAS appliance, and works with every app Qnap has to offer. It is also compatible with the base 8GB of DDR4 memory that comes preinstalled on the TS-873A.
QuTS is the way to go for users who are looking for enterprise-class data security and protection features. It's a 128-bit ZFS-based OS that supports copy-on-write for fast, near-unlimited snapshots, as well as end-to-end checksums for error recovery and inline deduplication and compression, which can offer big storage savings.
QuTS also adds support for triple-parity arrays. That means your data is protected even if three RAID drives fail at once. Moreover, WORM policies help ensure your data archives can't be tampered with or deleted. But QuTS is a more demanding platform because deduplication requires a minimum of 16GB of memory to function, and if you plan to use a 10GbE connection, you'll want to boost this to 32GB to avoid resource bottlenecks.
Still, whichever OS you choose, Qnap's software support is excellent, and there are 109 apps available for QuTS and 123 for QTS. You can download a variety of backup and file-syncing apps, including Hybrid Backup Sync 3, Qsync Central and HybridMount, as well as Hyper Data Protector which protects VMware and Hyper-V virtual environments.
But no matter how good they are, the Qnap TS-873A NAS are vulnerable to NAS logical and physical failures that can make critical business data inaccessible and result in downtime for businesses. If that happens, the owners of the Qnap TS-873A NAS will need to contact a reliable data recovery services provider to get their valuable data back. ACE Data Recovery engineers can successfully recover data from all types of storage devices, including NAS. ACEs are ready to help the Qnap TS-873A NAS owners with their data recovery needs.