QNAP has launched TS-453BT3 Thunderbolt 3 NAS
November, 2017
QNAP has launched TS-453BT3 Thunderbolt 3 NAS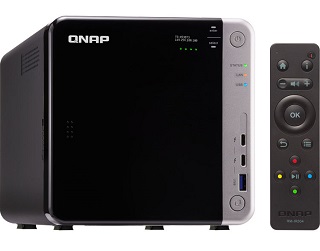 QNAP have expanded their popular NAS series of storage solutions with the announcement of the TS-453BT3, a 4-bay NAS tailored for creative professionals. It combines high-speed Thunderbolt 3 connectivity with a pre-installed QM2 PCIe card, providing dual M.2 SATA SSD slots and 10GbE connectivity.
The TS-453BT3 is powered by an Intel Celeron quad-core 1.5GHz processor (burst up to 2.3 GHz) with dual-channel 8GB DDR3L RAM. The pre-installed QM2 card provides SSD caching and 10GbE connectivity, helping to provide up to 683 MB/s read speeds.
Featuring two Thunderbolt 3 ports that deliver up to 514 MB/s read speeds, the TS-453BT3 works as 4K media editing platform for both Mac and Windows users and allows easy sharing of large media files. The TS-453BT3 also provides a unique Thunderbolt-to-Ethernet (T2E) converter, allowing computers without Ethernet ports (such as MacBook Pro) to access 10GbE network resources over a Thunderbolt connection. The TS-453BT3 supports block-based snapshots, allowing users to easily backup and restore the NAS to a previous state in case of an unexpected NAS failure or when the device was struck by a ransomware attack.
QNAP Thunderbolt 3 NAS features high transfer speeds with expandable data storage to tackle today's challenges in fast-paced multi-workstation environments and provides sufficient storage space for creative works but like all storage devices, it is also vulnerable to physical and logical failures that may happen when we least expect them and result in critical files inaccessibility. To get their irreplaceable files back, owners of the TS-453BT3 NAS will need to contact a certified data recovery services provider.
ACE Data Recovery team has a nationwide reputation for industry-leading results, cutting-edge facilities, experienced engineers, and a proven commitment to exceptional customer service. ACEs are up for the challenge because they are armed with proprietary techniques, tools, and experience to handle the most extreme situations of data loss. ACE Data Recovery professionals can recover data that other companies can't and make the best choice regardless of the data recovery problem you're facing.