QNAP Announced TS-451 DeU NAS
June, 2020
QNAP Announced TS-451 DeU NAS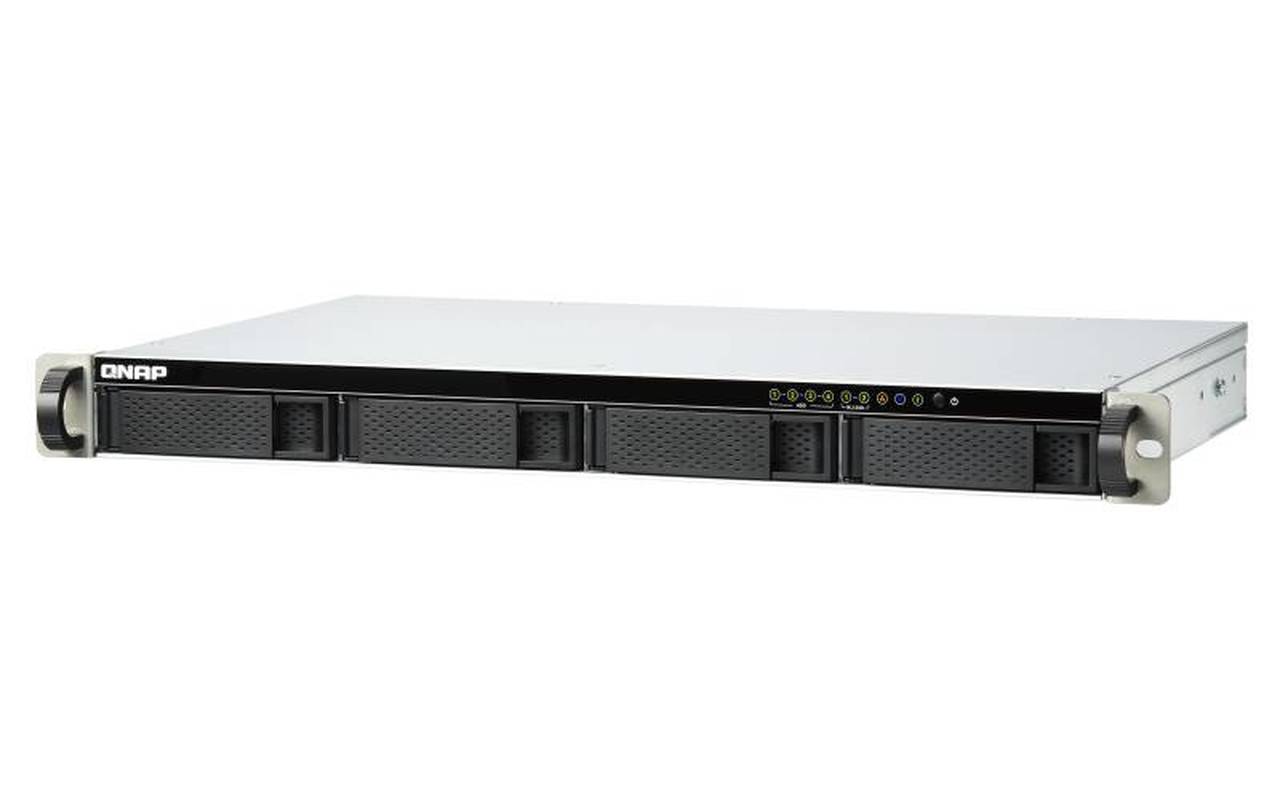 QNAP announced a new short-depth 4-bay NAS for home and small office use, the QNAP TS-451DeU. It comes in a small 1U, 12-inch deep format and makes a good option for A/V racks or network racks, where a traditional 29-inch depth server just wouldn't fit.
This small NAS has space for 4 hot-swappable 3.5" hard drives. There are dual 2.5GbE ports and two M.2 2280 SATA SSD slots. The TS-451 DeU NAS is equipped with an embedded Intel Celeron J4025 dual-core 2.0GHz processor, which turbo up to 2.9GHz. It also features 2GB DDR4 memory, which can be expanded up to 8GB via the dual SODIMM slots. The device doesn't support NVMe drives, but it's OK since it was designed as a cost-effective, entry level NAS. Users will be pleased to see dual 2.5Gbe LAN ports, 5Gbps when bonded, which ensures high speed network storage on just Cat5e cabling.
This solution will allow business users to handle everyday tasks like file backup/restore, and to collaborate with higher productivity. The space-efficient design makes it easy to install the QNAP TS-451 DeU in small media cabinets or places with a lot of cabling.
The TS-451DeU functionality can be expanded via QNAP's App Center. Users can take advantage of many QNAP's options such as hosting multiple virtual machines and containers, creating a multi-zone multimedia hub, deploying a cloud storage gateway, using a Plex media server, implementing a professional video surveillance system, and more. Thanks to its short-depth, the QNAP TS-451 DeU can serve as a video surveillance machine, especially if equipped with high capacity surveillance drives.
The new QNAP TS-451DeU will offer high performance for data backup, file synchronization, remote access, home entertainment, and makes a good option for users to build a personal cloud to access their data easily. But, unfortunately, any NAS can fall victim to logical or physical failures that may result in critical files inaccessibility. To get their precious data back, the owners of the QNAP TS-451 NAS, will need to take them to a reliable data recovery services provider like ACE Data Recovery. Our company has been on the market for more than 35 years and can boast of one of the highest success rate in the industry. ACEs are ready to help the owners of the new QNAP TS-451 DeU NAS with their data recovery needs.