QNAP TS-1655 High-Capacity, 2.5GbE, Hybrid-Storage NAS Announced
February, 2023
QNAP TS-1655 High-Capacity, 2.5GbE, Hybrid-Storage NAS Announced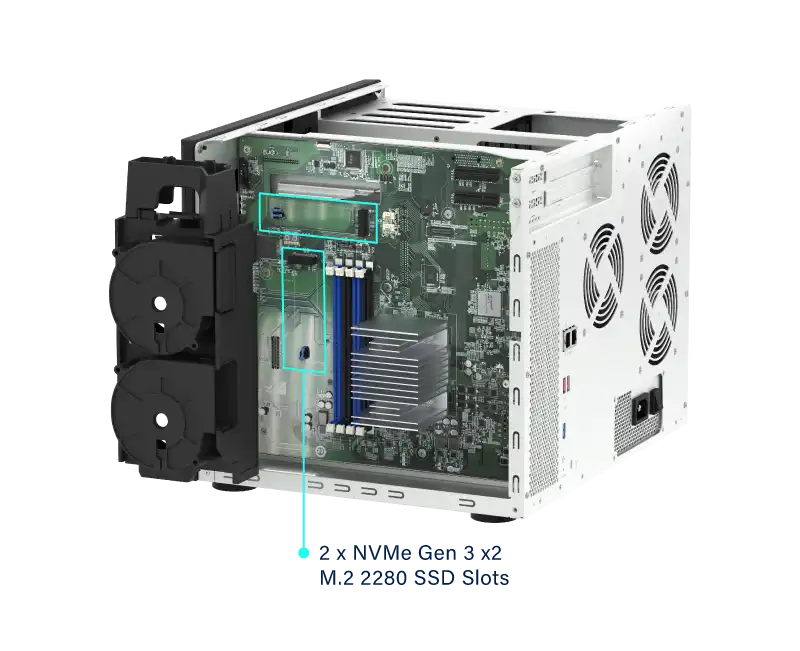 QNAP has announced the TS-1655, a tower-form factor NAS that can hold twelve 3.5-inch hard drives and four 2.5-inch solid-state drives. Designed with a hybrid storage architecture that balances performance and cost, the TS-1655 NAS integrates 8-core computing power, 2.5 GbE high speed and PCIe expansion. According to QNAP, the new TS-1655 NAS is intended to improve business efficiency for cross-team file sharing, collaboration, backup and disaster NAS recovery, and virtualization.
The TS-1655 is powered by an Intel Atom C5125 8-core 2.8 GHz processor with Intel QuickAssist Technology (QAT) for improved performance and efficiency. The new QNAP NAS also comes with four UDIMM DDR4 slots, which can be upgraded to a maximum of 128GB, allowing for higher workloads and improved error-correcting code memory support to enhance performance and reliability in rugged enterprise IT environments. Moreover, with the option to install a dual-port 25GbE network card, the TS-1655 NAS can potentially deliver sequential read and write speeds of up to 3,499MB/s and 2,465 MB/s, respectively.
The TS-1655 NAS provides two 2.5 GbE RJ45 (2.5G/1G/100M) network ports that support port trunking for load balancing and fault tolerance. These ports are good for organizations with bandwidth-intensive applications, including virtualization recovery, large file transfers, high-speed backup/restoration, and real-time applications. The TS-1655 NAS also supports SR-IOV and features three PCIe slots for extending NAS capabilities with various expansion cards, such as 5/10/25 GbE network cards, QM2 cards for adding M.2 SSDs or 2.5 GbE/10GbE network ports, Fibre Channel cards for building SAN storage, and storage expansion cards for connecting QNAP storage expansion enclosures.
The TS-1655 is a reliable and multi-functional NAS designed to meet the storage needs of businesses because it comes with advanced security features, backup capabilities, file-sharing functionality, and central management. The QNAP TS-1655 NAS further ensures data protection via the use of Snapshots, which allows for instant restoration of data to protect against the impact of ransomware.
But, unfortunately, even complex fault-tolerant systems can also suffer from a crash, and human error is a common cause when data is lost from a NAS. In case of a failure, the owners of the QNAP TS-1655 NAS will need to contact a professional data recovery services provider like ACE Data Recovery. The company's engineers are trained to handle all of the current NAS appliances commonly used in the market today and are ready to help the QNAP TS-1655 owners and with their excteranl HDD data recovery needs.