QNAP Launches Next-Gen TDS-16489U R2 NAS
May, 2019
QNAP Launches Next-Gen TDS-16489U R2 NAS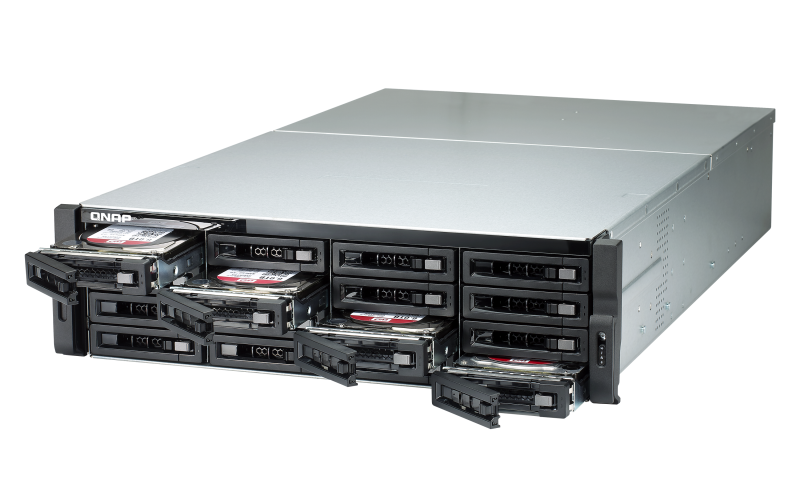 QNAP has released their next-gen TDS-16489U R2 NAS featuring dual Intel Xeon E5-2600 v4 processors and a dual OS system. It also comes equipped with ZFS-based QES, giving users a solution for enterprise-level, efficient and reliable storage for mission-critical tasks and the ability to install QTS for virtual machine applications, diverse applications and auto-tiered storage.
The TDS-16489U R2 features two processors (with Intel Xeon E5-2620 v4 8-core CPU and Intel Xeon E5-2630 v4 10-core CPU configurations), three independent SAS 12Gb/s controllers, and up to 1 TB quad-channel DDR4 2133MHz RDIMM/LRDIMM RAM (16 DIMM). Four 10GbE SFP+ ports fulfill bandwidth-demanding applications such as virtualization, large file sharing, and fast backup/restoration. There are four PCIe Gen3 slots that allow flexible expansion for 40GbE/25GbE/10GbE NICs, graphics cards, QM2 cards, 12Gb/s SAS HBA, or Fibre Channel adapters (FC support available from QES 2.2.0 and QTS 4.4.1). The TDS-16489U R2 has extra four 2.5-inch drive trays at the rear to provide SSD caching, supports IPMI that facilitates remote IT manageability, and features redundant 770 watt power supplies to ensure system reliability.
The TDS-16489U R2 is preinstalled with QES, and supports numerous ZFS-based data protection and restoration features including end-to-end checksums to detect and correct silent data corruption, near-unlimited snapshots for iSCSI LUN and shared folders, and SnapSync to accelerate remote backups. SnapSync also supports VMware Site Recovery Manager (SRM) to offer an enterprise-class remote backup and disaster recovery solution for virtual applications. Besides, QES supports OpenStack Cinder and Manila file sharing services to provide out-of-the-box enterprise cloud services.
The cost-efficient TDS-16489U R2 NAS with dual processors and dual OS options can be a good storage solution for a file server, virtualization server, VDI, medium-scale data center, video streaming, surveillance storage, or efficient file backup/recovery but, just like any other storage media, it may fall victim to logical or physical failures which result in downtime for businesses. To get their critical data back, the users of TDS-16489U NAS will need to contact a reliable data recovery services provider like ACE Data Recovery team. ACE Data Recovery have been providing premium data recovery services for more than 35 years and can boast of the highest success rate in the industry. ACEs will be glad to help all QNAP TDS-16489 R2 NAS users with their data recovery needs.