QNAP Introduces AI-Ready NAS, TS-2888X
December, 2018
QNAP Introduces AI-Ready NAS, TS-2888X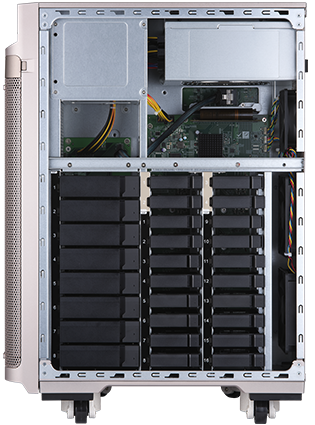 QNAP has introduced the TS-2888X, an AI-ready NAS which combines hybrid storage and a ready-to-use software environment. The TS-2888X is built using next-generation Intel Xeon W processors with up to 18 cores and employing a hybrid storage architecture with 8 hard drives and 20 high-performance SSDs. The new NAS also supports installing up to 4 high-end graphics cards and runs QNAP's AI developer package, QuAI. It packs everything required for machine learning AI to help organizations quickly and easily implement AI applications.
The TS-2888X is built around AI optimization. It features an Intel Xeon W processor with up to 18 cores and 36 threads, and up to 4.5 GHz with Intel Turbo Boost Technology 2.0. To enable rapid workload and processing, the TS-2888X supports up to 512GB DDR4 ECC RDIMM 2666 MHz RAM. It also supports mainstream NVIDIA, AMD, and Intel acceleration cards. To meet the simultaneous needs for scale and performance, the TS-2888X employs a hybrid storage architecture, supporting 8 3.5-inch SATA 6Gb/s HDDs, 16 2.5-inch SATA 6Gb/s SSDs, and 4 2.5-inch U.2 PCIe Gen3 x4 NVMe SSDs with high-speed I/O. This architecture enables such features as SSD caching or auto-tiering.
The TS-2888X introduces a software environment for organizations to easily set up and maintain AI applications. Besides QuAI, it comes with QNAP's Container Station, which enables certain open-source tools and frameworks, such as Caffe, TensorFlow, AlexNet, FaceNet, and more. To ensure data security and to enable disaster recovery, the TS-2888X features flexible backup tools and snapshot protection.
According to QNAP, the TS-2888X combines high-performance computing with large-capacity storage to reduce latency, accelerate data transfer, and to eliminate performance bottlenecks caused by network connectivity. With all these features, the TS-2888X is a good AI solution for most organizations but like all storage devices, it is also vulnerable to physical and logical failures that may happen when we least expect them and result in critical files inaccessibility. To get their irreplaceable data back, owners of the TS-453BT3 NAS will need to contact a professional data recovery services provider.
ACE Data Recovery team is up for the challenge because they are armed with proprietary techniques, tools, and experience to handle the most extreme situations of data loss. ACEs have a nationwide reputation for industry-leading results and can recover data that other companies can't. ACE Data Recovery makes the best choice no matter what type of problem you are facing.