New QNAP HS-264 dual-bay slim NAS
September, 2022
New QNAP HS-264 dual-bay slim NAS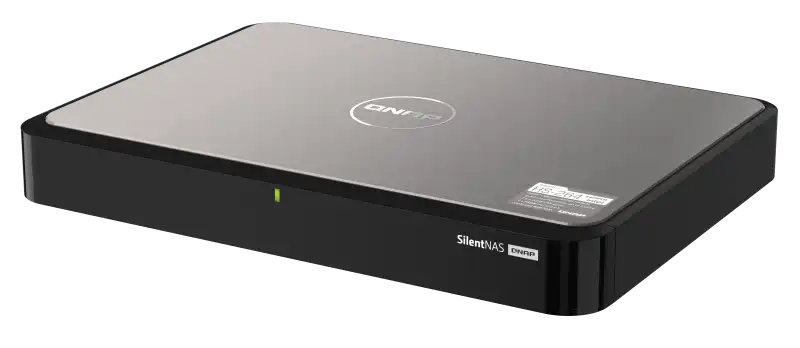 The QNAP HS-264 NAS has been designed to reside in the general living space alongside the games consoles and cable TV boxes but offers all the functionality that we associate with a modern NAS. The scale and shape of the HS-264 have much more in common with a set-top TV box than a NAS, at just over 4cm thick and 30cm wide. The chosen form factor makes the QNAP HS-264 NAS look much more at home alongside a TV, but it restricts the number of drive bays available to just two.
The HS-264 NAS can house two 2.5-inch/3.5-inch SATA 6Gbps hard drives or SSDs and can be outfitted with up to 8GB of DDR4 memory (but memory cannot be expanded beyond this). The QNAP HS-264 NAS also comes equipped with two 2.5 Gigabit (2.5G/1G/100M) ports, giving it enough potential bandwidth for high-speed backup, sharing, and streaming.
The specification of the QNAP HS-264 NAS is closer to an entry-level desktop PC, being built around the Intel Celeron N5105 quad-core and 4-thread processor, with a burst clock speed up to 2.9GHz. Combined with 8GB of DDR4, this hardware is more powerful than many NAS built for business users. It also has an integrated Intel UHD Graphics subsystem, enabling it to directly output video to an HDMI connected TV in resolutions up to 4K (3840 x 2160) at 60Hz.
The QNAP HS-264 NAS has a wide range of multimedia applications, so users can easily access, store, and manage their photos, videos, and audio files via QuMagie, Video Station, and Music Station. Moreover, the new HS-264 NAS is compatible with Plex multimedia streaming.
The QNAP HS-264 NAS has many great features, and the amount of processing power and memory in it provides an impressive platform for users that wish to use a NAS for more than file serving. But unfortunately, the QNAP HS-264 NAS appliances can also suffer from crash, just like any other storage media. Then the owners of the QNAP HS-264 NAS will need to contact a professional data recovery services provider to get their valuable photos, videos, and other documents back.
ACE Data Recovery engineers are trained to handle all NAS appliances commonly used in the market today, including those manufactured by QNAP. ACEs are ready to help the QNAP HS-264 NAS owners with their data recovery needs.