QNAP Releases TS-251D 2-Bay NAS with PCIe Expandability
February, 2020
QNAP Releases TS-251D 2-Bay NAS with PCIe Expandability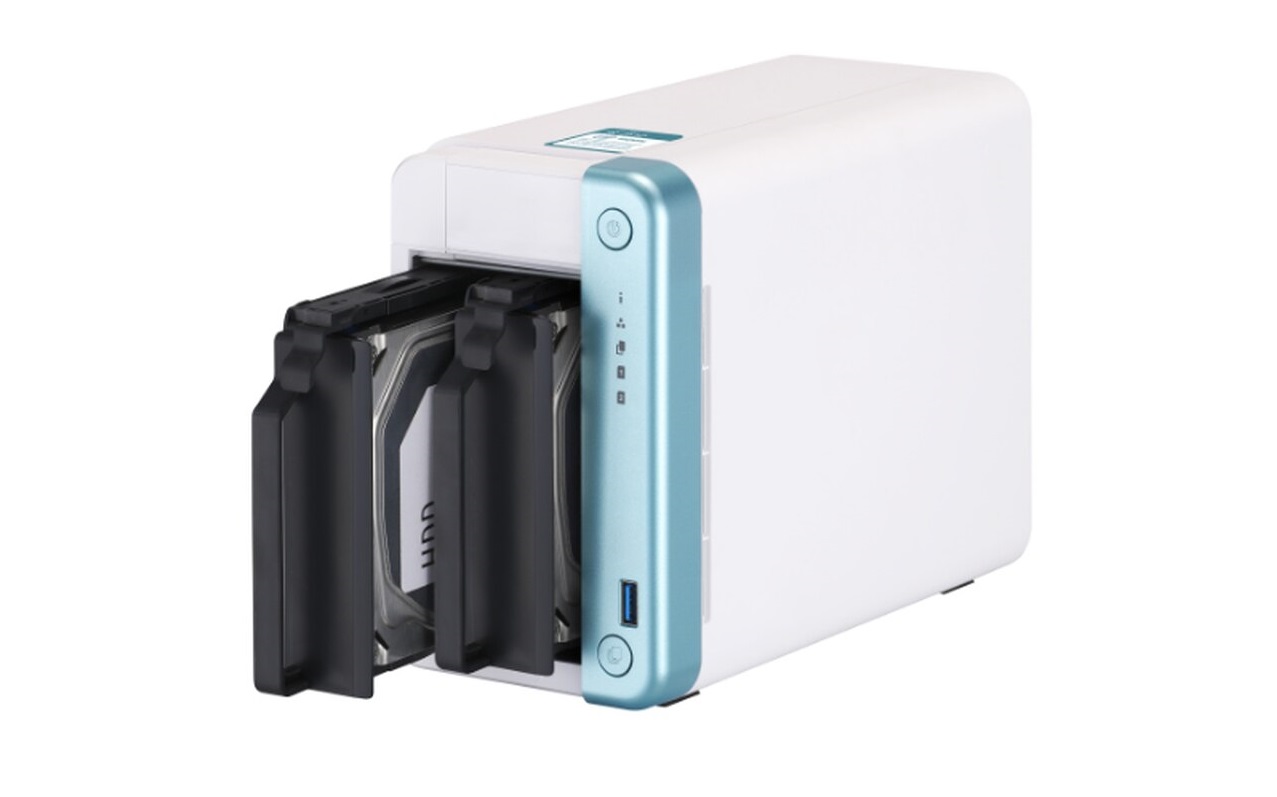 QNAP has released the TS-251D (TS-251D-4G and TS-251D-2G models), the company's newest 2-bay consumer NAS. It's a budget-friendly 2-bay NAS aimed at home users and supporting hardware-accelerated media playback. The TS-251D can store up to 32 TB of data using today's hard drives and can be further expanded with a PCIe card to add SSD caching or other options.
The new QNAP NAS is powered by an Intel Celeron J4005 dual-core 2.0GHz processor (with burst up to 2.7 GHz) and features up to 8GB of DDR4 RAM, a 1-Gigabit LAN port, and supports SATA 6Gbps drives. It also features Intel AES-NI 256 hardware-accelerated encryption and supports snapshots, the latter which allows for quick recovery of data due to accidental deletion/modification or ransomware attack. In addition, the TS-251D supports QuMagie, QNAP's smart AI photo management application, which integrates AI image recognition to group similar photos together in albums.
The key feature of the QNAP TS-251D is its PCIe 3.0 x4 slot that can be used to install one of the company's expansion cards. A QNAP QXG – 10GbE/5GbE network expansion card can be configured with an existing CAT 5e cable for upgrading NAS connectivity to a high-speed network environment. A QM2 card can be installed for adding M.2 SSD caching and 10GbE connectivity, a compatible wireless adapter—QNAP QWA-AC2600 to create a wireless storage and streaming environment, and a USB 3.1 Gen 2 (10Gbps) card for increasing the number of USB ports.
The TS-251D's App Center provides a wide range of productivity tools including the following: QmailAgent for centrally managing multiple email accounts, Notes Station 3 provides higher efficiency for collaborative note-taking and workgroups, Qfiling automates user workflows for improved efficiency and productivity, Qsirch for quick file searches. A variety of streaming applications, including Cinema28 and Qmedia allow users to enjoy a smooth multimedia experience using different streaming protocols.
The new QNAP TS-251D 2-Bay NAS will be a good storage solution for home users who are looking for better 4K Support locally and over the network but they may also suffer from a crash due to human error which can lead to malfunction and cause a data loss. Then the owners of QNAP TS-251D 2-Bay NAS will need to contact a professional data recovery services provider to get their valuable files back. ACE Data Recovery has extensive experience in recovering data from failed NAS. The company's experienced engineers use advanced software tools and are trained to handle all of the current NAS appliances. ACE's are ready to help QNAP TS-251D 2-Bay NAS owners with their data recovery needs.