PNY CS1030 1TB M.2 NVMe SSD Lunched
June
June, 2021
PNY CS1030 1TB M.2 NVMe SSD Lunched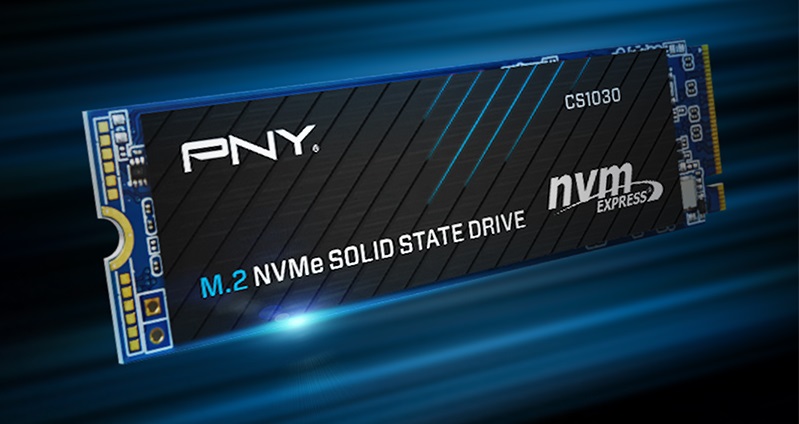 The PNY CS1030 1TB SSD is PNY's entry level NVMe offering. The CS1030 is designed as an upgrade from traditional SATA storage to take advantage of NVMe's higher bandwidth to accelerate startup, accelerate application startup, and improve overall system performance.
The PNY CS1030 1TB comes in a single-sided M.2 2280 (80mm) form factor. This is a DRAM-less drive and relies on Host Memory Buffer (HMB) technology to mitigate the lack of a DRAM cache. It features the Phison PS5013-E13-31 and four NAND packages. The NAND on the CS1030 appears to come from Yangtze Memory Technologies Co (YMTC) and is TLC.
The PNY CS1030 line of SSDs is available from 250GB to 2TB. All of the CS1030 models advertise relatively modest performance specifications for a PCIe 3.0 SSD. Still, a rated sequential read speed of 2100 MB/s and read speed of 1700 MB/s will be plenty enough for common client workloads.
PNY CS1030 M.2 NVMe SSD is faster than conventional hard-disk and solid-state drives, these M.2 form factor drives provide increased read and write speeds for faster boot times and quicker application launches.
Unfortunately, the PNY CS1030 line of drives suffers the lack of transparency with regards to the specs on the drive, for example, the lack of disclosure for the rated endurance. Still, the CS1030 is a better drive and also costs less than the PNY CS2130, and it comes with TLC instead of QLC.
Compared to a SATA hard disk drive or standard hard disk drive in an NVMe-enabled desktop or laptop computer, the NVMe SSD PNY CS1030 M.2 is a good choice for NVMe Gen3 upgrades and offers more storage space or higher performance. The PNY CS1030 1TB is a decent entry-level SSD and it would happily fit the bill for use in normal desktop or laptop systems where mainstream level performance is acceptable. The PNY CS1030 1TB M.2 NVMe SSD is a good value at its price point and also has a competitive 5-year warranty backed by US 24/7 technical support.