Phison PS5018-E18 (E18) PCIe 4.0 Controller Enters SSD Market
November, 2020
Phison PS5018-E18 (E18) PCIe 4.0 Controller Enters SSD Market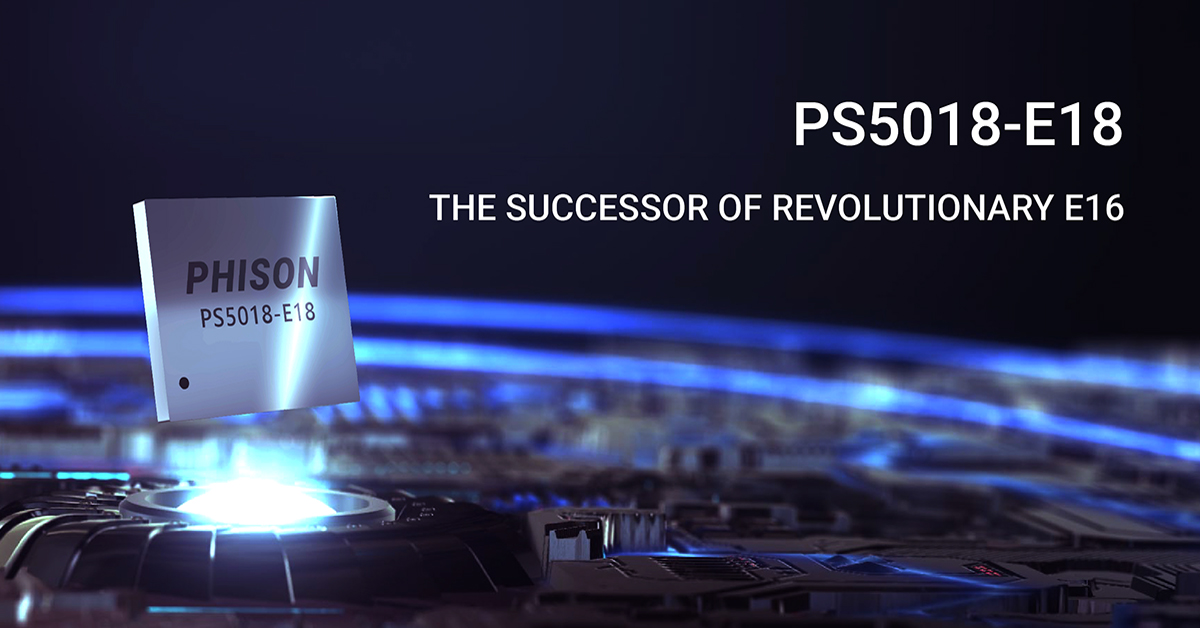 Phison has just announced that their PS5018-E18 (E18) PCIe 4.0 SSD controller is ready to be unleashed and it has entered the market. The PS5018-E18 (E18) PCIe 4.0 SSD controller is the company's 2nd-gen controller for high-end client SSDs with a PCIe 4.0 x4 interface.
The Phison E18 is their first fully native PCIe Gen 4.0 x4 controller, and it was made by TSMC on the 12nm process node. The result is an SSD controller that delivers sequential read performance up to 7.4GB/s and sequential write performance to 7.0GB/s.
Phison claims that their E18 is the only solution in the market to break the 7.0GB/s on both sequential reads and writes and that it is the fastest PCIe 4.0 NVMe SSD solution in the world, with capacities of up to 8TB. The eight-channel E18 can deliver up to 1 million IOPS for Random 4K operations. Each channel is clocked at 1,600 MT/s.
In 2019, Phison released the PS5016-E16 PCIe Gen 4.0 x4 controller, which was capable of delivering up to 5.0 GB/s sequential read and 4.4 GB/s write. That means the 2nd Gen E18 controller is about 1.5x faster than that just released last year.
Phison PS5018-E18 (E18) PCIe 4.0 Controller is compatible with the NVMe 1.4 specification and is powered by Triple ARM Cortex R5 CPUs along with Phison's proprietary CoXProcessor 2.0. It has AES 256-bit hardware encryption and support for the TCG OPAL 2.0 storage security subsystem as well as Pyrite. Phison architecture is also primed for AI-assisted storage, where its distributed architecture uses many small cores to perform the workload in parallel. The controller features Phison's 4th-gen LPDC ECC engine and supports the NVMe 1.4 protocol.
Right now, Phison is sampling its SSDs powered by the PS5018-E18 with its customers. SSDs based on Phison's PS5018-E18 controller are due to release to retailers very soon. Phison says that SSDs with the E18 are ideal for gamers, content creators, and computing enthusiasts that demand the best experience. But unfortunately, they can also fail like other SSDs, leading to critical user data inaccessibility. If that happens, ACE Data Recovery team is ready to help computer users who have SSDs based on the PS5018-E18 get their critical data back.