Netac NV7000 SSD: A Versatile Storage Solution with Impressive Value
July, 2023
Netac NV7000 SSD: A Versatile Storage Solution with Impressive Value
When it comes to SSDs, the Netac NV7000 stands out from the competition in more ways than one. While its specifications may not reveal any groundbreaking features, this drive offers a level of versatility that sets it apart. Netac builds the NV7000 using various combinations of controllers and NAND flash memory, depending on component availability. This flexible approach ensures that the exact hardware composition may vary, providing Netac with the ability to prioritize value without compromising on performance.
Most Netac NV7000 SSD models now come equipped with an InnoGrit Rainier controller and 128-layer TLC NAND from YMTC. However, it's worth noting that there are also models available with a Phison E18 controller, 176-layer Micron NAND, or 128-layer SK hynix NAND. This variable bill of materials strategy allows Netac to adapt to market conditions while maintaining a focus on value.
Netac guarantees a baseline level of performance regardless of the specific hardware components used. This approach acknowledges the fact that SSD performance can vary slightly depending on the host system. Some SSDs perform better on Intel platforms, while others excel on AMD systems. Therefore, some natural variability is expected, and Netac's commitment to consistent performance is commendable.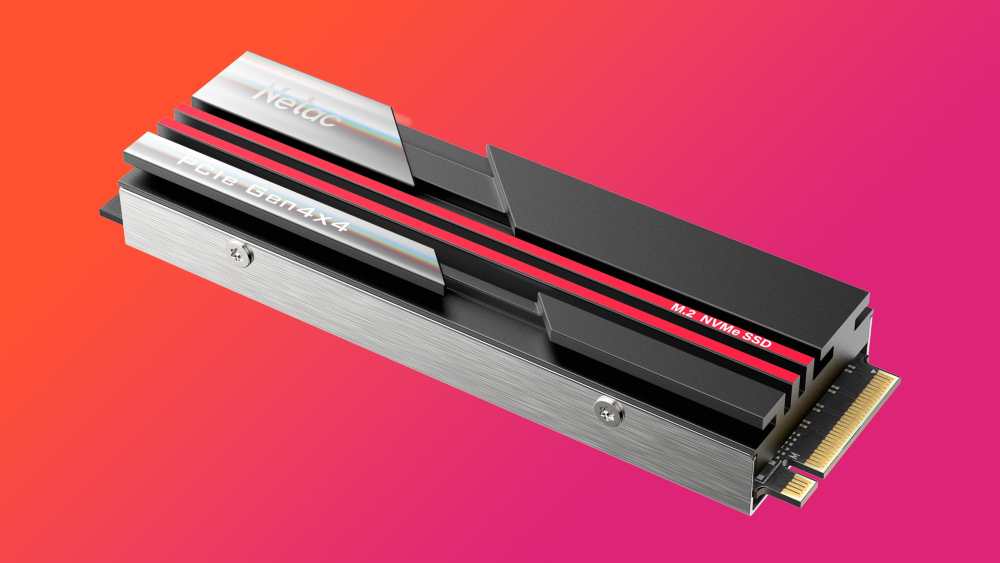 Netac NV7000 SSD Impressive Hardware Composition and Performance
The Netac NV7000 utilizes a 12nm process for its controller, which features a quad-core Cortex-R5 chip running at 667MHz. It interfaces with eight NAND channels that operate at speeds of up to 1,200MT/s, enabling increased parallelism. Despite supporting hardware-baked security, Netac has decided against implementing this option in order to lower costs and minimize complexity.
In terms of IOPS (Input/Output Operations Per Second) and endurance, the Netac NV7000 may not be the most impressive contender. For example, the 2TB model offers a total bytes written (TBW) rating of 1,400TBW, which indicates a little less than 1TB of data writing per day over the five-year warranty period. While this level of SSD endurance is generally acceptable, it falls short compared to the 2,550TBW offered by the Phison E18-powered Seagate FireCuda 530 2TB SSD.
Aesthetically Pleasing Design and Compatibility
Visually, the Netac NV7000 2TB drive is aesthetically pleasing, featuring a well-fitting aluminum heatsink and a sleek design. Its slim form factor is intentionally designed to fit perfectly in space-constrained devices like the PlayStation 5 console, while also serving as the primary storage solution for a wide range of PCs.
Examining the internal components of the 2TB model, we find the InnoGrit Rainier controller on the left, a 1GB SK Hynix DRAM buffering chip in the middle, and two YMTC-produced 512GB modules on the right. This combination is also replicated on the back of the drive, and it's worth noting that thermal tape is utilized on both sides. For the 4TB version, it can be presumed that double-density chips are used since there is no additional space available to accommodate four additional NAND chips.
InnoGrit Rainier Controller and Supporting Utility
The IG5236CAA controller used in the Netac NV7000 is also present in other SSD models, such as the Acer Plextor M10P, Adata XPG Sage, and BiWin-branded HP and Acer SSDs. Although InnoGrit is a relatively new player in the industry, the company was founded in 2016 by senior engineering executives with extensive experience in well-regarded companies like Marvell.
Netac provides a basic but functional utility to support their SSDs. While it lacks advanced features, it performs its intended functions without issue. It's worth mentioning that, at the time of testing, no newer firmware was available, and attention to detail in the utility could be improved, as some minor errors and typos were noticed.
Netac NV7000 Performance and Workload Handling
In terms of performance and workload handling, the Netac NV7000 SSD performs well initially but experiences a slight drop in performance as the workload increases. The company claims that one third of the drive's capacity can be dynamically turned into a performance-enhancing SLC (Single-Level Cell) cache. Performance drop-off was observed at around the 610GB mark, where write speeds fell from 5GB/s to 2.7GB/s, indicating that the SLC cache was full and validating Netac's claims. After this point, write speeds fluctuated between 0.9GB/s and 2.1GB/s, demonstrating some inconsistency. However, overall, the SLC caching functionality performed admirably.
One of the strengths of the Netac NV7000 2TB SSD is its compatibility and optimal performance in standard consumer environments. The performance difference between this drive and other high-end enthusiast-class SSDs would be negligible to the average user.
Furthermore, the inclusion of a well-designed metal heatsink helps maintain reasonable operating temperatures, contributing to the overall reliability and longevity of the drive.
Competition is a driving force behind innovation in the SSD market, and Netac's NV7000 2TB drive proves that new players can make an impact. In a market often dominated by a few major players, Netac offers an honest-to-goodness storage solution that combines solid performance, versatility, and affordability.
With its attractive design, compatibility with popular gaming consoles, and commitment to value, the Netac NV7000 is a worthy contender in the consumer SSD space.
Data Recovery Service for Netac SSD
Netac is renowned as a leading manufacturer of solid-state drives (SSDs), known for their exceptional performance and reliability. However, even the most reliable SSDs can experience failures, leading to potential data loss. If you find yourself in a situation where you've lost data from your Netac SSD, there is a professional solution available: ACE Data Recovery Service, experts in data recovery.
In the event of data loss from your Netac SSD, it is crucial to immediately cease any further usage of the drive to prevent exacerbating the situation. Once you have stopped using the drive, it is advisable to reach out to ACE Data Recovery Service. Here are some key recommendations to consider after experiencing data loss:
Avoid attempting DIY data recovery methods, as they can inadvertently cause further damage.
Refrain from writing any data to the affected drive to prevent overwriting potentially recoverable files.
Avoid formatting or initializing the drive, as it may result in permanent data loss.
By adhering to these guidelines, you can enhance the chances of a successful data recovery process.
There are various scenarios where you might require data recovery services for your Netac SSD. Physical damage caused by drops, crashes, or water damage can render the drive inaccessible. Additionally, corruption resulting from power outages or other unforeseen events may also lead to data loss. Regardless of the cause, ACE Data Recovery Service possesses the expertise and resources to assist in recovering your valuable data.
The ACE Data Recovery Process
The data recovery process for Netac SSDs can be intricate, but ACE Data Recovery Service has the necessary capabilities to recover lost data in most instances. The initial step involves sending your drive to ACE Data Recovery Service, where a thorough assessment of the damage will be conducted to determine the optimal course of action. Leveraging specialized tools and techniques, ACE Data Recovery Service can initiate the data recovery process. The specific techniques employed depend on the underlying cause of data loss. However, rest assured that ACE Data Recovery Service is proficient in employing the appropriate methods to maximize the chances of a successful recovery.
The cost of data recovery for Netac SSDs varies depending on the extent of the damage and the amount of data requiring recovery. Nevertheless, considering the significance of the data at stake, the cost is often a worthwhile investment to retrieve valuable information.
Selecting a Data Recovery Service
If you find yourself facing data loss from your Netac SSD, do not hesitate to contact ACE Data Recovery Service. Their expertise and comprehensive solutions can aid in recovering your lost data efficiently, allowing you to resume utilizing your drive as quickly as possible.