Mushkin Launches Delta and Gamma PCIe 4.0 NVMe SSDs
May, 2021
Mushkin Launches Delta and Gamma PCIe 4.0 NVMe SSDs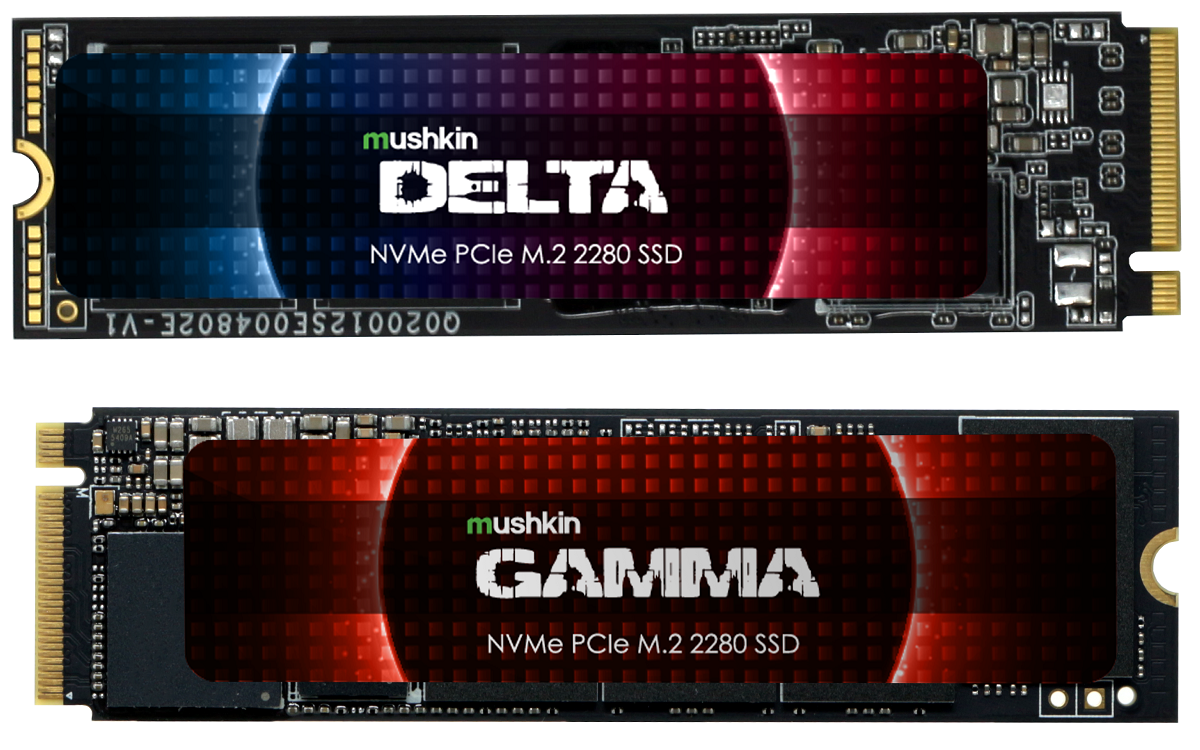 Mushkin has announced two new product lines for PCIe 4.0 M.2 SSDs. Following the introduction of the Alpha series last year, the new Delta and Gamma drives continue Mushkin's recent trend of using Phison's SSD controllers and reference designs. The Alpha line uses the Phison E12S controller and QLC NAND, the new Delta line uses the Phison E16 controller and QLC NAND, and the new Gamma line uses the Phison E18 controller and TLC NAND.
The new Mushkin Delta series SSD and their existing Alpha series both use QLC NAND, but the Delta is not a complete replacement for the Alpha. The Delta offers a performance boost due to the faster controller that supports PCIe 4.0, but that faster Phison E16 controller also takes up more PCB area than the compact Phison E12S controller used in the Alpha. That prevents the Delta series from offering an 8TB option.
The Alpha series is focused specifically on extreme capacities since it only includes 4TB and 8TB models, while the Delta is a bit more mainstream and includes three storage capacities: 1TB, 2TB, and 4TB. Featuring Phison's E16 controller, the Mushkin Delta SSDs delivers a sequential read speed of up to 4,975MB/s and a sequential write speed of 3975 MB/s. As for 4K Random read/write speeds, it can reach up to 700,000/650,000 IOPS.
The Mushkin Gamma SSDs are based on the Phison E18 controller and can reach read/write speeds of 7,175MB/s and 6,800MB/s respectively. Unlike the Delta series, the Gamma SSDs are only available in 1TB and 2TB capacities. 4K Random read/write speeds are slightly inferior compared to the Delta SSDs, offering up to 640,000/630,000 IOP.
The new Mushkin Delta and Gamma PCIe 4.0 NVMe SSDs offer an impressive range of performance, security, and reliability and can be a good solution for gamers, content creators, and computing enthusiasts. But they can also fall victim to logical SSD failures that will make their critical data inaccessible, and their owners will need to contact a professional data recovery services provider to get their data back. ACE Data Recovery team has an extensive experience in recovering data from all types of HDD or SSD media and is ready to help the Mushkin Delta and Gamma PCIe 4.0 NVMe SSDs owners with their data recovery needs.