MSI Reveals Spatium M570 PCIe 5.0 x4 SSD: Up to 12.3 GB/s
October, 2022
MSI Reveals Spatium M570 PCIe 5.0 x4 SSD: Up to 12.3 GB/s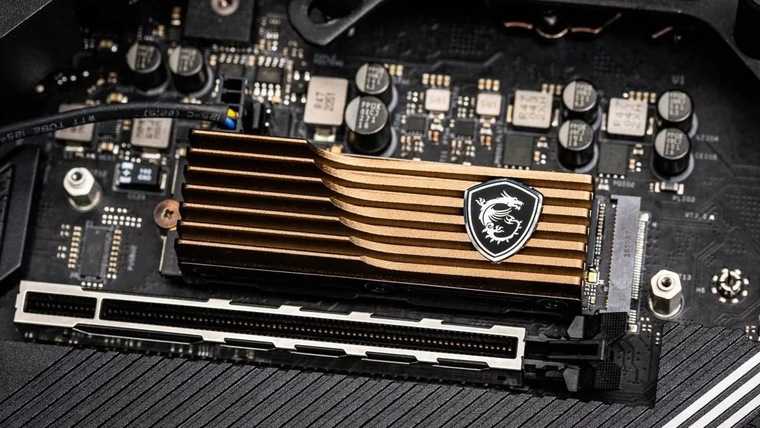 MSI announced its latest solid-state drive that comes with a PCIe 5.0 x4 interface designed for AMD's upcoming Ryzen 7000 and Intel's 12th and 13th Generation Core platforms. The MSI Spatium M570 PCIe Gen5 M.2-2280 SSD offers the maximum performance enabled by Phison's E26 platform and will come in 1TB, 2TB, and 4TB capacities. MSI recommends this new SSD model for professionals, content creators working with 4K+ video files, and gamers seeking the lowest load times possible.
MSI's Spatium M570 PCIe 5.0 NVMe M.2 HS is based on the Phison PS5026-E26 controller paired with 3D TLC NAND memory, possibly with a 2400 MT/s interface from an undisclosed vendor. The SSD drive demonstrated by MSI offers a sequential read speed of up to 12,351 MB/s, a sequential write speed of up to 10,119 MB/s, a 1.3 million 4K random read IOPS (Q32T16), and up to 1.16 million 4K random write IOPS (Q32T16), which is significantly higher when compared to the best SSDs available today.
MSI specifically notes that its upcoming ultra-high-end MEG Godlike and MEC Ace motherboards will come bundled with its M.2 Xpander-Z Gen5 Dual adapter that can house two PCIe Gen5 SSD drives and therefore offer around 70% higher transfer speeds in RAID recovery configurations when compared to a single SSD drive.
Due to the higher operational temperatures of the PCIe 5.0 controller, MSI's Spatium M570 SSD comes with a bronze-colored aluminum heatsink that considerably adds to the profile height, so the solution can only be used with desktop PCs. MSI did not reveal when it plans to start selling its Spatium M570 SSDs, so it is probably not a good idea to speculate about their prices, but they will naturally carry a premium for high performance.
ACE Data Recovery team is looking forward to new MSI's Spatium M570 PCIe 5.0 x4 SSD that will offer excellent performance to their owners. But unfortunately, MSI SSD can also fail just like other storage media. Then, the owners of the MSI Spatium M570 SSDs will need to contact a professional data recovery services provider to get their critical data back. ACE Data Recovery can boast of an unsurpassed 98% success rate and is ready to help the MSI Spatium M570 SSD owners with their data recovery needs.