Micron 5210 QLC SSD Updated for Data Center
May, 2020
Micron 5210 QLC SSD Updated for Data Center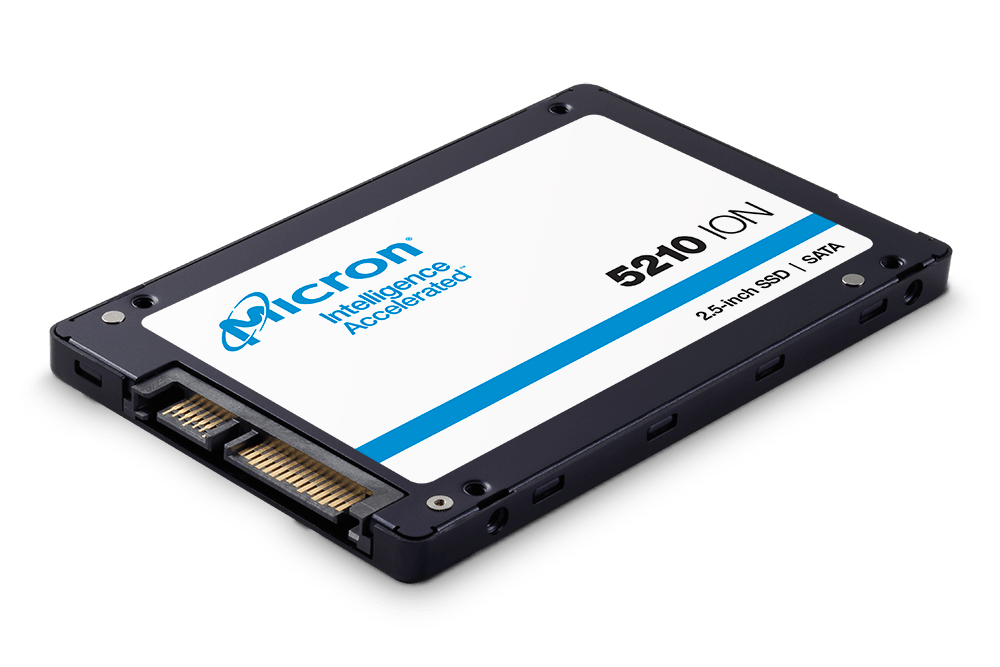 Micron announced new capacities and features for 5210 ION enterprise SATA SSD. The world's first QLC solid-state drive (SSD), the Micron 5210 is based on the company's advanced QLC NAND technology and quickly replacing legacy hard disk drives (HDDs). These QLC drives will bring better performance and lower power usage without breaking the bank.
Data centers use HDDs, and most likely will keep using them for years to come, but several workloads that started on HDDs will be better served moving to flash-based storage (e.g. SQL and NoSQL databases, big data and analytics, object stores, and vSAN capacity tiers). While these workloads used to be stored on 10K HDDs with capacity around 1TB, they will see a definite performance advantage switching over to Micron 5210 SSDs. According to the company, users will see 175x read performance, 2x write performance, and up to 3x energy savings.
As workloads evolve to meet growing demands for real-time data insights and analytics, data centers increasingly need the steady-state speed, capacity, efficiency and reliability that enterprise flash storage can provide but HDDs cannot. The company states that high-density Micron QLC NAND flash media achieves densities of one terabit on a single chip, providing the ease and platform continuity of SATA, but with the value and speed of QLC NAND. The Micron 5210 ION SSD is optimized to meet these demands, delivering more compelling economics for enterprise storage compared with HDDs.
New 5210 Product Developments:
QLC firmware innovations — An industry first, Micron's latest QLC custom firmware helps remove QLC endurance concerns and workload limitations, enabling QLC SSDs to reliably replace HDDs in general-purpose servers and storage.
960GB SKU — Micron's new 960GB SKU (now generally available) satisfies strong customer demand to replace 900GB to 1.2TB 10K HDDs with cost-competitive SATA QLC SSDs.
OEM qualifications — The Micron 5210 is now qualified by most major server OEMs, providing end customers numerous supply chain options and confidence that the 5210 has been stringently tested.
VMware vSAN-certified — The Micron 5210 is newly certified on VMware vSAN and one of the most cost-effective ways to move to all-flash vSAN.
The new Micron 5210 ION SSDs are in mass production and available through nearly all major server OEMs. With unit prices comparable to those of 10K enterprise HDDs, they will accelerate the industry's transition from HDDs to QLC SSDs in general-purpose server workloads, improving their performance, reliability, and power consumption. But like all storage media, Micron 5210 QLC SSDs are vulnerable to logical and physical SSD failures that will result in critical data inaccessibility. If that happens, businesses will need to contact a professional data recovery services provider. ACE Data Recovery team can successfully recover data from SSDs of all makes and models and is ready to help the Micron 5210 QLC SSDs owners with their data recovery needs.