Kioxia Launches Exceria Pro 2TB SSD
June, 2022
Kioxia Launches Exceria Pro 2TB SSD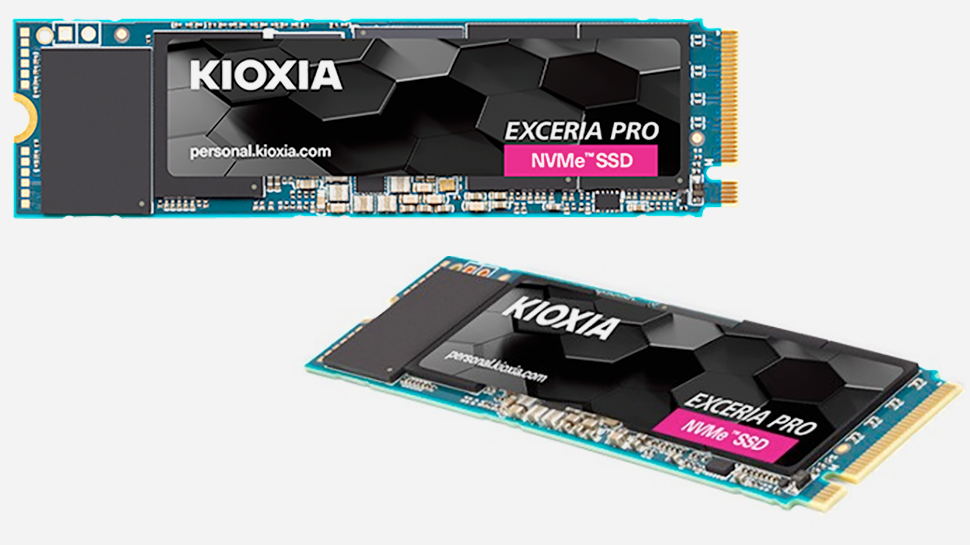 Kioxia has tended to focus on the affordable end of the storage market and hasn't had a speedy PCIe 4.0 offering though, at least not until now. With the Kioxia Exceria Pro SSD, this finally changes. It is based on the famous Phison E18 controller we can see on the vast majority of today's high-end PCI-Express 4.0 SSDs. While most of these drives use either 96-layer or 176-layer TLC Flash from Micron, Kioxia is using their own 112-layer BiCS5 TLC NAND Flash. The Kioxia Exceria Pro 2TB SSD also features a 2GB DDR4 RAM cache.
The Kioxia Exceria Pro SSD comes in capacities of 1 TB and 2 TB, and endurance for these models is set to 400 TBW and 800 TBW respectively. The headline figures for the Exceria Pro SSD are the sequential reads and writes of 7,300MB/s and 6,400MB/s, which means it's competitive with the very fastest drives around.
Kioxia doesn't include a heatsink with their drive; the sticker is just plastic. Another problem with the Kioxia Exceria Pro is that the wonderfully titled SSD Utility Management Software does not support Windows 11. That is surprising as this is 2022 and Windows 11 is not exactly new anymore. As it is, running the utility provides very limited functionality, and there is no option for updating the drive's firmware directly. Besides, there is no hardware encryption.
Overall, the Kioxia Exceria Pro 2TB NVMe SSDs are generally a reasonable offering that provides a sufficient lifespan for most users. Nevertheless, they can fall victim to logical and physical SSD failures that result in critical user files inaccessibility. If that happens, the owners of the Kioxia Exceria Pro 2TB NVMe SSDs will need to contact a professional data recovery services provider to get their irreplaceable data back. ACE Data Recovery engineers can successfully recover data from hard drives and other types of storage media, including NVMe SSDs. ACEs are ready to help the Kioxia Exceria Pro 2TB NVMe SSD owners with their data recovery needs.