Kioxia Announced Ethernet SSD Storage
October, 2020
Kioxia Announced Ethernet SSD Storage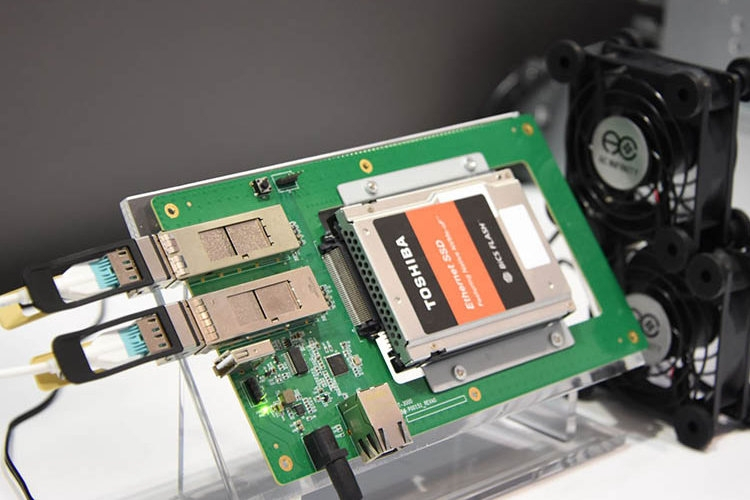 Kioxia (formerly Toshiba Memory America, Inc.) announced new direct-attached, network-attached devices with the KIOXIA Ethernet SSD Storage. The company said, they have been working in collaboration with key industry players Marvell, Foxconn-Ingrasys and Accton to bring groundbreaking Ethernet Bunch of Flash (EBOF) technology solutions to market. All devices are currently available to interested parties.
Due to explosive data growth, today's datacenters face several major challenges they have to address: increase storage density per square meter, lower total cost of ownership of storage devices, and keep power consumption of their machines in check. Kioxia says an EBOF system addresses these challenges through an Ethernet fabric that can scale flash and optimally disaggregate storage from compute. The EBOF storage solution bypasses the cost, complexity, and system limitations inherent with standard JBOF storage systems.
Kioxia's Ethernet SSDs come in a 2.5-inch/15mm form-factor and carry 1920 GB, 3840 GB, or 7680 GB of usable NAND memory. The SSD drives are based on Marvell 88SN2400 NVMe-oF SSD converter controllers and support single or dual 25GbE RoCEv2 RDMA connections. The new Kioxia SSDs are compliant with the NVMe 1.4 specification and use the NVMe-oF 1.1 protocol.
The company says that each Ethernet SSD is capable of 670K IOPS random read performance at (4KB), which is comparable with today's client SSDs. The company says nothing about sequential read and write speeds of its Ethernet SSD, but a single 25GbE interface can provide bandwidth of up to 3.125 GB/s, and that is in line with what typical enterprise-grade M.2-2280/M.2-22110 drives with a PCIe 3.0 x4 provide.
Kioxia's Ethernet SSDs are meant for experimental 2U Ethernet Bunch of Flash (EBOF) storage devices that incorporate 24 drives to offer an up to 600 Gb/s storage throughput. The appliances do not carry a CPU, DRAM, or HBA, but only contain a built-in Ethernet switch. It was designed by Marvell and features a 2.4 Tb/s connectivity throughput that can be split between network connectivity and daisy chaining additional EBOFs.
Kioxia's Ethernet SSDs are now available to select industry partners of the company. There is no word when the SSD manufacturer and its partners are planning to release Ethernet SSDs as well as EBOFs commercially.
According to the company the new Kioxia Ethernet SSDs bring greatly improved performance and lower total cost of ownership to edge, enterprise, and cloud data centers. But they are also vulnerable to logical and physical SSD failures like any storage media. If that happens, ACE Data Recovery team is ready to help the owners of Kioxia Ethernet SSDs with all their data recovery needs.