KIOXIA Releases Enterprise & Data Center PCIe 4.0, U.3 SSDs
March, 2020
KIOXIA Releases Enterprise & Data Center PCIe 4.0, U.3 SSDs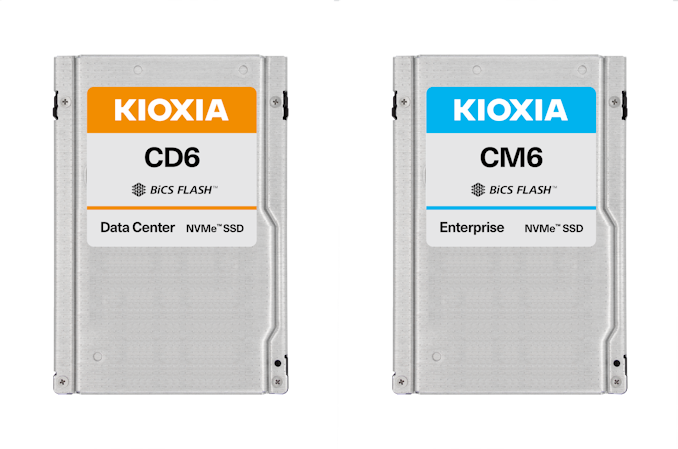 Following through on their roadmap for transitioning to PCIe 4.0, Kioxia (formerly Toshiba) has announced the availability of their first two PCIe 4.0 SSDs. The CD6 and CM6 SSDs target the datacenter and enterprise markets respectively, with a common hardware platform but some differences in configuration, features, and performance.
According to KIOXIA, it was the first company to publicly demonstrate PCIe 4.0 SSDs and is now the first to ship these next-generation drives. The CM6 and CD6 Series SSDs are compliant to the latest NVMe specification, and include key features such as in-band NVMe-MI, persistent event log, namespace granularity, and shared stream writes. Additionally, both drives are SFF-TA-1001 conformant (also known as U.3), which allows them to be used in tri-mode enabled backplanes, which can accept SAS, SATA or NVMe SSDs.
The CD6 and CM6 use a next-generation SSD controller from Kioxia. As with most NVMe controller designs, the switch to PCIe 4.0 has triggered a switch to 16nm FinFET fabrication in order to permit higher performance within the same power limits. The CM6 uses an 18-channel controller while the CD6 gets a slightly cut-down 16-channel version. Both models will feature capacities ranging from 800GB up to 15.36TB, and the CM6 will also be getting a 30.72TB model a bit later. The drives use the 2.5"/15mm U.3 form factor, backwards compatible with U.2 backplanes, but also supporting newer tri-mode SAS/SATA/PCIe backplanes and HBAs.
The Kioxia CM6 offers the highest performance and most features. Sequential throughput is rated for up to 6.9 GB/s (reads) and 4.2 GB/s (writes), and random read throughput is up to 1.4M IOPS. The Kioxia CD6 is the more affordable version, cutting back a bit on controller channels and overprovisioning, and thus also performance. Sequential performance is up to 6.2 GB/s (reads) or 4 GB/s (writes), and random reads at 1M IOPS. The CD6 is the first generation of datacenter NVMe drive from Kioxia/Toshiba to include a 3 DWPD version in addition to the 1 DWPD tier.
Both the CM6 and CD6 Series include a broad range of security and encryption options, including Self-Encryption (SED) and FIPS, and are on the UNH-IOL Integrator's list for NVMe 1.4 device compatibility. But no matter how good the new KIOXIA SSDs are, they may still fall victim to logical and physical failures which can lead to data loss and mean downtime for businesses. Then the owners of KIOXIA CD6 and CM6 SSDs will need to contact a professional SSD data recovery services provider to get their critical business data back. ACE Data Recovery engineers have extensive experience in recovering data from all types storage media and are ready to help the KIOXIA enterprise and data center PCIe 4.0, U.3 SSDs owners with their data recovery needs.