Kingston FURY has launched high performance PCIe 4.0 NVMe SSD
November, 2021
Kingston FURY has launched high performance PCIe 4.0 NVMe SSD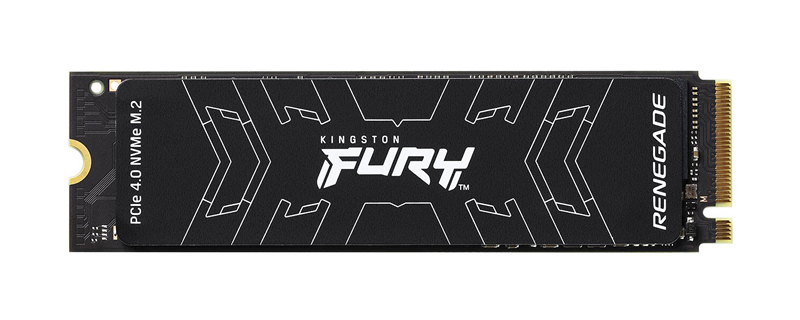 Kingston FURY, the gaming division of Kingston Technology Company, Inc., announced Kingston FURY Renegade SSD, its next generation PCIe 4.0 NVMe M.2 drive that uses 3D TLC NAND. According to Kingston, Kingston FURY Renegade SSD can achieve speeds up to 7,300/7,000MB/s read/write and up to 1,000,000 IOPS. The SSD drive is optimized to reduce game and application load times, stream and capture with ease and can give users' systems an overall boost in responsiveness.
The Kingston FURY Renegade SSD comes in M.2 2280 form factor and features the Phison E18 controller and 3D TLC NAND. It is available in 4 capacities of 500GB, 1TB, 2TB, and 4TB, so users can store an extensive library of their favorite games and media and still have space for the latest titles. The new Kingston SSD combines a slim M.2 form factor and an advanced low profile, graphene aluminum heat spreader that will help keep the drive cool during intense usage in gaming rigs, gaming laptops, and motherboards.
Key Kingston FURY Renegade PCIe 4.0 NVMe M.2 SSD Features and Specifications:
Form Factor: M.2 2280
Interface: PCIe 4.0 NVMe
Capacities2: 500GB, 1TB, 2TB, 4TB
Controller: Phison E18
NAND: 3D TLC
Sequential Read/Write: 500GB – 7,300/3,900MB/s, 1TB – 7,300/6,000MB/s, 2TB – 7,300/7,000MB/s, 4TB – 7,300/7,000MB/s
MTBF: 1,800,000 hours
According to Kingston, this SSD is designed for use in desktop and notebook computer workloads and is not intended for server environments. But it is optimized for gaming applications and intense usage. The Kingston FURY Renegade SSDs are backed by a limited five-year warranty and free technical support.
But still, these SSD drives are vulnerable logical failures that may result in critical files inaccessibility. Then their owners will need to rely on a professional data recovery services provider to get their irreplaceable files back. ACE Data Recovery has been providing high-quality data recovery services for more than 35 years. ACE Data recovery team also has an extensive experience in getting back data from hard drives. ACEs will gladly help the owners of the Kingston FURY Renegade SSDs with their data recovery needs.