Intel Announced SSD 665p with 96-layer QLC NAND
October, 2019
Intel Announced SSD 665p with 96-layer QLC NAND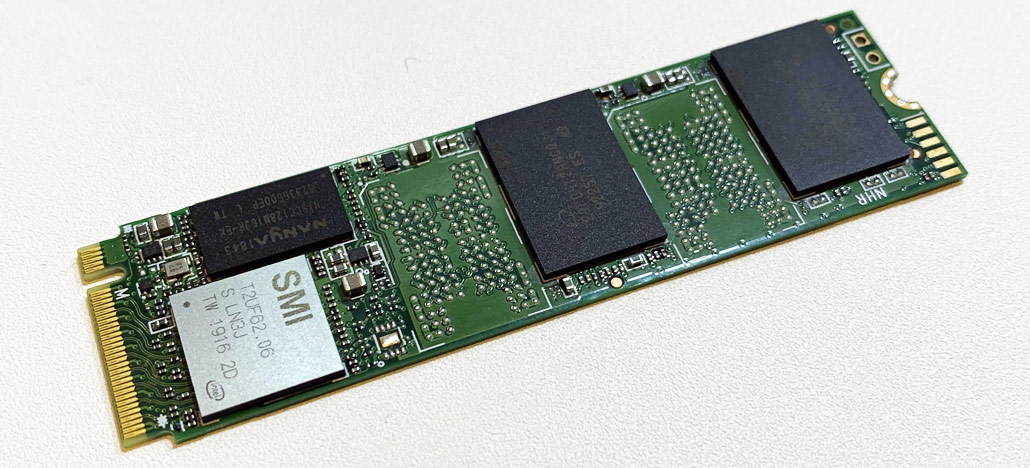 Intel took part in a Memory and Storage Summit in South Korea in September 2019 and made a number of important announcements. Although Intel's Memory and Storage Day event in South Korea was mostly focused on enterprise and datacenter products, they also announced an upcoming consumer SSD: The Intel SSD 665p. This is the successor to the Intel 660p, the first and most successful consumer SSD to use four bit per cell (QLC) NAND flash memory. The 665p isn't a major update: it keeps the same Silicon Motion SM2263 4-channel controller but updates the NAND to Intel's second-generation 96-layer 3D QLC NAND.
Intel showed off the 665p with a live demo pitting the 1TB 660p against a 1TB 665p prototype with pre-production firmware, each installed in otherwise identical ASUS notebooks. Intel used a beta version of CrystalDiskMark 7 to illustrate the 665p's performance: 40-50% improvement to sequential transfer speeds and about 30% faster random access speeds.
As with the SSD 600p, the SSD 665p will be available in single-sided M.2 2280 modules only, with capacities including 512GB, 1TB, and 2TB. The reason 2.5" models are excluded is mainly because of the reliance on PCIe 3.0 x4 as the interface; U.2, the PCIe-based 2.5" form factor, really hasn't taken off in the consumer space. While Intel showed a controlled demo showing higher performance on the new SSD versus the old one, there are no final details on the performance specifications of the 665p, as it's still being optimized for the new controller, which is still based on a four-channel Silicon Motion SM2263 solution but one that's apparently slightly tweaked compared to the 600p. Likewise, the expected retail pricing, cost per gigabyte, and the exact release date are yet to be confirmed.
The SSD 665p drives are targeted at both laptop and desktop consumers and will be a good option for replacing outdated or failed HDDs. But although SSDs have no moving parts, they are more vulnerable to some defects than typical HDDs are, including abrupt power loss, magnetic fields, and electric charges. This may result in physical failures and data loss. In that case, the owners of Intel 665p SSDs will have a chance to recover their irreplaceable data if they contact a reliable professional data recovery services provider. ACE Data Recovery leads the competition in their ability to recover SSDs because the company develops their own in-house proprietary hardware and software for that purpose. The company's SSD recovery process meets manufacturer's requirements. ACEs are ready to help the Intel 655p SSD owners with their data recovery needs.