Intel 670p 2TB M.2 NVMe SSD with Silicon Motion SM2265G
April, 2021
Intel 670p 2TB M.2 NVMe SSD with Silicon Motion SM2265G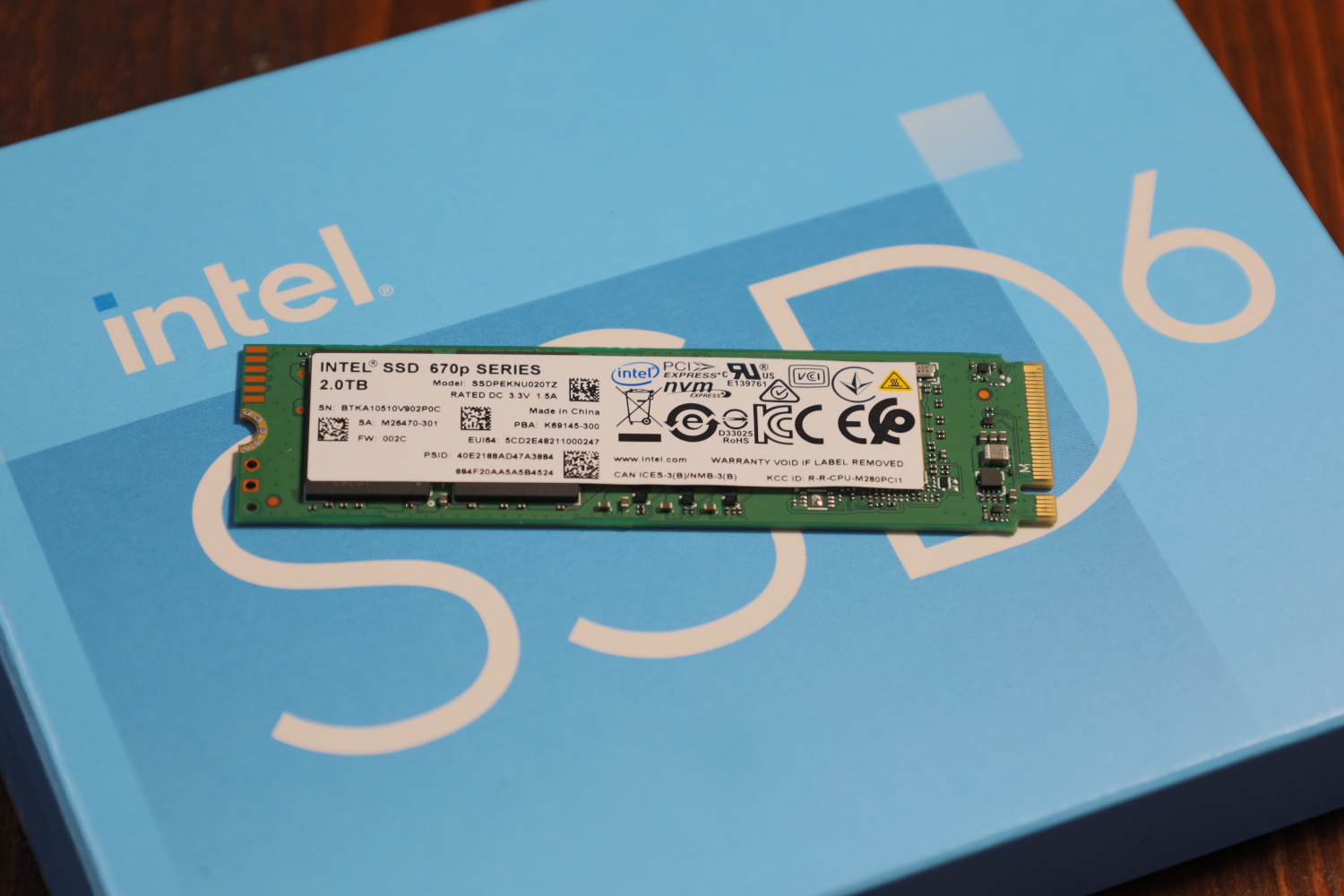 The Intel 670p 2TB PCIe 3.0 NVMe SSD is designed around the Silicon Motion SM2265G controller, DRAM cache, and Intel's 144-layer QLC NAND. It comes in a single-sided M.2 2280 (80mm) form factor, very similar to its predecessor. The SSD is a part of the Intel 670p line of QLC-based SSDs that is available in 512GB, 1TB, and 2TB capacities.
The Intel SSD 670p features an updated PCIe 3.0 x4 controller and the company's new 144-Layer QLC flash, offering up efficient storage in a slim-yet-spacious M.2 package. It also comes with AES 256-bit hardware encryption support, which makes it a secure pick for consumers with sensitive data.
The SSD 670p can deliver up to 3.5/2.7 GBps of sequential read/write throughput and sustain up to 20,000/54,000 random read/write IOPS at a queue depth (QD) of 1. Peak performance reaches up to 310,000/340,000 random read/write IOPS at a queue depth of 256. These specifications are based on the SSD's dynamic SLC cache. Because cache performance is so important, Intel optimized the design to improve performance when the drive is nearly full.
Intel supports the SSD 670p with the Intel Memory and Storage Tool (Intel MAS). This software allows you to monitor drive health, run diagnostic tests, update the firmware, and manually clear the SLC cache. The Intel SSD 670p takes the SSD 6 series to another level as this low-cost M.2 SSD comes with the latest leading-edge NAND technology, improved endurance, and plenty of optimizations for office productivity and gaming.
If you're looking for a solid NVMe SSD, the Intel 670p is a good choice. With performance approaching or matching TLC-based PCIe 3.0 SSDs and a solid endurance rating, Intel is making a strong case for QLC on mainstream consumer drives. But, unfortunately, no matter how good they are, the Intel 670p 2TB M.2 NVMe SSD have a limited number of write cycles and can fall victim to logical and physical failures. If that happen, their owners will need to contact a professional data recovery services provider to get their files back. ACE Data Recovery engineers have extensive experience in recovering data from different types of storage media and are ready to help the Intel 670p 2TB M.2 NVMe SSD owners with their data recovery needs.