Intel Releases Its 665P QLC SSD
December, 2019
Intel Releases Its 665P QLC SSD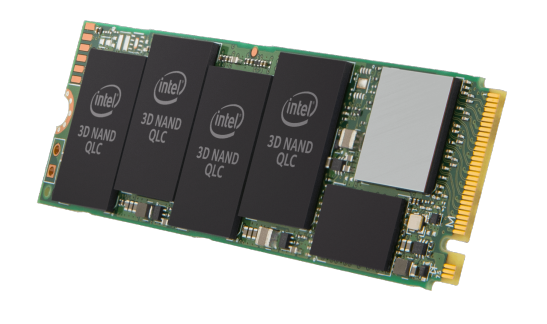 Intel announced the release of its latest QLC SSD, the 665P. The 665P is the successor to the 660P, the most successful consumer SSD based on four bit per cell (QLC) NAND flash memory. The 665P makes minimal changes to the design of the 660P; the most important of which is switching from Intel's 64-layer 3D QLC NAND to their newer 96-layer 3D QLC NAND.
The SSD 665P series is only shipping in 2TB and 1TB capacities. The drive uses a PCIe 3.0×4, NVMEe interface, has an M.2 22 X 80 MM form factor and packs sequential read speeds up to 2 GB per second and sequential write speeds up to 2 GB per second. The 665P continues to use the Silicon Motion SM2263 NVMe SSD controller, with a small DRAM cache and a massive variable-size SLC cache.
The Intel 665P promises better performance and much better endurance than its predecessor. The basic performance specs have been boosted by up to 13.6%, which isn't enough to noticeably impact real-world use cases. Much more important than the performance changes is the write endurance boost the 665P brings compared to the 660P. Both capacities of the 665P have 50% higher rated write endurance than the 660P, bringing them up to about 0.16 drive writes per day (DWPD) from the 660P's 0.11 DWPD.
For consumer PCs using such an SSD, the speed boost over the previous generation isn't likely to be noticeable but if you're new to QLC NAND SSDs, then it could be the one to go for.The Intel SSD 665P 1TB is available in the fourth quarter of 2019 and the 2TB is expected to be available in the first quarter of 2020.
Intel's managed to leverage its QLC technology to create an affordable, high capacity SSD, with remarkable endurance. But no matter how good and reliable they are, the new Intel 665P QLC SSD can't last forever and may fail due to physical damage or the limited number of write cycles that may result in data loss. Then the owners of the Intel 665P QLC SSDs will need to contact a reliable data recovery services provider to get back their irreplaceable files back. ACE Data Recovery team makes the best choice when it comes to restoring data from failed SSD drives because ACE have the highest succeed rate in the industry. ACEs will gladly help the 665P QLC SSD owners get their valuable data back.