Inland TN436 small factor 1TB NVMe M.2 SSD
January, 2023
Inland TN436 small factor 1TB NVMe M.2 SSD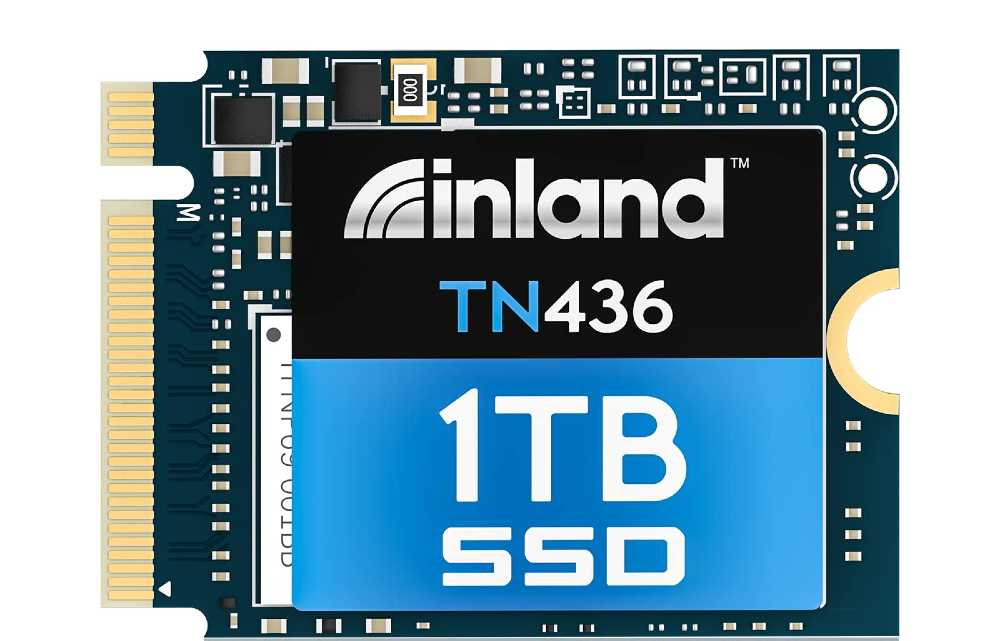 The Inland TN436 1TB SSD is a tiny retail drive in the M.2 2230 form factor that is designed to fit small devices such as Valve's Steam Deck, Microsoft's Surface, and certain ultrabooks. The TN436 SSD will also work in computers and other devices that have the proper fittings for a 2230 drive. Devices like the Steam Deck use OEM drives, and their replacement is usually not supported officially, but a retail SSD drive like the TN436 has the advantage of a full-fledged warranty.
SSD drives in the M.2 2230 form factor are usually single-sided and weaker in performance than most of the best SSDs, but may as a result produce less heat with lower power draw. A higher level of performance of 2230 SSDs would be nice, but it is not a requirement. Often there is more of a focus on power consumption and heat generation because battery life and performance throttling are very real issues on higher end portable devices.
The small form factor makes it challenging to pack in a lot of capacity, but the TN436 SSD delivers an ample 1TB although at a relatively high price. Although it's technically a PCIe 4.0 drive, the Inland TN436 SSD is only rated for up to 3,400 / 2,400 MBps for sequential read and write, respectively. The TN436 SSD is also rated for up to 320K / 500K IOPS, read and write. Inland's SSDs are generally sold barebones without any software support.
The TN436 SSD is employing 112-layer BiCS5 TLC and using the DRAM-less Phison E19T controller. This is a 28nm controller with a 1200 MT/s bus, which is not appreciably faster than a PCIe 3.0 controller like the Phison E15T. It's still an improvement over the older Phison E13T that is often used with 2230 form factor drives, including an OEM in the Steam Deck.
The Inland TN436 SSD is one of few retail drives currently available in its form factor that offers owners of small devices the opportunity to upgrade without the hassle of dealing with after-market OEM SSDs, but SSD vulnerable to failures that can make the critical user files inaccessible. If that happens, the owners of the Inland TN436 SSD will need to contact of a professional data recovery services provider to get their irreplaceable data back.
ACE Data Recovery team has extensive experience in recover data from all types of hard drives and can boast of one of the highest success rates in the industry. ACEs are ready to help the Inland TN436 SSD owners with their data recovery needs.