The New Inland TD510: A Powerful PCIe 5.0 SSD
June, 2023
The New Inland TD510: A Powerful PCIe 5.0 SSD
The Inland TD510 is a new SSD that utilizes the PCIe 5.0 interface, offering faster speeds compared to its predecessors. With impressive sequential read speeds of up to 10 GB/s and random read performance of 1.5 million IOPS, it stands out as one of the top SSDs currently available in the market. In this blog post, we will delve into the features, specifications, and performance of the Inland TD510 and evaluate how it stacks up against other SSDs.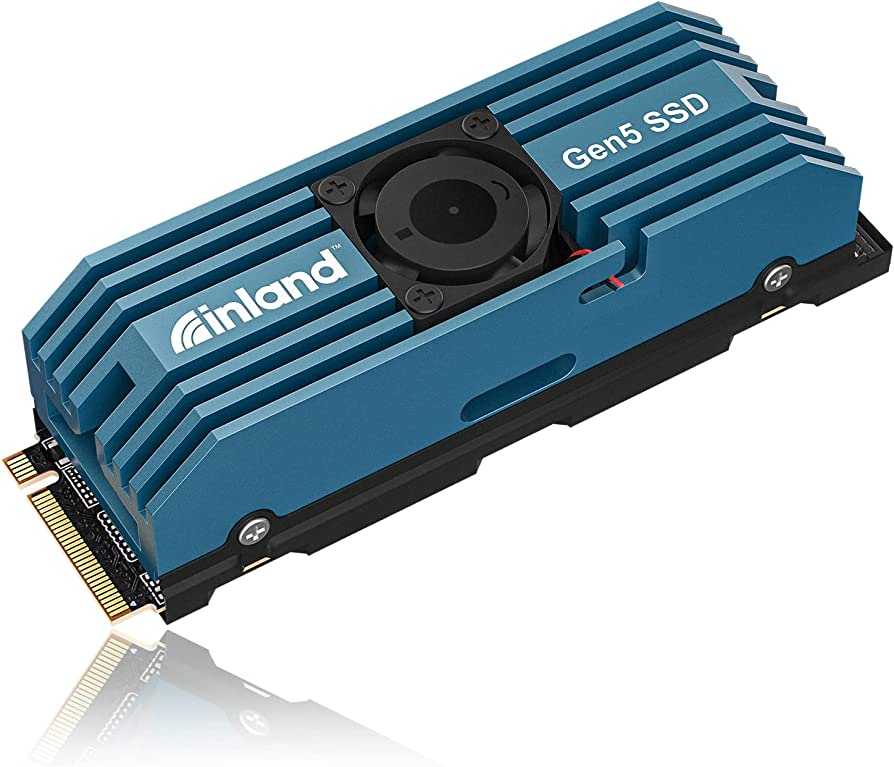 Inland TD510 Advanced Technology and Reliable Performance
The Inland TD510 is built around the Phison E26 controller and Micron's 232-layer TLC NAND flash, ensuring reliable and efficient performance. The Phison E26 controller is known for its reliability and efficiency, allowing for fast and consistent performance. The TLC NAND flash memory provides ample storage capacity and offers a good balance between performance and affordability. The inclusion of a DRAM cache further enhances the drive's performance by optimizing read and write operations. It comes in a standard M.2 2280 form factor, complete with a sizable heatsink and an integrated fan for effective cooling. Boasting a generous 2 TB capacity and backed by a 6-year warranty, the Inland TD510 is also compatible with DirectStorage, a cutting-edge feature introduced in Windows 11 that optimizes game loading times and graphics quality.
Inland TD510 heatsink lacks intelligent control
One notable feature of the Inland TD510 is its substantial heatsink, which is larger than what is typically seen on SSDs. This heatsink helps to dissipate heat effectively and maintain optimal SSD operating temperatures, ensuring long-term reliability and performance. However, it is important to note that this fan operates at a constant high speed and lacks intelligent control. As a result, it emits a continuous high-pitched whine, which can be quite annoying for users seeking a quieter system. While the exact RPM of the fan is not specified, it is evident that it spins at a fast pace to maintain effective cooling. It should be noted that while Inland refers to the heatsink as removable, it proves to be quite challenging to remove in practice.
The Benefits of DirectStorage
DirectStorage revolutionizes the communication between the SSD and the GPU by bypassing the CPU, enabling the GPU to directly access and decompress data from the SSD. This breakthrough technology significantly reduces latency, CPU overhead, and memory usage. It empowers games to utilize larger and more detailed assets while maintaining optimal performance. For optimal compatibility, DirectStorage requires an NVMe SSD and a DirectX 12 compatible graphics card.
Inland significant performance improvement over previous generation SSDs
The performance of the Inland TD510 is where it truly shines. As a Gen5 drive, it delivers outstanding sequential read and write speeds. With sequential read speeds of up to 10,000 MB/s and sequential write speeds of up to 9,500 MB/s, the TD510 offers blazing-fast data transfer rates. While these speeds do not fully saturate a Gen5 system's x4 interface, they represent a significant improvement over previous generation drives, including the best-performing Gen4 drives. Furthermore, the Inland TD510 2TB model exhibits impressive endurance, with a Terabytes Written (TBW) rating of 1,400 TB. This means that it can withstand a substantial amount of data being written to it over its lifespan, ensuring durability and longevity. Inland's decision to back the TD510 with a 6-year warranty, exceeding the industry standard of 5 years, reflects their confidence in the drive's reliability and performance.
During testing, the Inland TD510 SSD 2TB demonstrated its superiority in sequential read and write performance, surpassing its competitors by a significant margin. The drive came close to achieving its rated read speed of 10,000 MB/s, while the write performance surpassed expectations by approximately 600 MB/s. This remarkable performance places the TD510 at the top of the performance charts, offering unrivaled speeds and responsiveness.
Pros and Cons of the Inland TD510
Pros:
:
One of the first PCIe 5.0 SSDs on the market, offering faster bandwidth than PCIe 4.0 SSDs.
Supports DirectStorage, enhancing game loading times and graphics quality on Windows 11.
Excellent performance in both sequential and random workloads, with low latency and high endurance.
Affordable compared to other forthcoming PCIe 5.0 SSDs.
Cons :
Requires a compatible motherboard and CPU to achieve maximum speed, potentially limiting compatibility with older systems.
Poor power efficiency and a noisy fan may impact system temperature and noise levels.
Does not include additional software support or features, such as encryption or backup tools.
If you are in search of a high-performance SSD that can handle any task effortlessly, the Inland TD510 is definitely worth considering. With its impressive speed, reliability, and compatibility with DirectStorage, it is an ideal choice for gaming, content creation, and everyday computing. Furthermore, its affordability sets it apart from other PCIe 5.0 SSDs expected to enter the market soon. The only caveats to keep in mind are the need for compatible hardware and the drive's power efficiency and noise levels.
Inland TD510 Data Recovery Services by ACE Data Group
In the unfortunate event of data loss due to a malfunctioning or damaged Inland TD510 SSD, you may find yourself seeking professional assistance for SSD data recovery. ACE Data Group specializes in providing expert services to retrieve your valuable files and documents from your Inland TD510 SSD, regardless of the cause of data loss. Here are some of the key benefits you can expect when choosing ACE for your Inland TD510 SSD data recovery needs:
Our team possesses the necessary expertise, tools, and techniques to safely and securely access your Inland TD510 SSD and extract your data. We employ advanced software and hardware to conduct thorough scans of your SSD, ensuring data recovery without further damage or loss.
Comprehensive SSD Data Loss Scenarios
ACE Data Recovery can handle a wide range of data loss scenarios, including physical damage, logical errors, virus attacks, accidental deletion, and formatting. Our expertise extends to recovering data from various file systems, such as NTFS, FAT32, exFAT, HFS+, APFS, and more. We are experienced in recovering data from different operating systems, including Windows, Mac OS, Linux, and others.
ACE Data Recovery Customer-Oriented Services
ACE Data Recovery offers customer-oriented benefits, including a free diagnosis and evaluation of your SSD. Our "no data, no charge" policy ensures that you only pay for successful recoveries. Our friendly customer support team is readily available to address your concerns and queries. We prioritize the confidentiality and privacy of your data, providing a guarantee of 100% data security.
With a high success rate and satisfied customers, ACE Data Recovery has established a solid reputation in the industry. We have successfully recovered data from numerous Inland TD510 SSDs, as well as a wide range of other SSD makes and models, resolving various issues and challenges. Our clients have provided positive feedback and testimonials, praising the quality of our service and professionalism.
If you require Inland TD510 SSD data recovery services, we encourage you to contact us without delay. Our team is prepared to assist you and restore your valuable data as quickly as possible.