WD announces the new HGST Ultrastar 7K6 HDD
January, 2018
WD announces the new HGST Ultrastar 7K6 HDD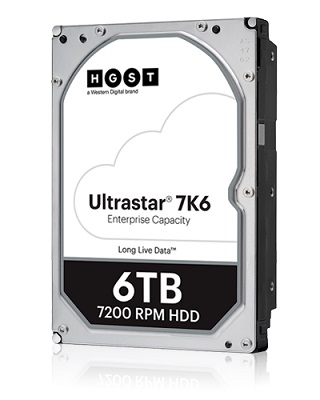 Western Digital Corporation is expanding its portfolio for enterprise customers with a new, mid-range series of 4TB, 6TB and 8TB air-based hard drives.
Western Digital leads the high-capacity enterprise hard drive market for hyperscale and cloud environments with its 10TB, 12TB and 14TB drives, where the company uses HelioSeal helium-sealing technology for the highest capacities and densities to deliver the lowest TCO. But many applications have small data sets or benefit from an optimal performance from an implementation of a cluster of lower capacity, air-based hard drives.
According to Western Digital, their new enterprise solutions blend the technology and TCO leadership of Western Digital's capacity enterprise product line with a high-density, air-based hard drive design.
Featuring improved areal density, the Ultrastar 7K6 HDD has the same capacity as the previous generation drives but uses fewer components (e.g. the 6TB uses 4 disks compared to the previous generation's 5 disks). WD indicates that this will provide better value and is their most cost-effective enterprise drive on a unit-basis and boasts a 12% increase in speed compared to the prior generation Ultrastar 7K6000.
The new products are designed for traditional storage and server applications as well as distributed and scalable computing including block-and-file storage architecture. Later this quarter, the company will deliver an Ultrastar 7K8 8TB solution, which is based on an air-based design and is the ninth generation of the company's 5-disk platform. These new enterprise drives will be available in either SAS or SATA interfaces and provide an enterprise-class MTBF rating of 2M hours.
The new products will enable corporate data centers having data set sizes smaller than found in hyperscale environments to harness the power of data across a broad spectrum of Big Data applications such as analytics and distributed file systems. Unfortunately, the new HGST Ultrastar 7K6 HDDs may eventually fall victim to physical and logical failures that may lead to data loss. In these cases, businesses will need to contact a reliable data recovery services provider with a perfect reputation just like ACE Data Recovery team. ACE Data Recovery provides hard drive recovery on a full range of hard disk drives and has high-tech recovery facilities with Class 100 clean rooms.
Being in business for more than 35 years, ACE Data Recovery has helped thousands of businesses and individual users recover their data and will welcome the opportunity to help new customers with their data recovery needs.