Micron Reveals Crucial X6 4TB Portable SSD
August, 2022
Micron Reveals Crucial X6 4TB Portable SSD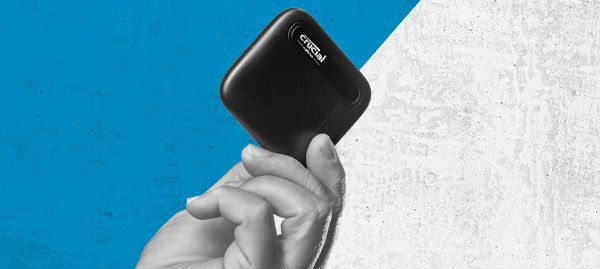 The new Crucial X6 with improvements to performance and efficiency over the original model is an affordable external USB-C SSD that was designed for big capacity and maximum portability. Crucial's original X6 used a DRAM-less SATA controller with a similar type of flash, but it was limited to 540MBps of sequential read throughput. The newer capacious 4TB model uses Crucial's 96L 3D QLC with the Phison U17 controller. This combination enables Crucial to claim speeds of up to 800 MBps. This makes it a good choice for storage on the go or if you want something relatively quick to back up your data.
The new Crucial X6 SSD drive is lightweight, specified as less than 1.5 ounces. It's also drop-resistant up to two meters, or about 6.5 feet, and features thermal padding that should allow the X6 SSD drive to stay relatively cool during prolonged use. The crucial X6 SSD comes with a Type-C to Type-C cable, but without a Type-A cable. But you can use a Type-C to Type-A cable if you purchase one separately. Crucial's downloadable and free Storage Executive software works with the X6 and allows you to get firmware updates, manage drive functions, and monitor the drive's health.
The Crucial X6 SSD is available at 500GB, 1TB, 2TB, and 4TB. The 500GB SSD is still limited to the original peak read throughput of 540MBps; but the larger models are now rated for up to 800MBps for sequential reads. Crucial backs the X6 SSD drive with a three-year warranty.
The new Crucial X6 SSDs offer greater speed and larger capacities in an extremely portable form factor and would work well as external archival or backup drives. But just like any other storage media, they may fail, leaving irreplaceable SSD files inaccessible. Then the owners of the Crucial X6 4TB Portable SSD will need to contact a professional data recovery services provider, like ACE Data Recovery. ACE Data Recovery engineers have extensive experience in recovering data from all types of storage devices and are ready to help the Crucial X6 Portable SSD data recovery needs.