The Crucial X10 Pro Portable SSD: A Flagship in the Crucial X Series
October, 2023
The Crucial X10 Pro Portable SSD: A Flagship in the Crucial X Series
Crucial, a well-known brand in the world of data storage, offers reliable SSDs that have become increasingly popular for their speed, durability, and storage capacity. These SSDs are used by individuals, businesses, and organizations to store a wide range of data, including critical documents, photos, videos, and more.
As the premier model within the Crucial SSD X series, the X10 Pro naturally takes the place of its predecessor, the X8. It offers the same storage capacities of 1TB, 2TB, and 4TB, while potentially doubling the data transfer speed to 2000MB/s.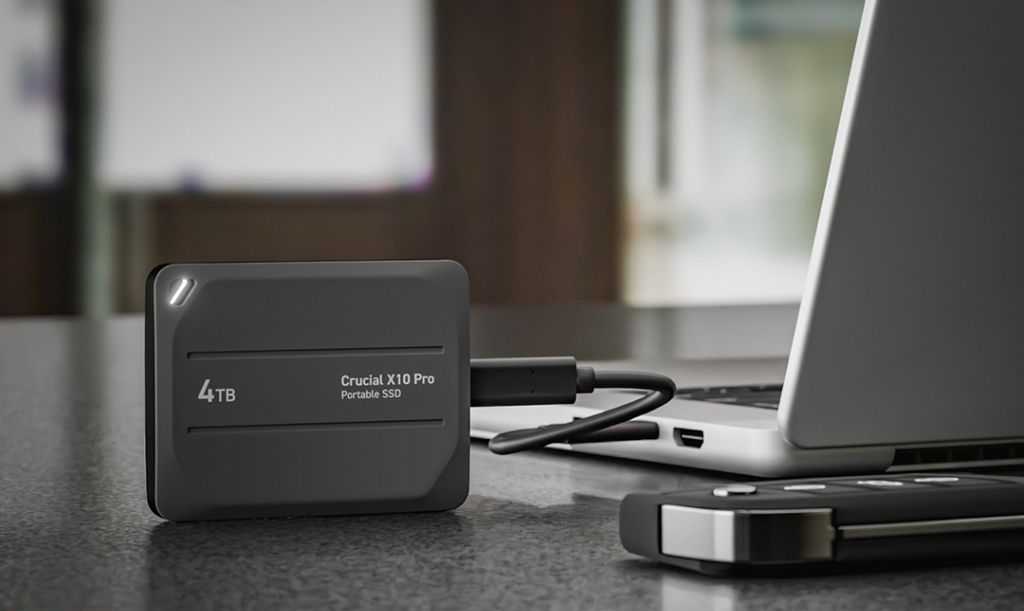 Crucial X10 Maximizing Performance and Versatility
The X10 Pro sets a new standard for performance, achieving the prestigious 20Gbps benchmark. Notably, it surpasses its Thunderbolt 3 competitors in handling 48GB data transfers. In comparison to the X6 and X8, the primary distinguishing factor is its price, with the X10 Pro commanding approximately 80% more for the same capacity.
X10 Pro Designed for the Prosumer Market
True to its name, the Crucial X10 Pro is tailored for the prosumer market, specifically catering to professionals who prioritize top-tier performance and reliability, often found in Thunderbolt 3/4 devices.
Weighing a mere 1.5 ounces, the X10 Pro boasts an IP55 rating, guaranteeing protection against dust and water spray, ensuring continued functionality even in challenging environments. However, it is not suitable for submersion in water. The X10 Pro sports a sophisticated charcoal gray finish, distinguishing it from its lighter silver-gray counterpart, the 10Gbps X9 Pro. Both models feature anti-slip coatings on their undersides.
The X10 Pro connects effortlessly through a Type-C connector, and Crucial provides a Type-C to Type-C cable for convenience. Additionally, there is a lanyard hole in the upper left corner, and the activity light is discreetly located within this cavity.
Crucial Competitive Edge
Remarkably, the Crucial X10 Pro offers performance almost on par with Thunderbolt 3 competitors, all at a more attractive price point. At $120 for the 1TB model, it comes at a $40 discount compared to the 10Gbps/T3 Sandisk Pro-G40. This affordability presents a compelling selling point.
This price advantage becomes particularly pronounced for users who lack USB 3.2 Gen 2x2 connectivity or do not require hardware encryption. Budget-conscious customers will likely find this aspect pivotal. It is worth noting that the high pricing of the X10 Pro is not confined to the USA; in other regions, it may prove even less competitive.
X10 Real-World Performance Excellence
While the X10 Pro may not achieve remarkable scores in synthetic benchmarks, its real-world performance is outstanding. It outperforms two Thunderbolt 3 competitors in the 48GB transfer category, fully justifying its inclusion alongside the dual 10Gbps/Thunderbolt 3 Sandisk Pro-G40 in our performance charts.
The latest Generation of SSDs: Performance Improvements
The latest generation of SSDs has shown significant improvements in terms of performance. However, it remains unclear whether these advancements are primarily attributed to the NAND, the controllers, or a combination of both. It's likely that the combination, with a preference for enhanced NAND technology. Regardless of the cause, the 48GB transfer rates, as demonstrated below, highlight the exceptional performance of the Crucial X10 Pro.
It is important to recognize that the Sandisk Pro-G40 excels in random performance, almost doubling the speed of the X10 Pro, making it the superior choice for running alternative operating systems. Random operations may not be the X10 Pro's forte, but it comes impressively close to matching its 20Gbps competitors.
The Crucial X10 Pro: Design and Performance Improvement
The Crucial X10 Pro stands out as a well-crafted and thoughtfully designed external SSD. It ranks among the fastest in its category when connected to a compatible USB interface. However, the pricing of this SSD may be considered unrealistic, and it is advisable to explore alternatives such as the X8 or X6 models.
Consider Budget-Friendly Alternatives
Irrespective of your geographic location, the previous Crucial X8 and X6 designs offer considerably more budget-friendly options, particularly if you have specific capacity requirements and do not prioritize features like Gen 2x2 or hardware encryption.
For those seeking high-performance Gen 2x2 SSDs, there are several alternatives to consider, including the Corsair EX100U, Kingston XS2000, SanDisk Extreme PRO V2, ADATA Elite SE880, and the Sabrent Rocket Nano.
Crucial X10 Pro: The Thunderbolt Challenger
In testing, the Crucial X10 Pro emerged as the fastest SSD outside the Thunderbolt realm, primarily due to its exceptional sustained write speeds. This makes it an ideal choice for creative professionals working within a budget. If you demand top-tier real-world performance but either cannot utilize or prefer not to invest in Thunderbolt 3 technology, the Crucial X10 Pro should be your top pick.
Crucial offers a five-year limited warranty for the X10 Pro. However, the company does not provide TBW (total terabytes written) ratings. It's important to note that warranty claims are typically not declined unless the SSD has been subjected to excessive write usage, such as continuous server operation.
ACE Data Recovery Services: Your Lifeline for Crucial SSD Data Recovery
In today's digital age, data is the lifeblood of both individuals and businesses. Losing crucial data from your Crucial SSD can be a nightmare, leading to potential data breaches, financial losses, or even the erosion of precious memories. That's where ACE Data Recovery Services steps in as the knight in shining armor, ready to recover your lost data from Crucial SSDs.
As with any data storage device, Crucial SSDs are not immune to failures, which can lead to data loss. These failures can be caused by a variety of factors, such as physical damage, logical errors, firmware issues, or even accidental deletions. When your Crucial SSD experiences data loss, the need for professional data recovery services becomes apparent.
ACE Data Recovery Services: A Trustworthy Partner
ACE Data Recovery Services has built a strong reputation in the data recovery industry for its unwavering commitment to helping individuals and organizations retrieve their lost data from HDD, RAID arrays and other media. Let's take a closer look at what makes ACE Data Recovery Services an exceptional choice for Crucial SSD data recovery:
Cutting-Edge Technology: ACE Data Recovery uses state-of-the-art technology and equipment to recover data from Crucial SSDs. Their highly skilled engineers are experts in handling various SSD models, including those from Crucial.
Proven Track Record: With over 35 years of experience, ACE Data Recovery Services has successfully recovered data from a wide range of data loss scenarios. Their expertise is widely acknowledged, giving you peace of mind that your data is in capable hands.
No Data, No Charge: ACE Data Recovery operates on a "no data, no charge" policy. This means you don't pay anything unless they successfully recover your data. This commitment to customer satisfaction ensures you're only charged when you get your data back.
Confidentiality and Security: Data privacy is a top priority for ACE Data Recovery Services. They maintain strict confidentiality standards to protect your sensitive information throughout the recovery process.
Quick Turnaround Time: In critical data loss situations, time is of the essence. ACE Data Recovery understands this and works diligently to recover your data as quickly as possible.
Transparent Process: ACE Data Recovery Services is known for its transparency in all stages of the data recovery process. From diagnosis to the final data delivery, you're kept informed about the progress every step of the way.
In the digital world, data is priceless, and losing it can have severe consequences. For Crucial SSD users facing the dreaded situation of data loss, ACE Data Recovery Services is the beacon of hope. Their unmatched expertise, cutting-edge technology, and commitment to customer satisfaction make them the ideal choice for Crucial SSD data recovery.
If you find yourself in need of data recovery services for your Crucial SSD, you can trust ACE Data Recovery Services to be your reliable partner, working tirelessly to recover your precious data and put your mind at ease. Don't despair when data loss strikes; reach out to ACE Data Recovery Services and let them help you reclaim your valuable information.