The Crucial T500 is a new consumer PCIe 4.0 NVMe SSD with high performance and reliability
November, 2023
The Crucial T500 is a new consumer PCIe 4.0 NVMe SSD with high performance and reliability
Crucial is unveiling its latest addition to its Gen4 consumer NVMe SSD lineup today - the T500 PCIe 4.0 M.2 2280 NVMe SSD. It takes over flagship duties from the Crucial P5 Plus in this category. The company had started to put focus on the high-end consumer SSD segment earlier this year with the launch of the T700 Gen5 NVMe SSD - it was one of the first to offer more than 12 GBps read speeds. The company is now introducing a T-series drive in the Gen4 segment with similar flagship credentials - sequential read and write speeds of 7400 / 7000 MBps.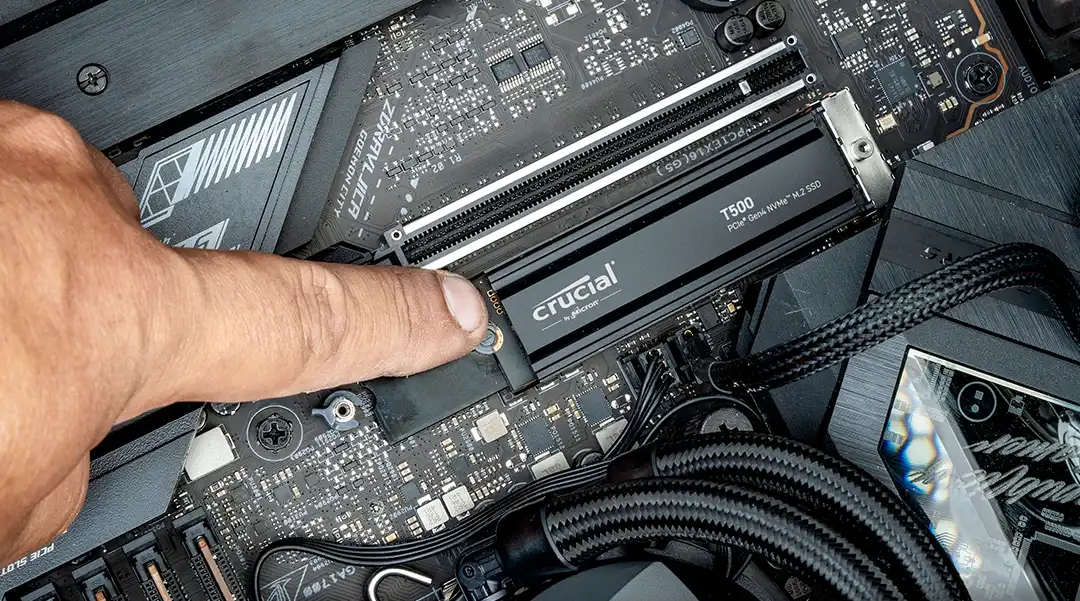 Crucial T500 Gen4 Cutting-Edge Technology
The Crucial T500 is one of the first consumer SSDs to utilize the E25 Phison controller launched last year. The Micron 232L 3D TLC NAND in the SSD has been in mass production for a few quarters now, allowing the company to price the product competitively. Similar to the T700, this drive is targeted towards gamers, content creators, and professional users. While PCIe 5.0 SSDs are slowly getting introduced into the market, Gen4 units are still a sweet spot in terms of system compatibility, price, and performance for many use-cases.
T500 Versatility and Performance
The T500 is launching in three capacities and two variants - a heatsink and non-heatsink one. The 500GB version comes in a non-heatsink SKU only, while the 1TB and 2TB ones come in both variants. Crucial is promising a 4TB version next year. The company indicated that the heatsink SKUs are low-profile enough to be used in laptops.
The T500 uses the Phison E25 SSD controller, and it's the first time we've seen it. It was announced earlier this year, but details were scarce, especially compared to the E27T and E31T. The controller is paired with 1GB of LPDDR4 per TB capacity, which is ample and efficient. It's worth exploring this controller more deeply as its place in the product stack makes it a potential disruptor. The E25 controller is similar in structure to the E18 but with two-thirds of the primary Cortex-R5 cores.
Phison has been pushing DirectStorage optimizations in its high-end controllers, and it is no surprise that the T500 advertises the use of Phison's 'I/O+ Technology' to appeal to gamers. Given its high-performance nature, it is no surprise that the E25 controller needs to be equipped with DRAM for managing the flash translation layer (FTL). Crucial is using Micron LPDDR4 DRAM (1GB / TB of flash) in the T500 for this purpose.
A Gen 4 SSD for Versatile Usage
A Gen 4 SSD that exhibits versatility suitable for both desktop and laptop usage, without compromising on TLC flash memory or a DRAM cache, is a highly sought-after solution. The T500, at first glance, appears to embody such a drive, boasting commendable performance and an efficient, single-sided design. While Gen 5 SSDs have demonstrated impressive figures, a pragmatic, well-rounded drive ultimately proves to be more sensible. Crucial has learned from its prior endeavors, such as the P5 Plus, which fell short in several aspects, particularly by not offering a heatsink option or a 4TB SKU at launch. The T500 capitalizes on the insights gained from those experiences, as well as the hardware capabilities exhibited by the T700, to craft a compelling product that must navigate the competitive landscape with care.
Optimal Design for Portable and Compact Systems
A cooler, single-sided design is an optimal fit for laptops and small form-factor machines, including certain portable gaming systems. Although recent arrivals like the WD Blue SN580 have gained popularity, those seeking full Gen 4 performance and the inclusion of DRAM have been somewhat underserved thus far. The SK hynix Gold P31 has long been the preferred choice for Gen 3, but it shows signs of aging and can be challenging to procure. This is where the T500 comes into play. Much like the Gold P31, the T500 exhibits a similar promise, raising the prospect of a surprising success with the right adjustments.
Pushing the Boundaries of PCIe 4.0
In many respects, the T500 effectively supersedes the P5 Plus, although Crucial recently introduced a heatsink-equipped model of the latter to enhance its appeal. Irrespective of this, the T500 pushes the boundaries of PCIe 4.0, offering impressive sequential read and write speeds of up to 7,400/7,000 MB/s, alongside 1,180K/1,440K random read and write IOPS (Input/Output Operations Per Second). While it falls slightly short of the Samsung 990 Pro in terms of performance, the T500 may yet hold some undisclosed capabilities.
Encryption Support and Warranty
Furthermore, this drive boasts encryption support, adding to its appeal, and Crucial provides a standard 5-year warranty with an endurance rating of 600TB of writes per TB of capacity. While a higher Terabytes Written (TBW) rating would have been appreciated to set the drive apart, the provided endurance is more than sufficient for the majority of users.
The T500 is available in a single-sided configuration and can be acquired with or without an appealing and functional heatsink. We recommend opting for the heatsink unless you have an alternative solution in mind, although it is not obligatory for the operation of this drive.
ACE Data Recovery services for Crucial SSD
ACE Data Recovery is a leading company that offers professional data recovery services for various types of storage devices, including solid state drives (SSDs). SSDs are faster, quieter, and more reliable than traditional hard disk drives (HDDs), but they are also prone to data loss due to physical damage, logical errors, firmware issues, or human errors. One of the popular brands of SSDs is Crucial, which is owned by Micron, a manufacturer of high-quality and high-performance NAND flash memory chips. Crucial SSDs use Micron's NAND flash memory technology, which stores data in cells that can be erased and rewritten. However, this technology also has a limited number of write cycles, which means that over time, the cells can wear out and become unreadable. This can cause SSD data corruption or loss, especially if the SSD is not properly maintained or backed up.
Crucial NVMe SSD Products
Crucial offers a wide range of SSD products for different needs and budgets, such as the Crucial MX500, the Crucial P5, and the Crucial X10 Pro Portable SSD. These SSDs have different features and specifications, such as encryption, power loss protection, dynamic write acceleration, adaptive thermal protection, and sequential read/write speeds. However, they all use the NVMe (Non-Volatile Memory Express) interface, which is a standard that allows SSDs to communicate with the host system over a PCI Express (PCIe) bus. NVMe SSDs are faster and more efficient than SATA SSDs, but they also require more compatibility and support from the system.
Challenges of Data Recovery from Crucial NVMe SSDs
When a Crucial NVMe SSD fails or becomes inaccessible, it can be very difficult to recover the data from it. This is because NVMe SSDs use complex controller technology and encryption algorithms that vary from manufacturer to manufacturer and model to model. These technologies are designed to enhance the performance and security of the SSDs, but they also make them more challenging to access and extract data from. Moreover, NVMe SSDs may not be detected by the system or by some data recovery software due to driver or firmware issues.
ACE Data Recovery's Solution for Crucial NVMe SSDs
That is why it is important to choose a professional data recovery service that has the expertise and experience to handle any type of Crucial NVMe SSD. ACE Data Recovery is one of the few companies that can recover data from self-encrypted drives such as Samsung, Intel or Phison-based SSDs. ACE Data Recovery also has a proprietary hardware and software solution that can extract data from failed SSD drives based on Phison Electronics Corporation controllers, which are used in some Crucial NVMe SSD models. ACE Data Recovery has been in the data recovery industry for over 35 years, serving thousands of satisfied customers across the world. They have a success rate of over 98%, which means that they can recover your data in most cases. They also offer free evaluations, an all-inclusive price, free return media, and a "No data, no charge" commitment.
If you need data recovery services for your Crucial NVMe SSD, do not hesitate to contact ACE Data Recovery today. They will provide you with a free quote and a free shipping label to send your device to their nearest laboratory. They will then perform a thorough analysis and inform you of the results and the cost of recovery. You can trust ACE Data Recovery to get your valuable data back from your Crucial NVMe SSD.