New Crucial P1 1TB NVMe SSD
May, 2021
New Crucial P1 1TB NVMe SSD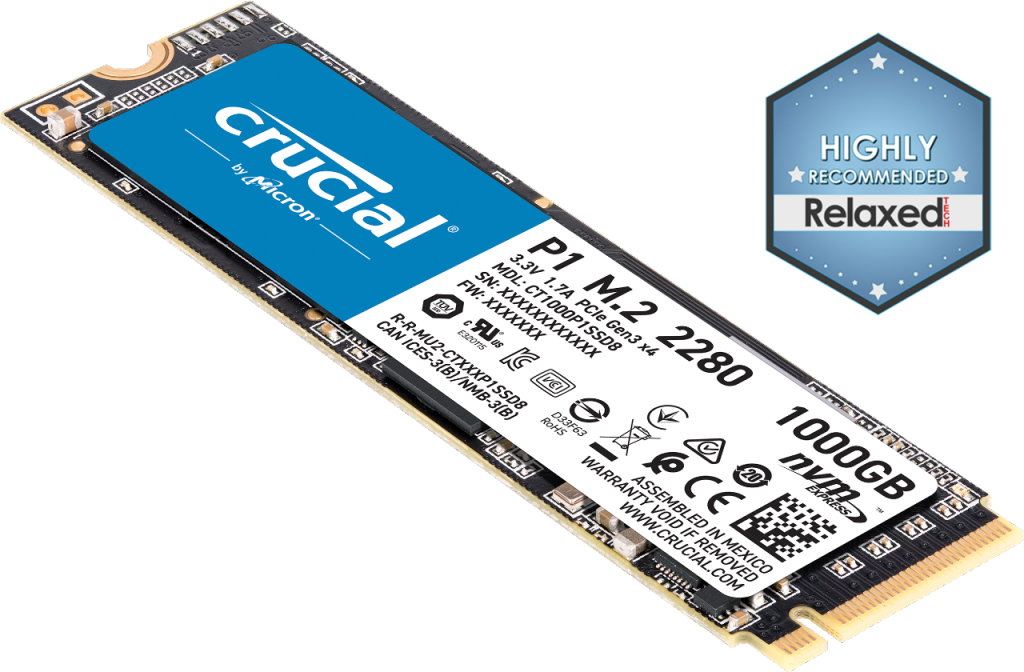 The Crucial P1 1TB SSD is the company's very first NVMe SSD. This is an older model SSD from Crucial that predates the Crucial P2 drive, and these drives are very different. While the P2 was a DRAMless TLC drive based on a Phison E13T controller, the P1 is a QLC drive backed by a DRAM cache and running a Silicon Motion SM2263EN controller. The Crucial P1 1TB comes in a single-sided M.2 2280 (80mm) PCIe Gen3 x4 form factor.
Performance specifications for the P1 line are modest and limited by the SM2263EN controller. The Crucial P1 1TB SSD drive breaks the SATA 6Gb/s barrier with its NVMe interface, but still, it is rated at a mere 2000MB/s read and 1700MB/s write. Endurance is another matter, and the P1 1TB is rated for a mere 200TBW.
The P1 supports the NVMe low power states, so active power consumption is rated at just 100mW and stretches up to a maximum of 8W. The Crucial P1 1TB SSD also features power loss protection for data-at-rest and has a multi-step data integrity algorithm that protects against SSD data loss. Crucial's Adaptive Thermal Protection protects the components from overheating, and the RAIN (Redundant Array of Independent NAND) feature provides device-level data redundancy as a further layer of protection. But the SSD drive doesn't support AES 256-bit hardware encryption.
Crucial also offers Acronis True Image HD software, which users can use to clone over their OS from their old drive or for backing up their data, and its Crucial Storage Executive software that provides SMART value monitoring, capacity monitoring, and performs firmware updates.
The Crucial P1 1TB SSDs can be a good option for budget-minded upgraders and PC builders, but they are also vulnerable to logical and physical failures just like any other storage media. If that happens, the owners of the failed Crucial P1 1TB SSDs will need to contact a professional data recovery services provider to get their valuable documents back. ACE Data Recovery team can successfully recover data from all types of storage media, including failed Crucial SSD drive, and will gladly help the Crucial P1 1TB SSD owners with their data recovery needs.