Corsair launches MP600 Pro XT NVMe SSD
November, 2021
Corsair launches MP600 Pro XT NVMe SSD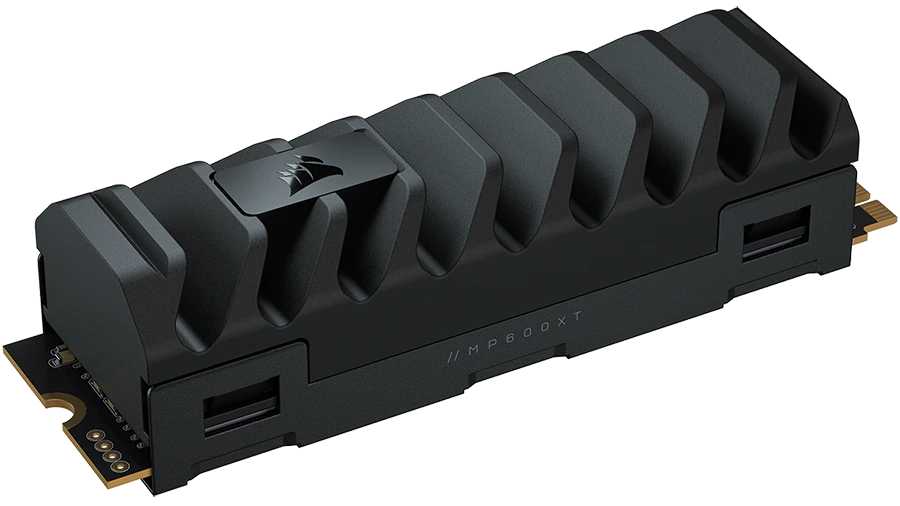 The Corsair MP600 Pro XT SSD is capable of delivering leading performance during the toughest sustained workloads. It's a PCIe 4 x4, NVMe SSD that uses the common 2280 (22 mm wide, 80 mm long) form factor. The MP600 Pro XT SSD features Phison PS5018-E18 controller and Micron 176-layer 3D TLC NAND. There's 1GB of DRAM cache for every 1TB of capacity, and dynamic secondary cache is employed, which means that the amount of NAND written as SLC (Single Level Cell/1-bit) varies with the workload.
The SSD comes in two variants that remain cool regardless of the workload. The Corsair air-cooled MP600 Pro XT features a bulky (removable) heatsink, while the Hydro X variant has a water block that you can attach to a custom water-cooling loop. The Corsair MP600 Pro XT SSD is available in 3 capacities of 1TB, 2TB, and 4TB with the air-cooling heatsink, but the water-cooled Hydro X variants are only available at 2TB and 4TB capacities.
Corsair rates the MP600 Pro XT SSD to deliver up to 7.1/6.8 GBps of sequential read/write throughput and upwards of 1,000,000 / 1,200,000 random read/write IOPS when it is tasked with heavily-threaded workloads. The 1TB and 2TB capacities are rated for 700TBW (TeraBytes Written over the life of the drive) per 1TB of capacity, and the 4TB capacity is rated for 3000TBW.
Both of the Corsair MP600 Pro XT SSD variants (heavy-duty heat sink and the liquid-cooling ones) are good options for gamers and other users with intensive workloads. But they may also fall victim of SSD logical failures that can make critical user files inaccessible. In such situations, the Corsair MP600 Pro XT SSD owners will need to contact a professional data recovery services provider to get their irreplaceable data back. ACE Data Recovery team has been providing high-quality data recovery services for more than 35 years and is ready to help owners of the Corsair MP600 Pro XT SSDs with their data recovery needs.