Corsair launches MP600 GS NVMe SSD
January, 2023
Corsair launches MP600 GS NVMe SSD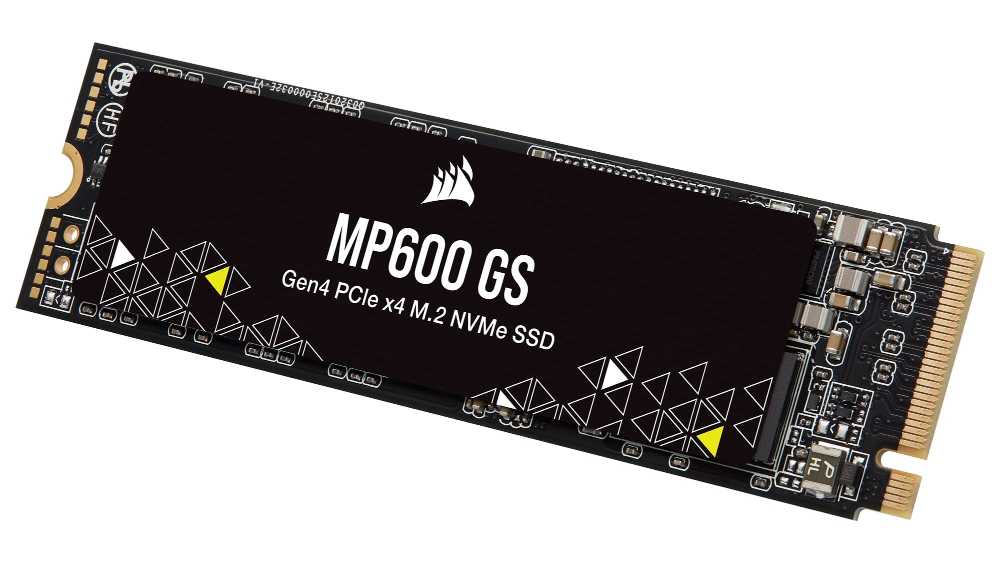 The Corsair MP600 GS SSD is designed for consumers looking to upgrade their system to the speedy PCIe Gen4 interface. Available in capacities ranging from 500GB to 2TB, this client M.2 SSD drive is powered by NVMe 1.4, 3D TLC NAND and the Phison PS5021-E21T entry-level SSD controller. The MP600 SSD is DRAM-less, which results in slow storage speeds, and that is fine if a consumer is looking for a cost-effective solution and performance isn't their priority.
Corsair quotes its MP600 GS SSD to deliver modest sequential transfer speeds at 4.8GB/s read and 4.5GB/s write (for the 2TB model), with the potential to reach up to 1 million IOPS read and 580,000 IOPS write (1TB model) in random performance. The MP600 GS SSD also features a TBW rating that ranges from 300 to 1,200 depending on the model with MTBF of 1.5 million hours across all capacities.
Other features of the Corsair MP600 GS SSD include AES encryption support and the Corsair Toolbox SSD management app. This SSD software displays the usual detailed drive information about the Corsair SSD drive and offers overprovision, SMART to check the SSD drive recovery health's data, cloning, secure wipes, and optimization tools for users. Overall, it gets the job done, without having to go searching for a third-party option, but this software uses an ancient-looking interface that clearly hasn't been updated in a very long time.
The Corsair MP600 GS is a mid-range PCIe 4.0 SSD, and although its performance is not amazing but it's certainly good enough, as is its power efficiency. The MP600 GS SSD does stand out in some areas, specifically with sustained writes. This can make the Corsair MP600 GS SSD useful for some tasks and also more consistent in edge cases.
The Corsair MP600 GS SSDs offer a lot of storage space in the compact M.2 2280 format and are very good for everyday use, but unfortunately, they are not protected from failures that may result in critical user files inaccessibility. Then the owners of the Corsair MP600 GS SSDs will need to contact a professional data recovery services provider to get their irreplaceable data back. ACE Data Recovery team can successfully recover data from all types of hard drive storage media, including SSD, and is ready to help the Corsair MP600 GS SSD owners with their data recovery needs.